Rejoice my Team GB fash apostles! Your potential Papal in Prada is at London Fashion Week A/W 2013 and is ready to judge. After a quick liquid breakfast at The Waldorf, I teetered off in my fave Alexander McQueen's to see what the next gen Brit designers have to offer at Fashion Scout.

They'd been briefed on my Dukan diet, and I arrived to find the press room awash with seaweed rolls, hummus and coconut water, trumping vitaminwater and dried crackers of Fashion Weeks gone by.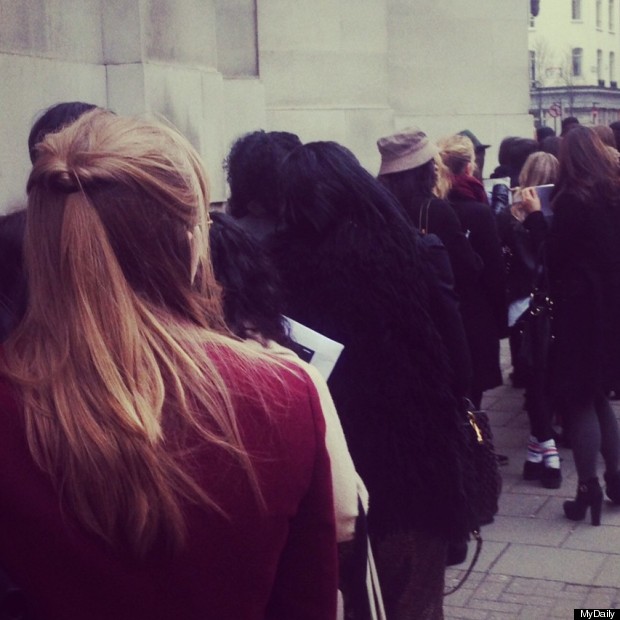 I floated straight to the FRow at Apu Jan knitwear, where sweeping delicate knit gowns and geisha arms ruled. Apu dreams of working with Issey Miyake - which could quickly become a case of the student may surpass the master. Wax on, wax off.

I flew through the Freemason's House maze to the lush Lug von Siga where sexy spy and scream chic had me loving the Hitchcock soundtrack and living dead model make up.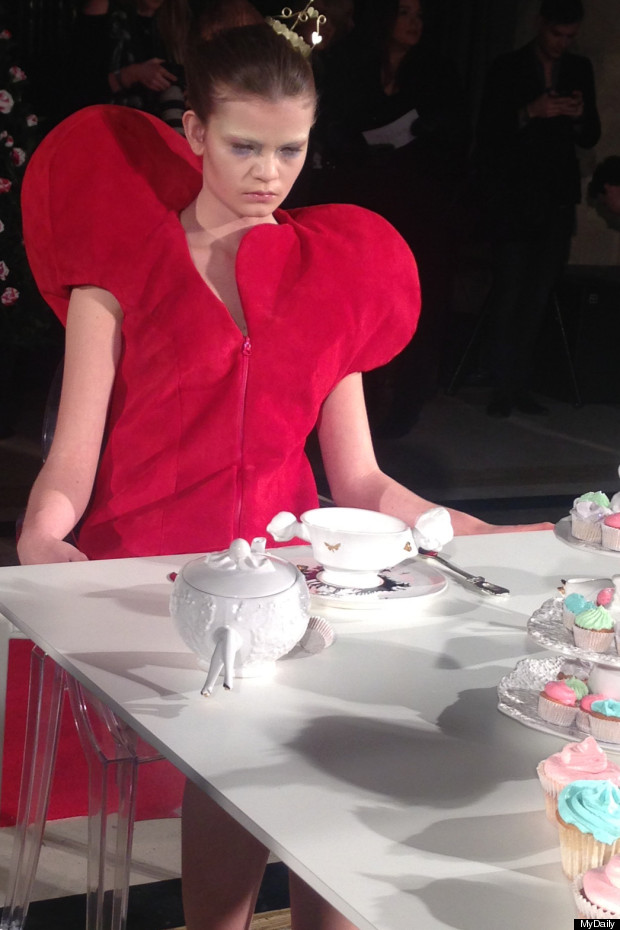 From there is was 70's throwback theisticism at Timur Kim showing matching shoe, trouser and jacket ensembles with prints from the Hermitage ceilings in St. Petersburg.

But things were not always so divine. His #confashion was a DIY distressed denim jacket that was "really, really messy". Yikes. Sounds more hobo the hipster.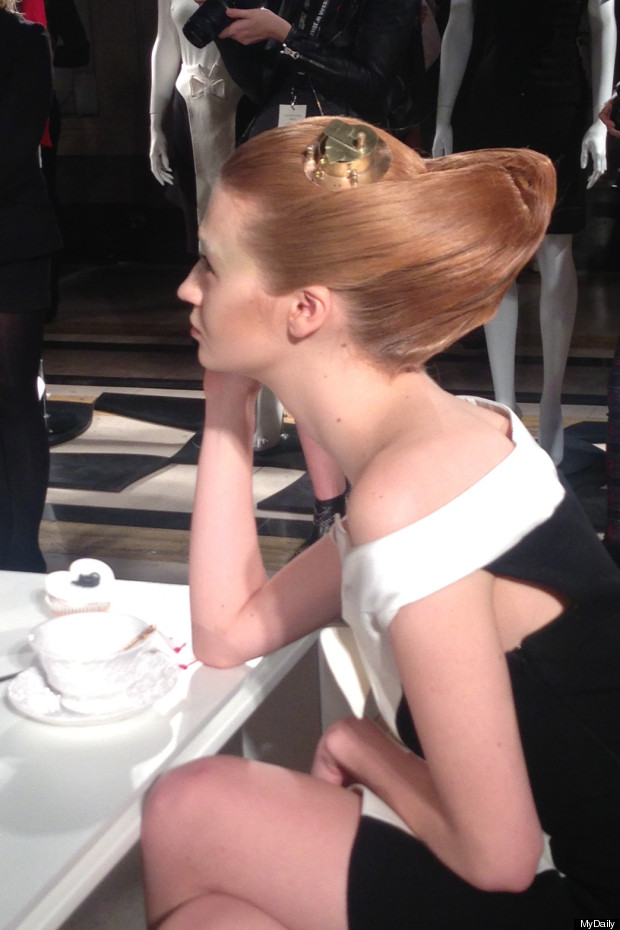 En route to Belles Sauvage I quickly air-kissed Amy Childs, who was looking 'well reem' in monochrome lace before Belles served up east meets west with iconic 'Venus de Milo' prints meeting pop art and hip hop meeting hellish dominatrix. The piece de resistance was the absolution fabulous knit jumper of Karl Lagerfeld's cat. Amaze balls.

B'Sauvage's lively Luxembourger Chris Neuman had a cracker confashion: At ten he sprayed all his trousers gold. They hardened and he couldn't bend his legs, but he looked "really cool". Absolved.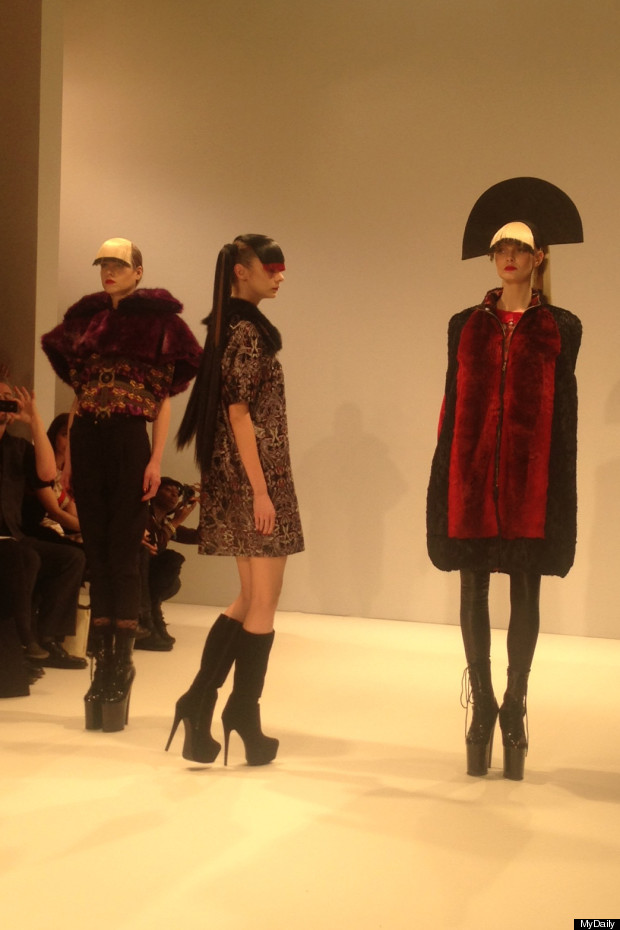 Sipping from my Asprey hipflask, I gleefully awaited Krystof Strozyna to begin. It was an ode to the ocean with silhouette gowns and trouser suits awash with moss, sea urchin, aqua and seaweed colours. Saintly Strozyna's trendspiration for every collection his Mother's statement yellow leather mini.

Facing the Freemason's labyrinth for the last time on day one, I hardly recognised The Saturday's Frankie Sanford looking very Audrey Hepburn chic.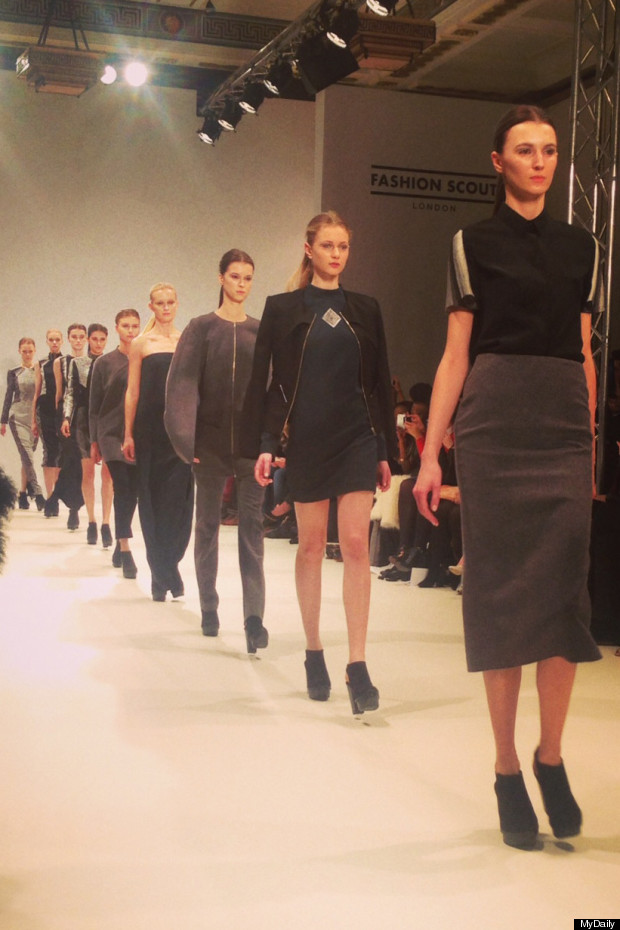 Liz Black's presentation was a Mad Hatter's tea party with gowns I'd be happy to jump down any rabbit hole after. With a muse like Daphne Guinness no wonder blessed black is so on point.

Quick costume change, swapped my Maarten van der Hoorst dress for a Lug von Siga gold trouser suit, to mix with fashion royalty at 10 Downing Street. Pray this gold rubs off on Sam Cam and Anna Wintour. Amen. For now.