Fashion Priest, MyDaily's estranged Editor-At-Large, is back after a three-month disappearance. And in a fuzzy, champagne-y afternoon in Claridges with Editor Sara McCorquodale, he revealed exactly where he's been...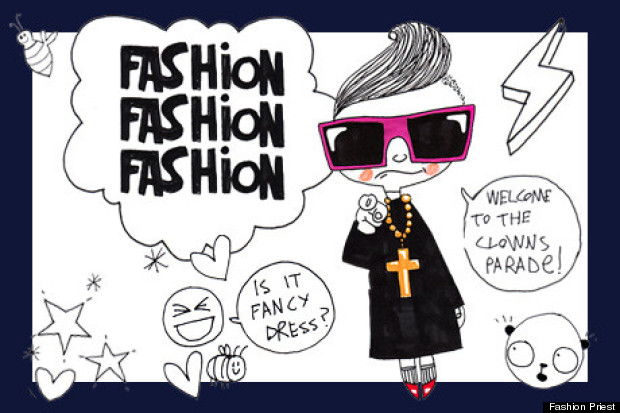 "R U here yet??? I don't have all day. Punctuality is a virtue. Bless, FP." It's 10.35am and I'm on my way to Claridges to meet MyDaily's estranged Editor-At-Large, Fashion Priest. Our appointment has been rearranged four times in the past 24 hours. He wanted to meet at St. John, then requested we have Fanta in a Dalston kebab shop and then, when I arrived at Tonteria – his third chosen venue – at 2am, his assistant informed me FP had "vamoosed". If he just stays in Claridges until our agreed time of 11am I might get some sleep tonight.

iPhone in one hand, iPad in the other, he is in the lounge of the Mayfair hotel Instagram-ming when I arrive, eight minutes early. "You're late," he says, tossing back the hood of his mint green houndstooth cassock. "But listen darling, order some Earl Grey and all is forgiven. Bless."

Tea on its way, FP is all charm. He's engaging, complimentary and clearly knows everything about and everyone in fashion. Conversation is peppered with, "well, then I said to Karl" and "backstage can be such a bore". Henry's a "doll", Mary's a "baby goddess" and Christopher is "the saviour". In short, he is absolutely not what I expected.

Why? Because FP literally disappeared in October 2012. MyDaily has been trying to contact him ever since but his phone was disconnected and his email address deleted. No one knew where he went or why he had left. Then, last week, out of the blue, he texted: "In town. Where shall we meet? Bless, FP". So where has he been?

"I travelled the world for havens where no ounce of couture could be found," he reveals, twisting his Lanvin glass crucifix. "The Galapagos Islands, Mount Kilimanjaro, The Antarctic, Essex. I had no fear, I had to cleanse my soul."

He's dying to talk about his five-day fast with Buddhist monks – "have faith when I tell you, all the Victoria's Secret models simply must try it" – and a 12-hour Sex On The Beach bender in Sugarhut. But there are more pressing issues we need to get out of the way first. Like why he left.

He sighs. Throws his Claire Barrow jacket on the floor. Bangs a teacup three times on the table. "Fine, if you must know, I am actually ready to talk about it.

"It was Milan Fashion Week, the Roberto Cavalli show at 1:32pm. Just as it began I was ousted from front row by.... Jedward. I became possessed with FROW rage, made the twins weep and Roberto banned me from his yacht."

He pauses to take a sip of tea. "This was my greatest moment of doubt for the fashion industry."

He looks so glum, I'm worried he might start weeping. Until he perks up, announces he needs gin and skips off to find a waiter.

Fifteen minutes later, a double Bombay Sapphire with grapefruit in hand and he's cheerfully chatting about the future.

"The new Holy Trinity is high street, hip hop and haute couture. We're going back to the good old days when stars dressed themselves. Carnage! Also, elbow length gloves are the new clogs."

He's full of love for his girls "Stella and Kate" and says the catalyst to his return was Kim Kardashian's pregnancy announcement.

By the time we leave Claridges – me, stumbling (champagne followed the gin), him floating through Mayfair in Charlotte Olympia kitty flats – I've heard more gossip and trend predictions than I can even begin to process. How he'll "never play volleyball again" after Philip Green's 60th birthday party and why he'll condemn UGGs, jeggings and Heidi Klum's EMA frock "til the second coming". I'm not sure what he's got in store or how long he'll be with MyDaily for this time, but I know one thing is certain: Fashion Priest is back. Amen.

Fashion Priest will be blogging for MyDaily from January 14.