Urmee Khan was never into sport. And then she decided to take on the Brighton Marathon. Thirteen weeks into training, she shares her experience of chasing those elusive 26 miles

As my short, puny legs pound the tarmac I keep telling myself: "You are the female Mo Farah, an elite British Muslim runner". It's a Sunday afternoon in January and my training schedule says: 'SUNDAY – 11 miles'. So here I am, donning a fluorescent yellow beanie and matching gloves (which I would normally be more likely to wear for a New Year's rave), more lycra than a Tour de France team and carrying an iPod full of my finest trance tunes to anaesthetise me against the pain that lies ahead. Why? Well, I'm training for my first marathon, already in the 13th week of my training schedule and regularly running around 10 miles (but nowhere near 26). And it's not easy - I've had moments of tears, wanting to vomit on the side of the road and glancing enviously at the calves of other, faster women.

I can't express how unlikely this scenario would have been even a year ago. My friends will tell you (and plenty already have on Facebook) that they thought there was as much chance of me trekking unassisted to the North Pole as running a marathon. "Oh my! I never thought I'd see 'Urmee' and 'running' in the same sentence".

Because I was a chunky child who loved curries and Monster Munch. The only sports I watched were Ski Sunday and WWF wrestling and the most exercise I got was fighting my brothers for the remote control. I've even surprised myself a bit with this one.

And do I care about how I look while I run? Of course - I dream about the gorgeous Stella McCartney Adidas range in the vain hope it might inspire me to reach Olympian heights. But instead I have a lot of DayGlo kit which is practical for running on winter nights. You'll see me in bright pink Adidas t-shirts, the aforementioned luminous yellow Nike beanie and gloves, Karrimor running leggings, Nike training bras, fluorescent vests and Brooks trainers with a fetching Union Jack print. Also, decent running socks are essential - my current favourites are Skins.

As well as having a good kit, I've learned you need to think about your skin too - running frequently in the British rain for long periods of time takes its toll. Mine feels particularly sensitive after a cliff top run but I've found applying a base moisturiser and Vaseline for lips and eyelids before going out helps and staying rehydrated can also make huge difference. Just to be clear, there's no make-up involved in my training - thank you Jessica Ennis, Victoria Pendleton and Nicola Adams for making the face of female sporting acceptable without slap.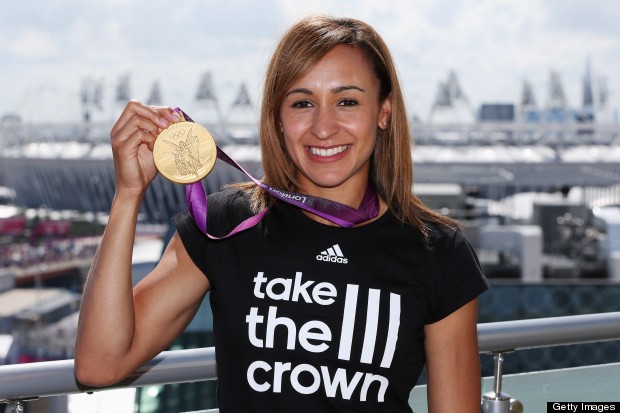 I'm fortunate to live almost next door to Alexandra Heminsley, who has run four marathons and knows all the jargon about Garmins, gels and energy bands. She's also helping to dispel myths such as 'running is bad for your boobs' (it's not).

I asked her why running is proving so popular with women. "Because of the recession. It is very cheap to do on a small budget," she said. "With the current new wave of feminist writers, the dialogue behind women's bodies has also changed. Women are more interested in being strong and capable than thin and weak."

I never used to be competitive but training for the marathon has changed that. I don't want to do slower than 10 minute miles (famous last words reader). But the worst thing about the whole process is the constant training. I've had biker boys openly laugh at me and mock my jog - try going for another five miles after that. However, there is camaraderie and I often find myself smiling at runners on the Sussex hills, running on Brighton seafront in a howling gale, my bemused partner on standby to send an SOS as I arrive home almost in tears with everything aching.

But nothing can really prepare you for running the actual marathon. Alexandra says: "It's definitely a high but it's not strictly physical. You are feeling the cumulative joy of every run you've done for the past four months being worth it. It's a triumph of human spirit."

Sounds worth it to me. I'll keep going and report back soon - wish me luck!

Urmee Khan is running the Brighton Marathon for Rockinghorse Children's Charity.

Running Like A Girl by Alexandra Heminsley is out on April 4th.