Perched on a sandstone outcrop above the salt marshes of East Sussex, sits a truly beautiful and award-winning home. Lived in and loved by its architect creator Nick Evans, his wife Celia and their young daughter Allegra, a couple of minutes down a private road and they're on the beach. No wonder they have no plans to move...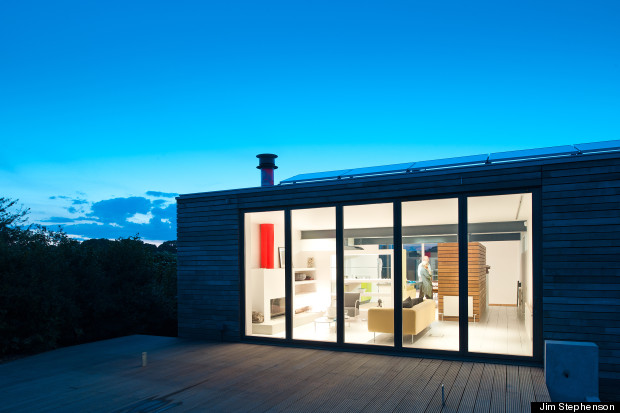 Nick, what drew you to the spot where you built your house?
I had been looking for some time along this part of the south coast, partly to be within convenient reach from east London but also to be near family. I had looked at many places and eventually found myself driving down a steep hill with a vast sea view below and stumbled across Pett Level, our small village. Once we had found the ideal location we were able to focus more clearly and within a few months two possible places emerged. After a vigorous tussle with other interested parties, the place was ours.
I had obtained planning approval for this very modern house only a few months later – and the building began...

You're a successful architect, but is this the first home you have designed and built for yourself?
I have prepared many homes for me, my family and other clients but yes, this is the first completely new one for ourselves.
An architect needs some considerable time to establish his ideas, learn how to implement them and be ready to build for himself with the right level of confidence. My wait to build for myself, together with finding right location, came together with perfect timing.
I have since started work on designing two further houses, one for the artist Fiona Banner and one for the Italian economist Francesco Curto.

Please tell us about the feel you wanted to create with your palette of predominantly white with vibrant colour accents.
First of all I wanted to ensure that the outside and the inside of the house responded closely to the astonishing views and for me very simple colours with bright accents was the right approach. The bright red chimney - seen internally on some of the images – threads its way through the roof and becomes an equally bright red 'finger post' in the landscape being seen from miles around.
My starting point for the colour palette included the California houses by Pierre Koenig and the outback houses by the Australian, Glenn Murcutt. Both these designers use daylight and views with great confidence and I set them as benchmarks – I am pleased that I have emulated their work, with the house recently receiving a 2012 RIBA Award.

What's the best thing about living in your house?
The use of natural light – I have carved a range of windows both internally and in the external walls which provide an ever changing play of natural light, whatever the conditions. The inside of the house is like a kaleidoscope with the light never the same and a constant reminder of the wonderful landscape outside.


What three things would you most like people to say when describing your home?
That it is a home - rather than a house.
That it is calm.
That it is effortless.

What would you least like someone to say about the house?
I am very relaxed about the house. If people want to say something negative I am perfectly happy – at least the house has prompted a reaction. So many homes are so bland that they are hardly noteworthy.

Has the house been used as a location for anything we might have seen?
The house is only recently being occupied. We have had two reality TV shows wanting to use it but they have been turned down. Sir Paul Smith is a fan and has photographed it for an Italian magazine. We are trying to keep a low profile – it's our secret.

It's such a great space – do you ever see yourself moving and if so, where would you want to go?
No! I do not see us moving. I think we have made a perfect home...

In your opinion, no home should be without...what?
Family and friends to enjoy it.