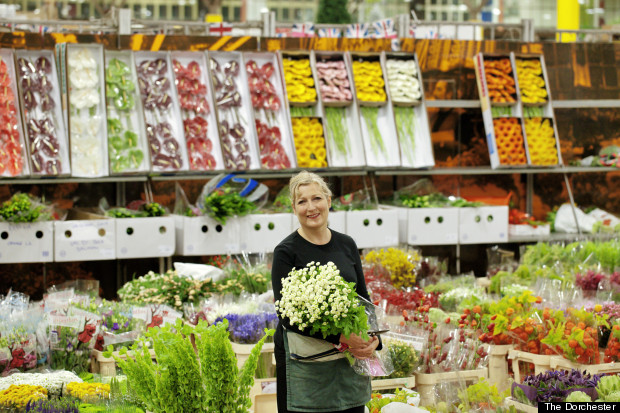 A beautiful bouquet of flowers can be just the right special treat to lift anyone's mood. But visiting a florist or a flower stall can be a little overwhelming - are these the sort of lilies that stain everything with their pollen? Are these the ones that made my room smell a bit funny? I can't remember if she has hayfever - does that mean I can't say it with flowers?

Well, who better than Wendy Black - Designer Florist at London's famous Dorchester hotel - to give you a crash course in how to pick an excellent bouquet? Her answers will help you tiptoe through the tulips (and sunflowers and roses) with ease.


1. The flower for all occasions:
"Freesias, they are good value for money, come in a variety of wonderful colours and have a sweet, soft scent."

2. The flowers that won't irritate:
"Orchids as they contain no pollen."

3. The golden flowers to greener ratio:
"If you are creating a bouquet, then I would suggest using one-third greenery to two-thirds flowers."

4. The flowers to avoid:
"All varieties of flowers can be striking used in the right arrangements, however I would avoid buying any flowers that appear even slightly droopy or have brown leaves on the stem as they are probably old. Also, I would recommend not buying flowers from petrol stations as they will have been exposed to a lot of car fumes, shortening their presentation time."

5. The biggest visual punch with the least amount of effort:
"Look towards the big blousy flowers like hydrangeas and sunflowers."

6. The two flower trends you should be aware of:
"Vintage is still very much in vogue, one can add antique lace to cover flower stems and complete the arrangement with a piece of costume jewellery. Another trend that I can see starting to form is an increased use of low-water dependant flowers such as orchids, callas and tropical flowers."



---
Wendy Black is leading a series of interactive workshops, sponsored by the Flower Council Of Holland, teaching visitors how to make a Jubilee bouquet at this year's Spirit of Summer Fair at Olympia, London from 16-19 May.