In the rapidly multiplying androgynous culture spreading throughout the fashion world, I like to be reminded of the girly things in life. From Richard Nicoll to Raf Simons, clean architectural lines have dominated; thus came the vast sales of ladies brogues and button up shirts, supplying early forms of the Spring Summer trend luxe sportswear.

Shapes crafted with industrial, functional design in mind put women in clothes perfect for the beanpole, and less so for the hourglass. Although hardly a revelation, the simple shifts from Richard Nicoll's Autumn Winter collection only served to highlight the clean lines of the fashion industry ideals. There is no doubt that bountiful success has been achieved as a result of the androgynous trend, but there is still room for the lady. Nicoll's immaculate collection, while it includes one beautiful cobalt blue leather piece, nipping in at the waist, doesn't cater for the 'girly girl'. This isn't his market, but spreading the net wider, we might discover more girlish shapes hidden amongst the androgyny.

A world away from Richard Nicoll's East-end digs is the New York studio of Victoria Beckham. The huge success of Victoria Beckham's fashion venture may have surprised members of the fash-pack but her impact has been tremendous. Triumphs in her main line led to an explosion of Victoria by Victoria Beckham, with the collection making celebrity appearances all over the world, and appearing on many a fashion editor's wish list. With girlish cat prints, feminine shapes and bright pink scallops, no girly girl can resist the diffusion line. Even the Autumn Winter 2012 collection, though it contains a good spread of black, is cute and feminine. Waists are highlighted in hourglass shapes, and where there are straighter lines, deep v-necks compenste for any hint of androgyny. Her Autumn Winter 2012 main line boasts a full collection for the strong, empowered woman, with long, lean lines and diving necklaces, showing off the female figure to perfection. With few rigid seams, straight edges of waistless pieces, her frocks showcase the female form, with all its curves intact.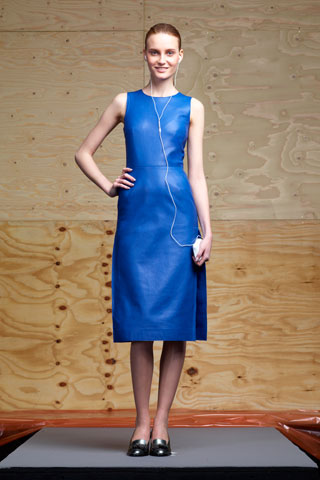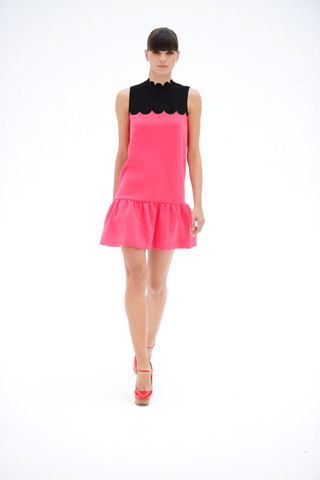 (Richard Nicoll AW12 - Victoria by Victoria Beckham SS12)
Like most concepts, this is not a debut for femininity in fashion. For Autumn Winter 2011, Marc Jacobs for Louis Vuitton hauled us back to the 60s with his all-woman silhouettes, fighting the androgynous revolution that had gone viral through the fashion world for seasons before. This season, the beautiful insets of folklore at Valentino reminded us that femininity was still allowed on the catwalk. Another world away from Victoria Beckham's main line of power dressing came the showing of a folklore tradition, with light, ladylike leather that totally turned last season's fetish trend on its head. As ever, Valentino remained the go-to fashion house for the delicate collection.
We can have the best of both worlds, for sure. The fashion climate is peppered with exciting and varied design; ultra girly Valentino-inspired needlework and politely nipped in waists, draped necklines of pussy bow collars, peter pan collars and teardrop shapes contrasts with the straight athletic lines of the Celine Autumn 2012 collection. While prettiness might be considered non-directional, it's perfect for the Princess fever that the Duchess of Cambridge has spread throughout the country. Even in a season of a Topshop filled with sports luxe, structurally sound neons and the tiniest hot pants I've ever seen, I will still defend prettiness. Naturally, the high street has presented pastels pieces from Oasis where lashings of lacy fabrics are dying to be worn on picnics with lashings of ginger beer. If only the sun would come out, we might get the opportunity to wear such frocks. Call that a fantasy, but delicate feminine collections call for matching girlish dreams, and that's mine.