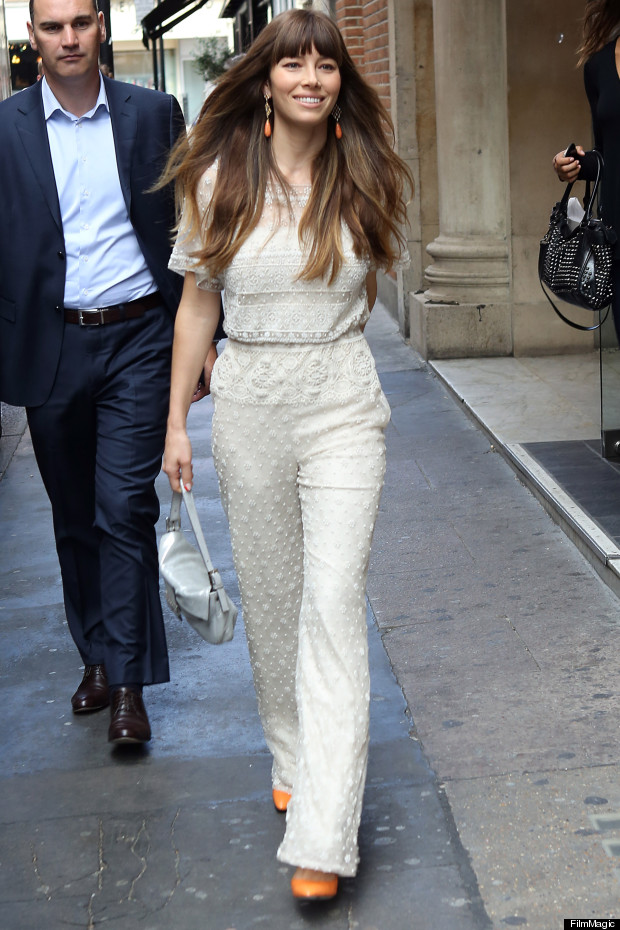 Jessica Biel continued her Total Recall fashion parade in London with this textured off-white ensemble on 16 August which she (or her stylist or possibly her fiance Justin Timberlake via Skype) jazzed up with a pair of bright orange shoes and bright orange earrings.

We would like to giveth with one hand BEFORE we taketh with the other so this is a gap where you can picture us applauding the skill with which girlfriend is being at one with her inner wind machine.

[APPLAUSE GAP]

And then another pause where we doff our caps because we love a good colour pop. Well. Some of us do. Philippa (me) does.

[COLOUR POP CAP DOFFING]

Then comes the taketh-ing: This was a wonderful opportunity for a horizontal-striped pencil skirt and it has been cruelly squandered. For WHY?

[TUMBLEWEED FOR THE OFF-WHITE TEXTURED SHENANIGANS]

If you have neither applauded, doffed OR tumbleweeded please let us know your alternative opinions.