Rita Ora and Cara Delevingne indulged in a bit of a public love-fest on Wednesday night. And it was kinda awks. The pair were partying for the DKNY Artworks launch, where model Cara played host and Rita was the headline act, when the aforementioned PDA took place.

It seems Cara didn't want to leave her "wifey's" side for more than five minutes and couldn't resist storming the stage during Rita's performance for a spot of bumpin' and grindin'. As you do.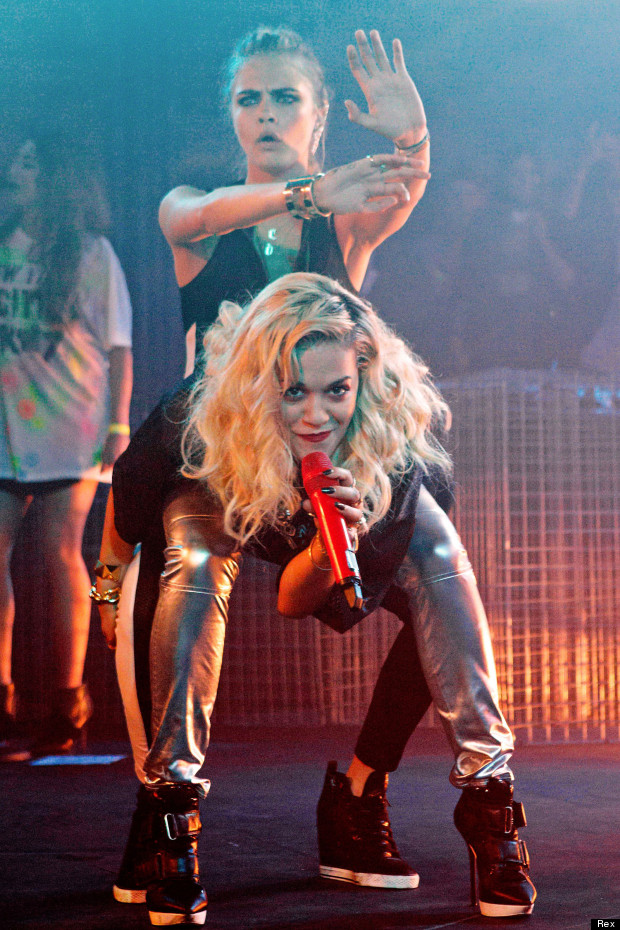 Not content with showing off her duurty dancing, Cara grabbed the mic from Rita's hand and started singing. Cringe. After a few bars Reets wrestled back the microphone and embraced Cara in a big ol' bear hug.

While the crowd whooped and hollered fellow party-goer Professor Green was also enjoying the show but complained fiancee Millie Mackintosh wouldn't let him watch the girl on girl action, tweeting, "So @RitaOra is dancing with Cara, the birds enjoying it but I'm not allowed to look. #doublestandards." Before taking to the stage the besties hit the red (or should that be black?) carpet together, which of course was just another opportunity to show each other some love.

Reets and Cara were also joined by the fashionable likes of Henry Holland and Jourdan Dunn, who both rolled up to the pardy in Vauxhall Amperas and were seen sipping mojitos and champagne with new kid on the block Iggy Azalea.

Check out all the snaps here: