If you spent the day with Gabrielle Aplin you'd be eating jelly babies, drinking tea and listening to The Beatles. She'd be wearing Moschino and probably talking about Flume (that's a cool Australian DJ) and Rudimental.

Then you'd go for dinner at the Tea House Emporium and later hit a nightclub, but there would only be dancing if the DJ played The Naked And Famous because that's her favourite band.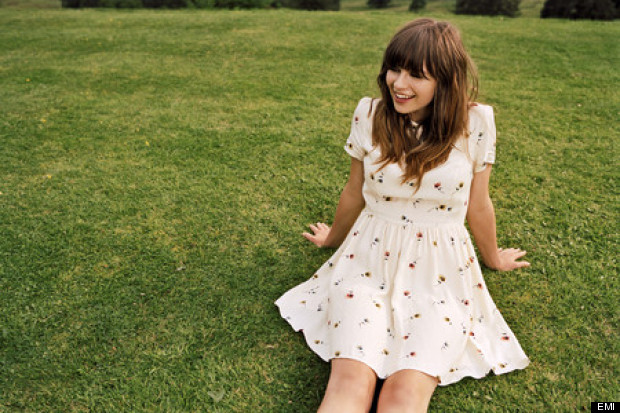 Afterwards, maybe you'd head back for a nightcap to her new London flat, which this Bath-born girl has just bought at the age of 20 by the way. In short, if you spent the day with Gabrielle you'd have a really fun time.

So why am I telling you all this? Well, she's just released her first major label single, Please Don't Say You Love Me, and this normal girl turned rising star is set to hit the big time. Trust me, come summer you'll be such fans you'll be glad you know she prefers Jelly Babies to Percy Pigs.

Rewind six months and Gabrielle's fame was limited to her 80,000-strong legion of YouTube fans, but that was before her cover of Frankie Goes To Hollywood's The Power Of Love soundtracked John Lewis's Christmas ad - the story of a brave snowman tackling treacherous climbs, bracing winds and the British high street to find the perfect present for his snowwoman wife.

These days – while her peers hang out in student unions and libraries – she's getting ready to tour the UK. Not that this was her intention. "I was planning on going to university," she explains. "I wanted to study Art and Photography or even Languages."

But who needs a degree when you can sidestep university related poverty and splurge all your dosh on really fun things? "When I first got signed I bought a vintage guitar from the 1930s for £1000," says the singer. "I've bought a £400 SLR camera too which was quite extravagant." While the positive side of success means fun times and touring, it can make getting quality time with your boyfriend a bit tricky. Although, typically, Gabrielle sees the bright side of snatched hours together. "I'm really busy but I don't feel like I'm missing out on anything," she says. "We've been together for two years and I think it suits us well to spend time apart.

"I'm quite annoying and can't imagine what it would be like living with me 24/7," she adds. "It works out quite well, we have time together and then I go on tour for two weeks and we have our own space."

So, we know she's indulged in some well-deserved retail therapy - and guitars and cameras are uber cool - but what about style? "I'm really into fashion but I don't really spend that much on clothes. I manage to find everything I want at a good price." How on Earth does she do it? "It's called eBay!" Ah, well played.

So, what else do you need to know about Miss Aplin? She draws, she paints, she doesn't mind being compared to Laura Marling ("but our music is very different") and if she had to pick her favourite writers, she'd choose Leonard Cohen and TS Elliot. She's really into the Sixties and Francoise Hardy at the moment and she hopes to be on the festival circuit in six months time and planning a winter tour.

All in all Gabby's a girl after MyDaily's heart, which is a good thing because I reckon she's gonna be sticking around for quite a while.



Check out more from Gabrielle: