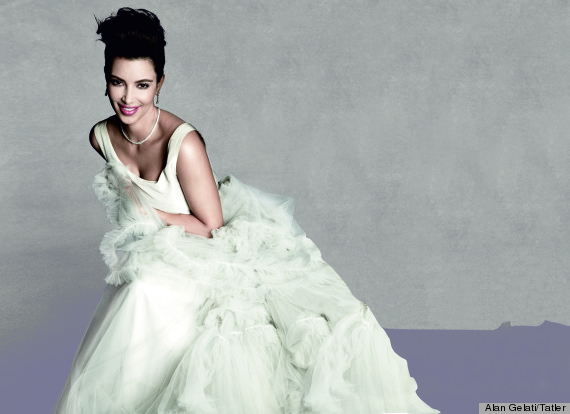 So Kim Kardashian is in the November issue of
Tatler
wearing wedding dresses (example above) and talking about Kanye.
Just this morning we were also concocting a new theory about business-savvy Kim so this seems to perfect time to share it with you. Essentially, she knows the sheer volume of column inches we dedicate to her and thus is building an impressive library of pictures to furnish potential as well as current stories. This morning it was family-based fun, pushing a pram and carrying a toddler but this afternoon has brought with it a bridal-flavoured email from the folks at
Tatler
.
This photography theory works out excellently for
Tatler
because their pictures of Kim in a wedding dress will probably come in super-useful in the future if her accompanying interview is any indication. The reality show star chatted about her NEXT wedding which she is currently envisioning as a friends-and-family affair on an island.
"It had always been my dream to have a big wedding, and when people said that I'd made it over the top for the show, that was just me: I am over the top. But the next time, I want to do it on an island with just my friends and family and that's it."
Team MyDaily will now return to digging around in our pockets for enough cash to purchase an island, a set of wedding hats and a disposable camera.