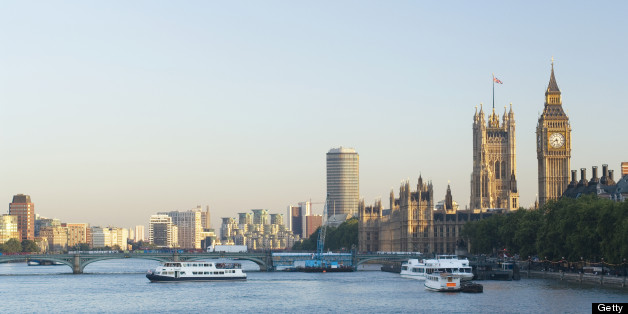 Getty
The five things you need to know on Thursday 11 July 2013...
1) ALL IN THIS TOGETHER? COME OFF IT
Whether or not you agree with the guys and girls at the Independent Parliamentary Standards Authority (Ipsa) - and I happen to think that, compared to headteachers, GPs and council chief executive, MPs are in fact underpaid - their timing is absolutely awful.
Public sector workers face a pay freeze; private sector workers have seen their real wages in freefall for almost a decade now; welfare claimants are having their benefits capped. Yet now is the time, according to Ipsa, that MPs (MPs!) should get a pay rise.
From the Independent's splash:
"MPs will be handed inflation-busting pay rises of £10,000 a year – worth up to 12 per cent on top of their current salaries."
"The Independent Parliamentary Standards Authority (Ipsa) is expected to announce that backbench MPs will in future be paid £75,000 and that will then rise automatically every year in line with average earnings. But the pay rise will offset that increase with a crackdown on perks such as meals on expenses and an end to their generous final salary pensions."
However, according to the BBC, the salary will be £74,000 but "the money saved would not fully offset the increase in MPs' salaries".
Oh dear.
"Leaving aside for a moment whether it is warranted, what exactly would this be saying to the public?" writes Tory MP Conor Burns on the Spectator website.
"Can we seriously on the one hand say that we need public sector pay restraint (the private sector is largely self-frozen), that we must all make sacrifices to repair the economy and reduce the deficit if at the same time we accept a large increase to our basic pay?"
Burns questions whether the timing of Ipsa's announcement represets "errant genius or malice" on Ipsa's part.
2) A SMALL CORNER OF SCOTLAND THAT IS FOREVER ENGLAND?
From the Guardian splash:
"The British government is examining plans to designate the Scottish military base that houses the Trident nuclear deterrent as sovereign United Kingdom territory if the people of Scotland vote for independence in next year's referendum.
"In a move that sparked an angry reaction from the SNP, which vowed to rid Scotland of nuclear weapons as quickly as possible after a yes vote, the government is looking at ensuring that the Faslane base on Gare Loch in Argyll and Bute could have the same status as the British sovereign military bases in Cyprus."
That'll go down well with already-irate Scots nationalists...
3) THE DEBT TIMEBOMB
From the Times splash:
"More than 800,000 households face the prospect of spending more than half of their income on debt repayments when interest rates rise, according to research that underlines the fragility of Britain's economy.
"The number of families using more than 50 per cent of their disposable income on mortgages and other debts will spiral, even if interest rates rise in line with market predictions to about 2 per cent by 2017.
"If rates increase to 4 per cent, households with 'perilous' debt burdens could double to more than 1.2 million, according to the research by the Resolution Foundation, a leading think-tank. That would leave many more households in severe trouble than on the eve of the banking crash in 2007."
Meanwhile, the Guardian reports that "11 payday lenders have decided to stop offering short-term loans since the Office of Fair Trading told firms to clean up their act, and the regulator is still waiting for 22 to respond to its ultimatum.
"The OFT started writing to the 50 biggest companies in March, after a year-long review of the sector revealed widespread bad practice resulting in cases of irresponsible lending and difficulties for borrowers."
BECAUSE YOU'VE READ THIS FAR...
Watch this video of a woman who's simply too busy to notice her boyfriend proposing to her.
4) WHO'S BEEN A STUPID BOY?
The Huffington Post UK was quickest off the mark yesterday, having spotted William Hague mouthing something rather offensive in the Commons chamber... my colleague Jessica Elgot reported:
"The Conservative front bench could be embroiled in a new misogyny row as the Foreign Secretary William Hague was seen to mutter 'stupid woman, stupid woman' at a Labour MP during Prime Minister's Questions.
"During a raucous session, Cathy Jameson asked David Cameron in relation to a donation to the Tory party.
"Hague, sitting next to the Prime Minister, can clearly be seen to mouth 'stupid woman, stupid woman' as the Prime Minister replies.
"The foreign secretary later remarked: 'I mutter many things in this House… and never intend any offence to any other honourable member.'"
Hague has yet to offer an apology.
5) THE NEW BBC - 'BOLLOCKED BY BERCOW'
From the Daily Mail:
"Senior Conservatives are planning an extraordinary show of defiance against Commons Speaker John Bercow following a series of intemperate outbursts.
"Backbench MPs and ministers have formed "the BBB Club", members of which complain they have been "bol****ed by Bercow".
"The MPs are hatching a plot to wear badges bearing the name of the club to the last Prime Minister's Questions before Parliament's summer recess next week.
"Those understood to have been approached about joining the revolt include ministers Michael Gove, Simon Burns and Anna Soubry, former minister Tim Loughton and backbenchers Jason McCartney, Simon Kirby and Ian Liddell-Grainger... Such a move would be an unprecedented snub to the Speaker, whose often fractious relations with Tory MPs have been stretched to breaking point by spectacular outbursts in recent weeks.
PUBLIC OPINION WATCH
From today's Sun/YouGov poll:
Labour 37
Conservatives 32
Ukip 12
Lib Dems 11
That would give Labour a majority of 56.
140 CHARACTERS OR LESS
@YvetteCooperMP What is it with Tory men's attitude to women? Hague calls MP "stupid woman," Boris dismisses women grads & PM thinks only men win Wimbledon
@DanHannanMEP Amazing how many cock-ups Chris Patten gets away with simply because he talks slowly and nods gravely.
@David_Cameron At this important time of year for the Islamic faith I wish Muslims in Britain and around the world Ramadan Mubarak
900 WORDS OR MORE
John McTernan, writing in the Telegraph, says: Ed Miliband is emerging as the true heir to Blair
Martin Kettle, writing in the Guardian, says: "Can Ed Miliband give England a political voice at last?"
William Hague, writing for the Huffington Post UK, says: "The true legacy of Srebrenica should be that such violence is never perpetrated again."
Got something you want to share? Please send any stories/tips/quotes/pix/plugs/gossip to Mehdi Hasan (mehdi.hasan@huffingtonpost.com) or Ned Simons (ned.simons@huffingtonpost.com). You can also follow us on Twitter: @mehdirhasan, @nedsimons and @huffpostukpol