You're probably pretty familiar with Hollywood darling Lucy Liu. From Ally McBeal to Charlie's Angels to Elementary (and lots in between), the actress has a reputation for being both smart and kick-ass - but did you know the very same woman is also an artist and has been for 20 years?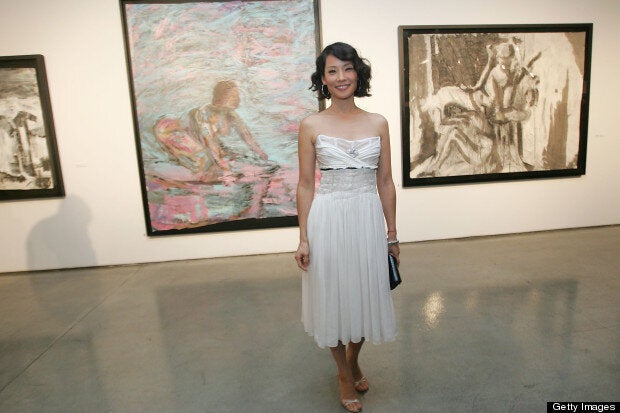 A side project while starring opposite the likes of fellow A-listers Calista Flockhart, Drew Barrymore and Cameron Diaz, Liu has been exhibiting her artwork Stateside since 1993 under the pseudonym Yu Ling.
But recently the star ditched the alias and her latest exhibition, Totem, goes on display at the Popular Institute gallery in Manchester this week until 22 June.
Now, trust us - we absolutely get that second career celebrities are enough to make you want to groan inwardly and ask, "Why do famous people feel the need to parade their hobbies about as if they're world class? Why can't they stick to their day jobs like the rest of us?" But - and here's where it gets interesting - you only have to scan a few reviews of Liu's previous work to realise this isn't a vanity project. She's actually really good.
"You see her complex, personal canvases - hand-stitched and stuck with funny little found objects, pieces of rubbish she has collected for years, orphaned pebbles and broken bits of butterfly wing," wrote Hermione Eyre in the The Evening Standard about her 2011 exhibition in London. "And you see that she has poured her heart and soul and years of her life into this art, and you can't be jaded about it."
The Guardian's Steve Ross praised Liu on her decision to unmask Yu Ling and exhibit her passions under her own name, writing, "The public might prefer to see her leaping about the screen - but this, at least, is a role she has chosen for herself." "It's a really big ripping-the-Band-Aid-off moment for me," Liu said to the Evening Standard at the time of her first public gallery showcase. "I thought I would let people see the art without knowing I was that same person who they saw chopping people's heads off. Because that can taint a person, you know?"
She confessed she was anxious about exposing her art in public, perhaps explaining why it took her the best part of 20 years to do so. "It's time to take the bulletproof vest off," she said. "I always thought, 'If people think I'm a bitch, that's fine for Ally McBeal or for chopping people's heads off [in Kill Bill] or whatever.' It's easy to let people believe you are what you represent.
"But it's harder to show people who you really are. At first I was afraid of allowing people in who are not close friends and family. But then I realised that people are always making judgements about what I'm wearing or who I'm with, so why not allow them to see something that's a real part of me?" Having captured high profile collectors such as Anita and Poju Zabludowicz, artist Annie Morris, gallerist Nick Hackworth and chairman of art salesroom Christie's Europe Pedro Girao, and actor Dominic Cooper declaring himself a fan, it seems exhibiting her art as Lucy Liu - despite her anxiety - has been an excellent move.
Her latest project, a series of work on linen, explores the fragility of the human form. And if you're not a fan of Lucy Liu the artist yet, this is the perfect time to rediscover a woman who's much, much more than just an Angel.
Related