Anna and Roberto tied the knot in the most idyllic of settings on Waiheke Island, New Zealand surrounded by friends, family and plenty of fine wines. We caught up with the bride who told us what it was like to plan a wedding on the other side of the world...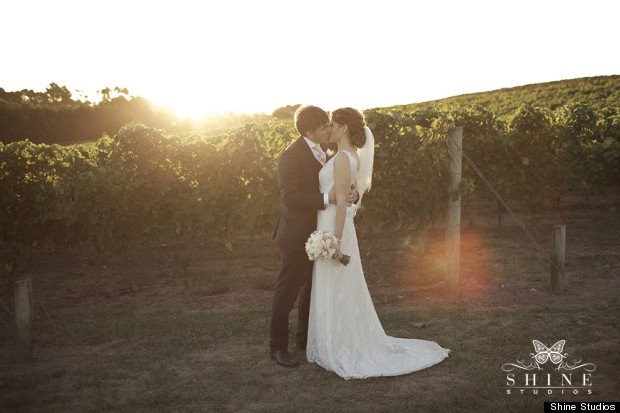 The ceremony:
I'm from New Zealand, Roberto is from Italy, and we live in London - so deciding where to get married wasn't easy! We wanted a relaxed, natural wedding without too much formality and with plenty of good food and wine.

Once we had visited the Goldie Room on Waiheke Island, NZ, seen the amazing views and tried their fantastic wines, it was a much easier decision. It was perfect for us as we both love the sea (and wine!), and the vineyard looked like it could be a little slice of Italy with the vines and gentle rolling hills.

We had both our ceremony and reception there. Our ceremony took place under a beautiful old pohutukawa tree on the top of a hill with views of the vineyard and sea. We absolutely loved the tree (as funny as that might sound) as we got engaged at Lake Como under another beautiful big, old tree – we used that tree as the background to our menus and seating plan and named out tables after the Italian lakes.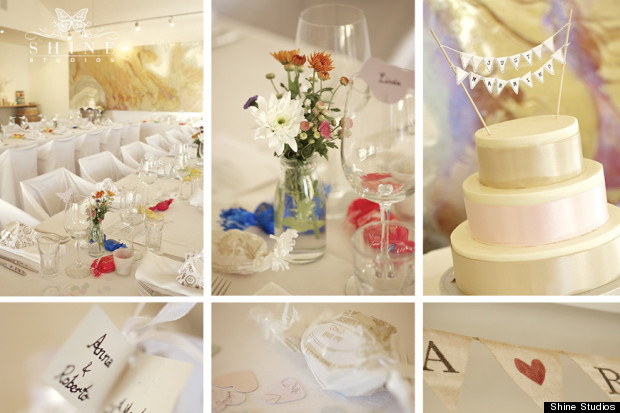 Between the ceremony and reception, our guests were able to do a wine tasting in Goldie's Tasting Room (which most took full advantage of and made our photographer's job a bit tricky trying to round everyone up for photos!). We had the most amazing late summer afternoon, and everyone was able to be outside in the lovely gardens.

Goldie's had set up petanque and croquet for the kids – big and small – which was brilliant.

Charlotte and Leslie at the Goldie Room were so great to deal with, and really did everything they could to help us have the most amazing day. Leslie designed a fantastic menu with plenty of Italian influences and vegetarian options (I'm a vegetarian so this was important to me), and our guests are still raving about the food.

The dress:
My dress was by Augusta Jones and I got it from White Mischief. I didn't have any definite ideas about what I wanted, other than that it should be classic and not too fussy - and I did like the idea of having a bit of lace. My wonderful mother took charge, and the White Mischief ladies were also fantastic.

The shoes:
My shoes were by Rachel Simpson, also from White Mischief. They were very simple – a cream colour with gold detailing - as I wanted something that I would wear again.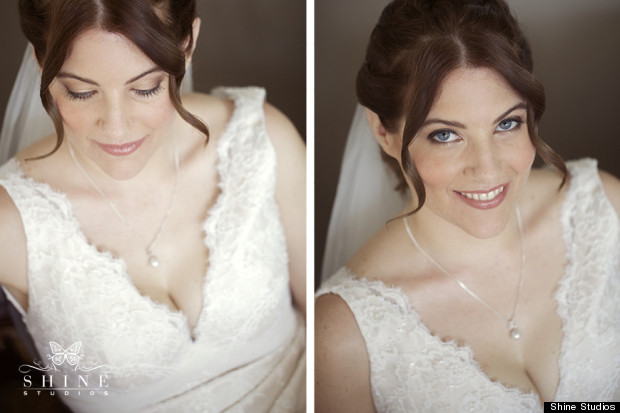 Hair and makeup:
My hair and makeup were both done by Julia O'Neil. She and her assistant came to us and did a brilliant job on me, bridesmaids and mother of the bride (and others!).

They were very calm and efficient, even when I kept sending more people their way on the day. I wanted hair and makeup that looked natural and wasn't too formal or structured. Julia helped me to figure out a style that would work, and then did a fabulous job on the day.

The groom's suit:
As a very proud Italian, there was only one place he was going to buy his suit - Italy! His suit was by Il Lanificio, bought in Milan.

The bridesmaids:
My bridesmaids were my sister-in-law and my best friend, and I also had three little flower girls – my two nieces and my best friend's little girl. One of the absolute highlights of the day for me was seeing those gorgeous mums and their daughters, and having them all there with us.

The bridesmaids' dresses were by Mr K and bought from Modes (in Auckland). My bridesmaids are both very busy mums with young babies, and I wanted them to choose a colour and style they were happy with. I loved the result!



The flowers girls' dresses were from Monsoon, and my sister-in-law made them little baskets to carry which were full of dried flower petals - she and my Mum had spent weeks collecting flowers from their gardens and drying the petals. It was the little touches like that which made the day.

The cake:
We had a combination of Chocolate Whisky Cake and La Dolce Vita from Rocket Kitchen. The groom is from the Liguria region of Italy which is home to Amaretti Virginia, so we brought a suitcase full of those and other yummy Italian sweets down to NZ with us and scattered them on the tables for our guests to enjoy – all washed down with the groom's Mother's home made Limoncello (very carefully transported to NZ wrapped in duct tape!).

The best moment of the day:
Marrying my husband! The ceremony really was very special and amazing. Aside from that, there were so many that it's hard to choose one. The speeches were another highlight.

And, really, just getting to spend a whole afternoon and evening with my nearest and dearest on such a happy occasion. (A big big thank you to my lovely husband for insisting on an NZ wedding!).

The biggest challenge:
Planning our wedding from abroad made things more difficult. However, we had so much help and support from family and friends – particularly my Mum and bridesmaids - and it all worked out.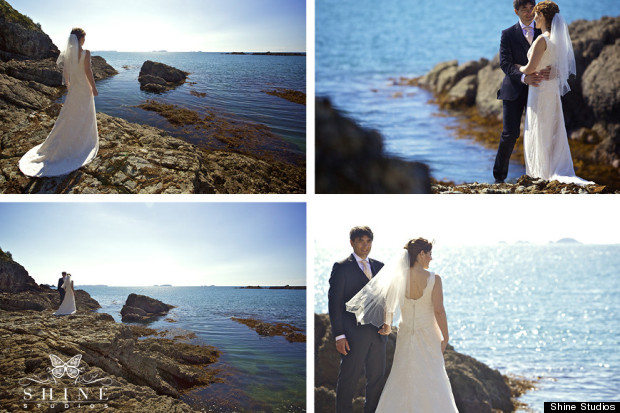 My sister in law was so good at coming up with ideas and finding lovely little touches. On the day, the reception room was decorated by our wonderful friends Natasha and Alisha (and their families). It was simple and beautiful – jars for vases with all different coloured chrysanthemums, and plenty of tealight candles.

I also can't talk about our wedding without mentioning our photographers – Blair and Lauretta from Shine Studios – who were absolutely great. Not only have they given us lovely memories of the day through their photos, but they were so much fun to have around on the day as well.

Anna's advice to other brides:
Well, it's probably a cliché – but try to relax and enjoy it! Even with the best of intentions, it is too easy to get caught up and stressed out by the little details. On the day, it all works out as it should, and will be just the best day anyway.

MORE!
My Big Day: Louise and Leon
My Big Day: Rhian and Stuart
My Big Day: Ruth and Ryan