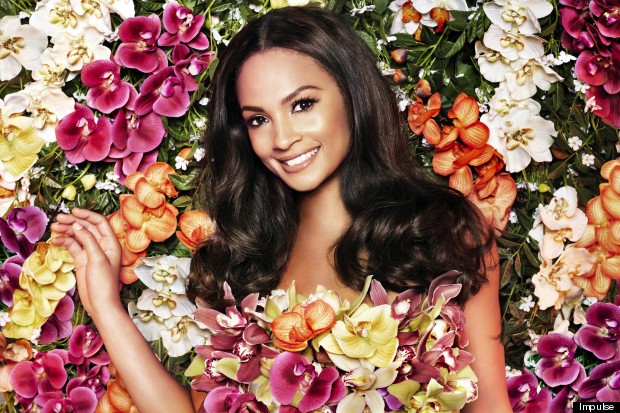 Alesha Dixon has been a MyDaily favourite since before MyDaily even existed thanks to her excellent work as part of Mis-Teeq. There was also that sequintastic stint on Strictly followed by an exploration of high fashion of Britain's Got Talent. Currently Alesha is the face of Impulse's new fragrance Sweet Smile so it seemed like the perfect time to have a chat about all things fashion and beauty!

So how did the Impulse collaboration come about?
Impulse approached me to be the face of the new fragrance, Sweet Smile. I loved the smell and I love the fact that Impulse is a brand I've grown up with and I use it. It's a win-win situation! The fragrance is lovely - very exotic.

We used to swear by Impulse O2 at school.
I don't know about school - I still use it! My recent favourite was Goddess - I can't remember the ones I was using at school.

We spent a whole day reminiscing - do you remember Charlie Red?
Oh my God, yes! I used to wear that to the Coconut Club! The Body Shop [products] remind me of being at school, too. We used to save up to go and get a lip balm or a cream.

And zipping back to the present day - what's the best outfit you've ever worn?
I think Strictly was definitely more of the glitz and the glam while Britain's Got Talent has been more fashion-led. I think my favourites on Britain's Got Talent would have to be the Balmain dress or the Marios Schwab I wore for the final. There are so many different designers I've got to know since doing BGT - I love Peter Pilotto and Marcus Lupfer. I got to wear a fabulous Mary Katrantzou dress too. Would you say Britain's Got Talent has been a fashion learning curve?
Definitely - Katie Greengrass, my stylist, and I had a great time collaborating. Throughout the auditions we really played around with trends and had fun with it. Bold colours and tribal looks and quirky looks and masculine looks. Then when we got to the live shows we went for big-hitting dresses. To wear a Gucci dress was incredible. It was so heavy but it was so beautiful.

Do you get to keep the outfits?
It depends. Most of the Britain's Got Talent outfits we bought so yes, but I'm thinking of auctioning them off [like Cheryl Cole's charity auction]. Others are loans so I have to give them back.

And in terms of this year's Strictly lineup who are you rooting for?
Kimberley [Walsh] and Denise [Van Outen] - I climbed Kilimanjaro with both ladies and they are such lovely girls - I'm definitely rooting for both of them.

And whose outfits are you most looking forward to?
I think all the girls will look great. Victoria Pendleton will look incredible but Kimberley has a figure to die for. A bootylicious babe! Denise is so striking as well - they have different styles but they're both going to shine.

And on the fashion flipside... any style sins you want to confess?
So many! Mainly when I look back on 2001, 2002...3, 4, 5... [laughs] At the time you put something on and think it looks cool but when you look back in years to come and some don't stand the test of time. Many of the outfits I wore in Mis-teeq did not stand the test of time!

The worst one was for the opening of a shop. I had this long denim skirt with a slit and it had this wolf painted on the front - I genuinely don't know what I was thinking!

So who's your style icon?
Jennifer Aniston's effortlessly stylish - she's got this easy breezy look. And I really admire Victoria Beckham at the moment. She's really upped her game. As a fashion designer in America she's getting so much respect and so many big names wearing her dresses.




Have you ever worn one of hers?
I haven't actually - but I would love to. Hopefully on BGT!

Reckon Kate Middleton has achieved style icon status?
She's looking fab actually - Kate's in a very privileged position but also she's under a lot of pressure and she carries herself so well. She looks so classy and ladylike. Obviously she could never come out wearing sexy little numbers but she looks elegant while keeping it young and fresh. She's also wearing clothes that are very accessible to young girls.

We started to find the recent tour wardrobe a little... *whispers* boring?
It's difficult for her because she has to think of so many things when putting on an outfit - there's proper royal etiquette to take into consideration. Under all that she's doing brilliantly and she rarely gets it wrong! She's celebrated as a celebrity but first and foremost she's the future queen. She could probably get away with something sexier but when she does her red carpet gowns she looks hot!

What's your best beauty tip?
Work on the inside and the outside takes care of itself. Drink a lot of water, sleep well, eat right - if you're in a good place within yourself that's when you glow. Products are wonderful but you've got to have that inner glow.

The wonder product which gets mentioned a lot when we ask that question is Vaseline.
I have a better one and that's coconut oil. It comes in a bigger tub, you can cook with it, you can use it in your hair, on your face, massage with it... it's amazing. I have a tub in the kitchen for cooking and a tub in the bathroom!

And your best fashion tip?
Katie always advises me that if I have my legs on show I should be more demure up top and vice versa! Choose the bit of skin you want to show but not all of it. Are you an over-accessoriser?
Recently I've been wearing less jewellery. Studs instead of big earrings - that sort of thing. I try to accessorise with my lips, too. I do a pop lip colour matching it with my shoes or do a nude lip and match my nails with my shoes. Accessorise within the fashion rather than putting too much stuff on. I used to over accessorise. It's tempting but if you've got a really good outfit and nice hair and makeup you should let the outfit do the talking.
And what Mis-Teeq song should we be listening to right now?
Scandalous! Every time I perform I still do Scandalous. That song came out in 2003 and I had a gig recently where I finished the set and asked the crowd what song they wanted and they were all like "Scandalous". That song does not want to go anywhere!
It's actually already on our office playlist...
Your office sounds fun! Banoffee pie, Scandalous...
Any time you want to pop by for some choons and pie let us know!
Thank you!
Sweet Smile
by Impulse is available now