Born in Iran, educated in New York, based in London - you can see why travel might influence Negarin Sadr, founder and designer of hot womenswear label Negarin.

The interesting geometrics of her Spring/Summer 2012 collection first turned my head, but on looking into the collection further, I found Negarin's range gave a host of incredibly wearable, versatile options to the working woman. Even better, they help solve the perennial style conundrum that is summer office attire.

Though her aesthetic reflects the Leonardo da Vinci quote heralded on her website, "Simplicity is the ultimate sophistication", to say that Negarin's designs are simple is, to my mind, incorrect. Like a good play, her creations appear uncomplicated and effortless but there's a lot going on behind the scenes to create this precisely constructed illusion, often informed by Sadr's interests in architecture, sculpture and fine art.



Above (clockwise from top left): Simone jacket £499 worn with Zoey top £199 and Marianne shorts £249; Josette dress £399; Sophia top £399 worn with Celine trousers £249; Magdalene dress, £749, all from Negarin's SS12 collection.

Everything is beautifully put together, lined and, for the most part, machine washable. Sadr - who started off working in finance before pursuing her dreams of becoming a fashion designer - clearly has an eye for function as well as fashion. Practicality certainly isn't one of the first things you think on seeing her designs but it's a welcome, understated bonus and a key element in her thinking when creating each piece. Sadr states Negarin was born out of a desire "to cater to the realities of the lifestyle of a busy, culturally aware, modern woman who wants beautiful, innovative clothes that are practical and affordable". She tells me her vision is to create pieces for "urban and active women who have a strong sense of style and the confidence to offset classic pieces with bold prints and statement tailoring."

My favourite pieces from the collection are the crisp, all-white Celine trousers with their unusual ankle split detail and flash of coloured lining and the architechtural Naomi cape, which both bring a modern edge with eastern-inspired elegance. The impeccably crafted cape, with it's flash of violet, brings to mind Gwynneth Paltrow's show stopping Tom Ford at this year's Oscars, albeit a more everyday version.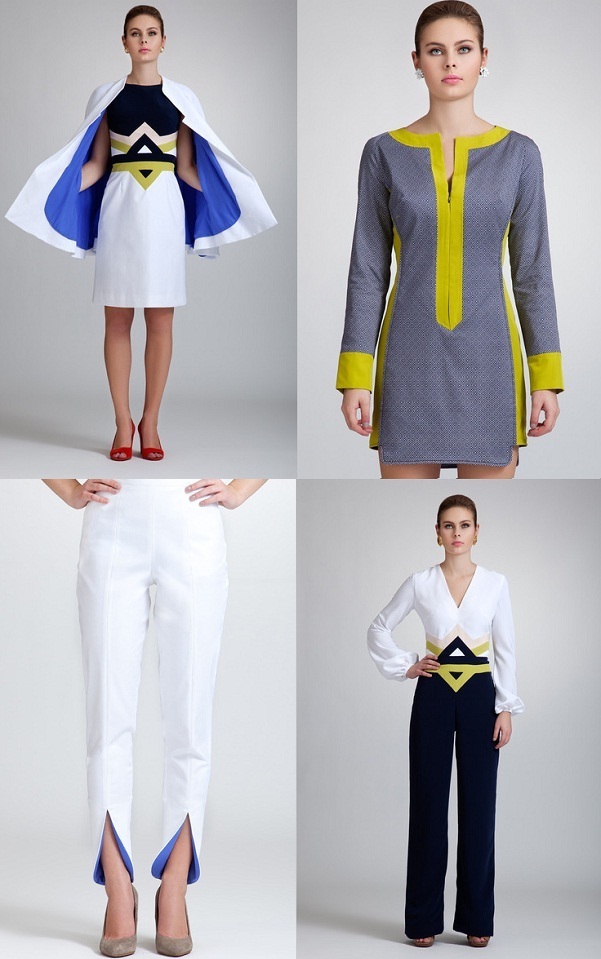 Above (clockwise from top left): Naomi cape £499 worn with Catherine dress £399; Isabelle tunic dress £499; Belle jumpsuit £699; Celine trousers, all from Negarin's SS12 collection.

Clothing comes in sizes 6-14 and prices are pretty high, wavering around the same ballpark as those other women's workwear wonders Stella McCartney and J. Crew, but Negarin's styles are less widespread and totally timeless. With the trend for more investment dressing and less throwaway fashion, this is definitely a label for high flying, fashion conscious businesswomen looking for a twist on the usual to add to their roster, not least for the ease with which these outfits translate from day to evening wear. That said, Negarin isn't just for the office or after work engagements - celebrities including Jade Parfitt and Tolula Adeyemi have also been spotted working it on the red carpet.

With a strong Autumn Winter 2012 collection already in the bag, Sadr - whose ultimate goal is to create a lifestyle brand - is busy plotting Negarin's expansion. "If market conditions are right, I plan to open a boutique in London early next year. Along the way, I will experiment with sustainable, non-crease fabrics, while broadening the product range to include accessories."

Although she may no longer work in finance, fashion is still a numbers game and I hope Negarin continues to do well as, although they say you should dress for the job you want, not the job you have, the current price range is only really affordable to those who have already achieved a certain level of success so I would really love to see a fabulous diffusion line from her, providing less pricey options for those ambitious, stylish ladies further down the career ladder.

Shop the Spring Summer 2012 collection or catch a preview of the Autumn Winter looks over on www.negarinlondon.com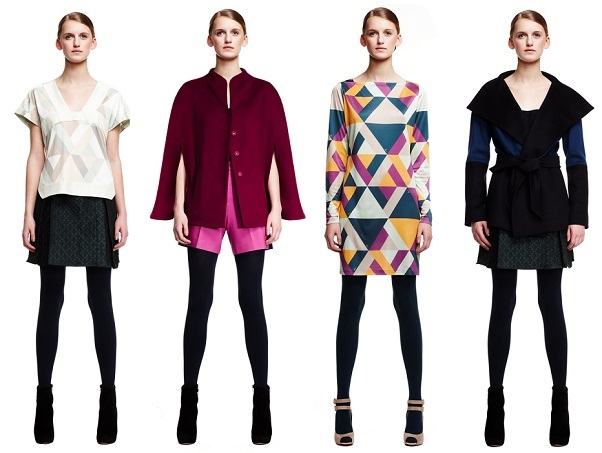 Above: A select preview from Negarin's Autumn / Winter 2012-13 collection.