Nicole Scherzinger graces the cover of Marie Claire's December issue - and she's looking on tip-top form.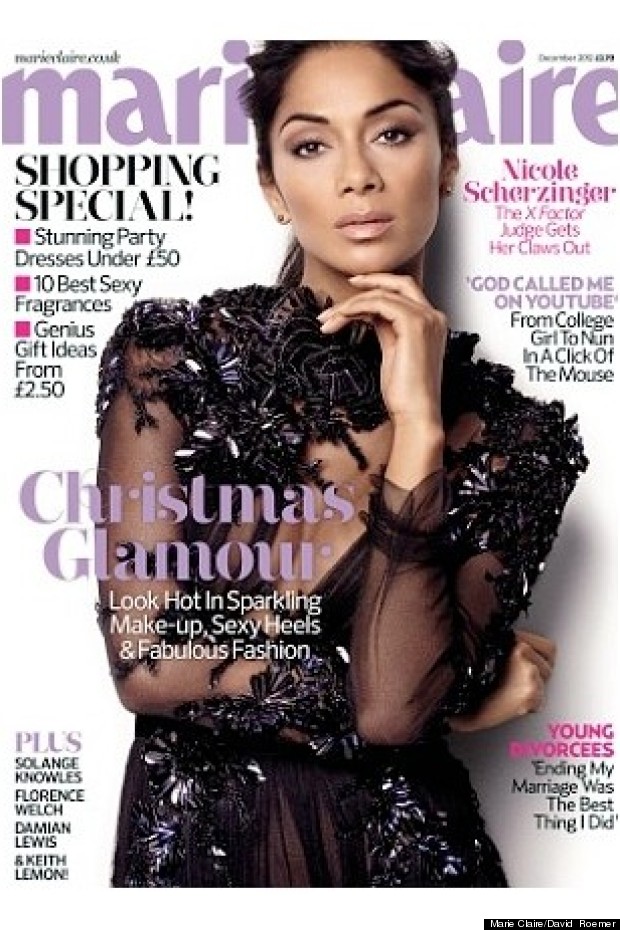 Inside the shoot, The X Factor judge oozes sex appeal in a sheer black lace pencil dress, teamed with strong makeup and a slick updo.




She chats away about getting older, having kids, and her relationship with Lewis. Read some highlights here:

On her relationship with Lewis Hamilton: "Lewis and I are a team and we're really there for each other, and the time we spend together I do cherish. It's separate from everything else.

"I know there are a lot of relationships who, you know... Take Kanye and Kim [West and Kardashian] – well, they're perfect for the cameras. Lewis and I are a bit more subdued."

On having kids: "I'm not getting any younger," she smirks. "I don't want to have kids now, though. When I'm a mum, I'm not going to be one of those mums who has nannies. Actually, I might have nannies – never say never – but I'm not having someone else raise my kids. I think five years might be a good time to look at having children, but I think whenever it's meant to happen is when it will happen. Right now, I'm focussing on my career.

"I see lots of women having beautiful children later in life now. And, if not, just freeze your eggs!"

On being happy now in her thirties: "When I hit my thirties, that's when I calmed down and I wasn't so tough on myself. I wasn't doing the yo-yo dieting any more. I gave myself a break. I think that, if you're more accepting of yourself, you're more free and open and can just allow more people in."

To read the interview in full, see the December issue of Marie Claire out tomorrow.