My oh my, would you take a look at all those pills! We know vitamins and supplements are good for you, but is Katy Perry taking things a little too far?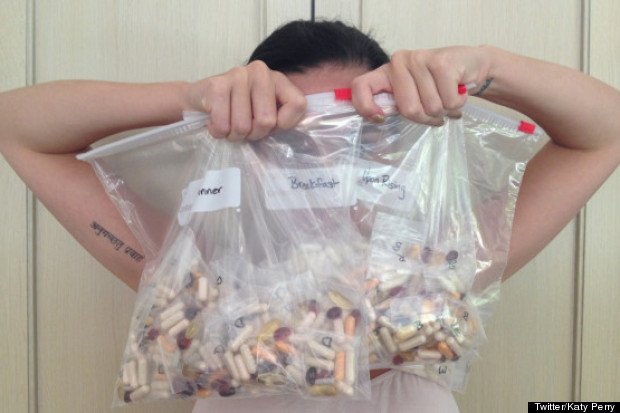 The singer took to Twitter and shared a snap of herself hiding behind a hella lot of vitamin pills all bagged up in plastic pouches labelled "upon rising", "morning" and "dinner".

Alongside the snap Katy wrote, "I'm all about that supplement & vitamin LYFE!" Really? We wouldn't have guessed.

The 28-year-old has always been vocal about her healthy diet and lifestyle, telling People magazine her typical daily menu rich with nutrients, "When I was on the road, I liked to have a light soup, a piece of grilled chicken and some quinoa with grilled asparagus for dinner.

"It was very important to eat a balanced meal and to make sure my energy was up for every two hour show." Hmmm, we're assuming this is a practice she's been keeping up. Yum.