Prepare yourselves for a whole lot of gushing because today we fell in love with Dree Hemingway. After clapping eyes on the actress in the most beautifully flawless ensemble at the 4th Annual amfAR Inspiration Gala New York at The Plaza Hotel on Thursday Team MyDaily's hooked.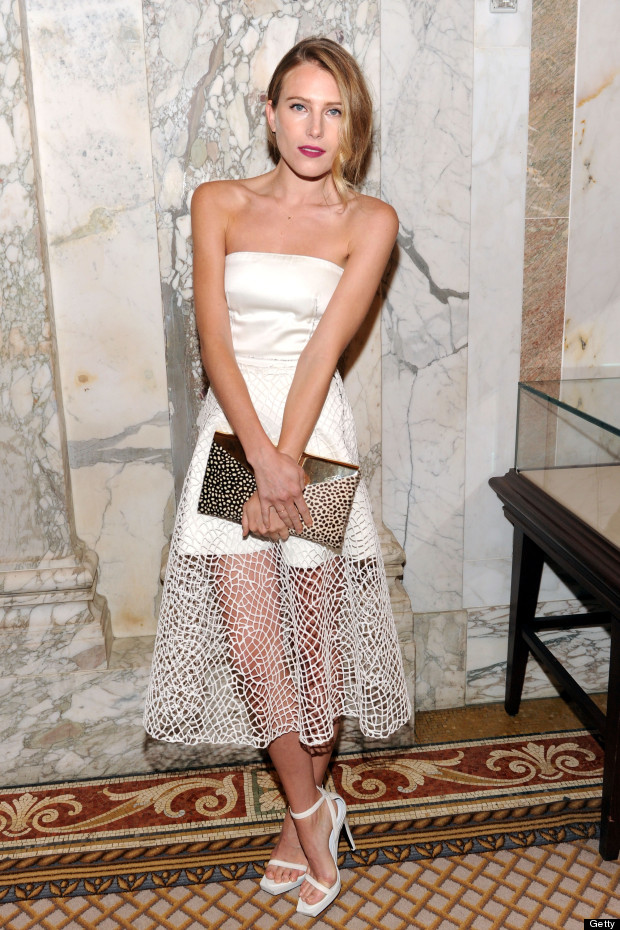 Dree was beyond stunning in a white strapless a-line made good with the most immaculate mesh overlay we have ever, ever, ever seen. Teaming her dress with a luxe leopard print clutch and simple white sandals the 25-year-old was the definition of chic.

If you couldn't tell, we're both head-over-heels in style lust with Dree and would also really like to be her. Please.

Don't know who Dree is? Well, here's five things you need to know...

1. She's Ernest Hemingway great granddaughter
Yup, the blond beauty just so happens to be related to the late American author. If that doesn't make her ridiculously cool purely by association then we don't know does.

2. She's not just a socialite
With her family connections we'd forgive Dree for just hanging out. But no, she's a working gal. She's a Shakespearean trained actress and has walked the runway for designers like Givenchy, Calvin Klein and Chanel - to name but a few.

3. She's big on Instagram
She may not have a following quite like Rihanna but this girl's Instagram feed will have you green with envy. Why? Because she's got a penchant for awesome trainers, flower headbands and like every other person on the photo sharing site, she loves taking pictures of food.

4. She's got odd taste in music
"I love a bit of folk and rock," Dree has said. "I listen to anything from the Beatles to Jethro Tull, to Jesus Christ Superstar. And I love, love, love Gloria Estefan. When I was little I met her, and thought, 'This is it!'."

5. She likes to dress like a boy
Dree's admitted to shopping for menswear in order to perfect laid-back slouchy style and says she loves messing her clothes up and looking a little bit undone.

God, could we love this girl any more?