Can a normal girl who loves brogues and jeans really pull off a pleated leather skirt? Alexandra Jones is The Experimentalist and she found out how to wear the trend, road-tested it and reported back on whether it's genuinely do-able or just for models and celebs...

An ancient fashion proverb says, "in a room full of suits, a leather skirt will draw some funny looks", which, as I found last week, isn't necessarily a bad thing.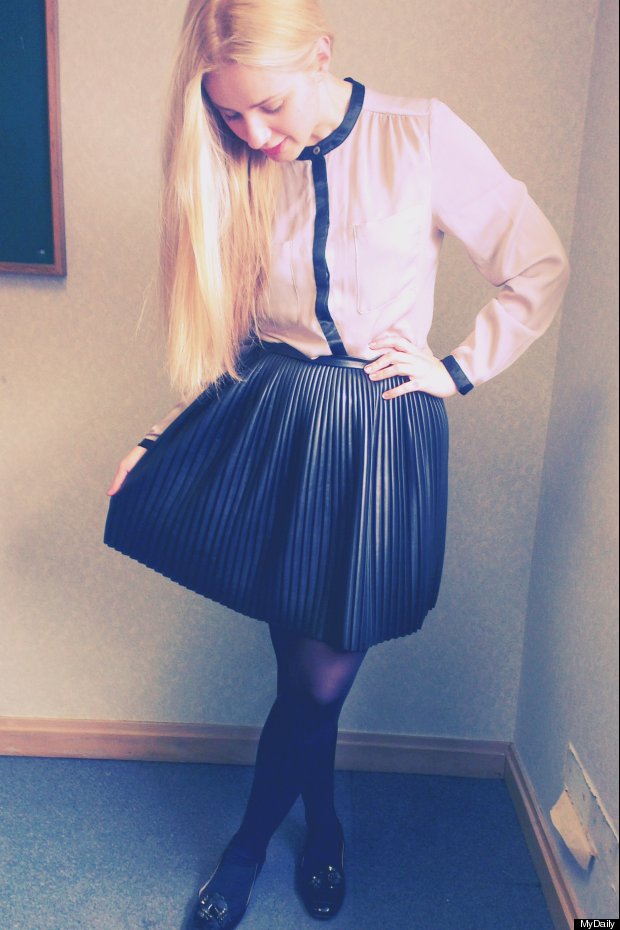 Don't get me wrong, I know that there are times when the world of fashion exists on a slightly different plane to the rest of us. Sometimes it's as if designers, models, sartorially-minded celebs and the super-rich, fashion hacks and screwball stylists are all in on it together, trying to fool us into believing that wearing a neon string vest and matching fingerless gloves is a good idea.

Those are the times when I snort behind my un-manicured hand and feel a sense of slob's pride at my battered old brogues.

And leather had always roused the cynic (or is that prude?) in me. Boots or bags, a nice jacket, fine. But skirts? Or leather trousers? At best a rock and roll throwback for the Kate Mosses of the world to look cool in and at worst the sole preserve of Nineties cock-rock bands (White Snake, anyone?) So it was with a bit of that old cynicism that I decided to test the practicality of this trend in the least rock and roll of settings: my office.

I'm not saying that leather has been some kind of passing fad. I know that ever since prehistoric man skinned his first woolly mammoth and draped the hide about himself, leather has held a special place in our society. I know that when Joan Jett snarled "I don't give a damn about my bad reputation", she wouldn't have looked half as cool if she was popping the collar of a white blazer.

And I know that leather's ubiquity (laser-cut, soft as butter, black, white and every colour in-between) on the Spring/Summer '13 runways shows it's a trend that transcends seasons. But I just wasn't sure if I could pull it off.


"To take leather away from connotations with biker gangs and fetishists, pair it with something normal, like a classic grey marl sweatshirt, and don't wear a leather jacket with your leather skirt if you are trying to look effortless," warned stylist
Amy Bannerman
.
I went for something a bit Summer-y: a wonderful pleated
Tibi skirt from my-wardrobe.com
that I could swish around in and that wouldn't cut off the circulation to my thighs whilst I sat at my desk for eight hours. Teamed with a silky grey shirt and a pair of flats, I was pretty sure no one would be mistake me for a member of a fetishist biker gang.
"The beauty of leather is it can make normal items look more luxe but [conversely] teamed with anything evening-y (sequins, metallics etc.) it can all look a bit much," said Amy. "The rule is, keep it simple."
Towards to the end of the day, I'd collected compliments from my peers and gotten nothing more than a few lingering glances from superiors, until my boss - a stickler for "proper" office wear - approached me. "Your skirt is interesting," she growled (that's a lie, she just said it normally - the skirt was going to my head). "Where did you get it from?" Now, make of that what you will, but this is someone who hadn't spoken more than a few words to me all year.
So I suppose if it takes even one person by surprise, you know your outfit has been a success. And it would seem that a well-placed leather piece can turn most outfits from standard into surprising. But I have to admit, the most surprised person as I hung up my skirt at the end of the day was the leather-cynic: me.
LOVE THIS WRITER?
Follow her on Twitter
@AlexLiviaJones
.
MORE
Game For A Serious Sartorial Overhaul: Meet The Experimentalist, Alexandra Jones
How To Wear Yellow (And Why You Should)