Daisy and Tiffany, aka The Proposers, set up the UK's first proposal business in London last year. Part events planners, part engagement advisers, the girls have helped over 50 men pop the question since their service launched. MyDaily spoke to Tiffany to find out what it's like to work in the world's most romantic job.

What do The Proposers do?
Our motto is 'we do the planning you pop question'. Guys come to us if they need help coming up with a proposal idea or if they need help arranging a proposal. It's a personalised service, so we'll send them a relationship form with loads of questions about the couple then we come back to them with two ways of proposing. Then it's up to the guy whether he wants to sort it out himself or whether he wants us to help.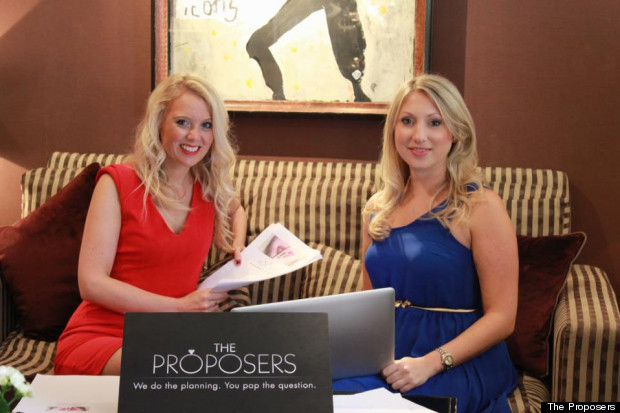 When it comes to popping the question, what are your top dos and don'ts?
No.1 is don't Google proposal ideas – it's too generic, it's not personalised and when you've gone to a huge effort to decide to marry that girl and spend a fortune on the ring – the event when you ask her to spend the rest of her life with you has got to be unique and special. A lot of guys also assume we only organise huge, elaborate flash mobs but even if it's a simple idea, we can offer our help and it can still work.

What type of man comes to you for help?
We get all sorts. Women have wedding planners so why shouldn't men have proposal planners? I think men want to own their proposal a bit more – it's their moment to shine and impress their girlfriend. Girls' expectations are a bit higher these days too – proposing in front of the TV isn't okay anymore. I also think the men like that they can phone up and chat to myself and Daisy for reassurance - although we do get some guys that want to do the flashy thing because they want to boast about it.

What's the best proposal that you've organised?
The theme was Bollywood flashmob and you'd presume that the guy proposing would be outrageous and wanting to show off but the best thing about this was, he was really shy. His girlfriend loved dancing and but he couldn't dance at all, so he was in rehearsals for two weeks leading up to the proposal (she thought he was working late). The couple was walking along by Tower Bridge and then this music started, the Bollywood dancers appeared from nowhere, they grabbed him and then suddenly he kicked into this amazing routine! The girlfriend was so impressed – he was doing something out of his comfort zone.



And the worst?
We've had a 100 more time and thought than a guy that doesn't use us and we don't let them get away with not doing anything. They have a huge input and they obviously have to approve everything so every single girl that has been proposed to has been so impressed. I actually think the day my husband proposed to me is the day I'll remember over the wedding. People think that because we arrange it, it's not intimate or personal but we completely stay out of the way, we've posed as tourists before.

How much does a proposal cost?
We charge £100 for two ideas and then we work completely to the man's budget, whether it's £500 or £25,000. We are not trying to make people spend loads. We're all about being romantic and we don't want to screw someone over with money.

Do you think proposing is more important than the wedding itself?
Both are about making a lifelong commitment but the proposal is the biggest decision. I think it's more important than standing at the altar and saying yes because at that point, you've already said yes. It's a very intimate moment and usually the guy hasn't told anyone. It's just you and him, asking him to spend the rest of his life with you – what can be more romantic than that.

What's the most popular proposal location?
We've been flown out to Rome – it's not as glamorous as it sounds - and we've got another guy flying over from Australia who wants to propose on Hampstead Heath, just because he's heard that it's beautiful. People love proposing in London because it's so iconic but it completely depends on the person.

Find out more at The Proposers.

Geting hitched? Shop our pick of the best wedding dresses from the high street and online: