A few years ago, I came across an article in the Acne Paper about an elderly New York woman called Iris Apfel. In her 80s, after years of collecting ethnic, eccentric accessories and a menagerie of clothing, Iris Apfel emerged as a 'Rare Bird of Fashion' and was honoured with a retrospective of her archive at the Museum of Modern Art in 2009. I immediately bought the book from the exhibition and foamed over this woman's eclectic, artistic style. Her passion was collecting and she followed her heart. She turned herself into her own living work of art. A real-life installation.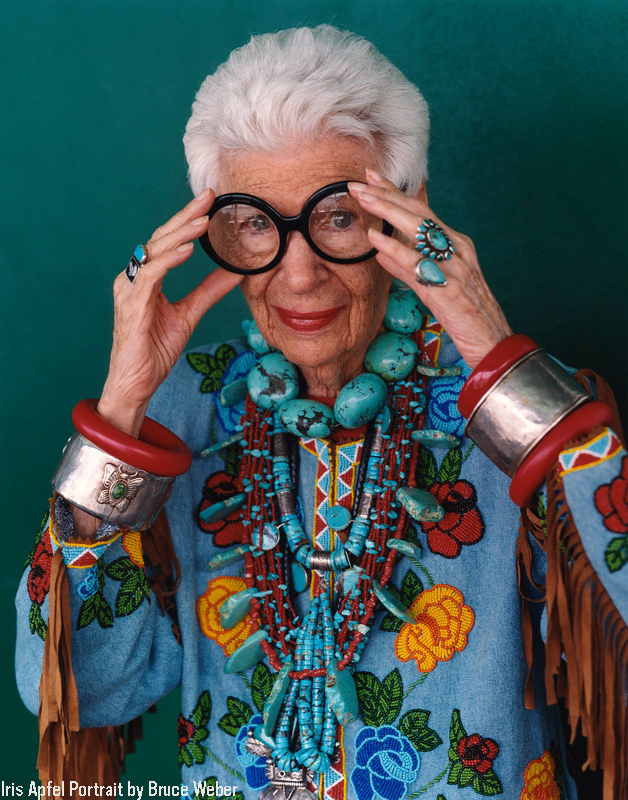 Iris Apfel's take on the South Western / Native American look, crossed with a hint of Jewish grandmother.
I wondered what it was about her that shook me to the core, and I realised it was because she was a style icon at 80. There are so few older women we can look up to and emulate. As a stylist I've noticed that there are watershed times in a woman's life when they reach a fashion crisis (pregnancy, post pregnancy, 40s and 50s). At these times, women need to reinvent how they dress, how they want the world to see them and how they feel about their own bodies and sexuality. It's very easy to grow older and start dressing like your grandmother. It's even easier to go the other way and resemble a pottery teacher. It's vitally important that we develop a personal style that allows us to have fun, remain fashionable, express our creativity and beauty (inner and outer) whatever our age.
I recently came across a book that epitomises just that, celebrating the fact that fabulous style does not end at 50 and giving us all something to aspire to.
Here's a selection of the great and the good from '
Advanced Style
' by Ari Seth Cohen.

Enjoy!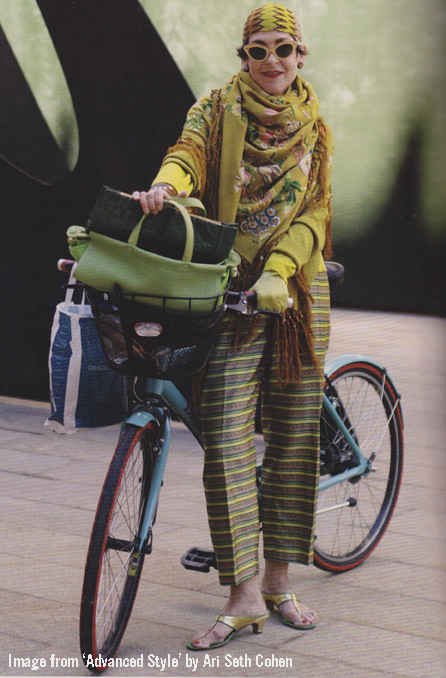 This woman is the master of accessorising and uses colour and texture brilliantly. I love her Missoni beanie, embroidered poncho in pea green and the striped trousers that tie it all together. Note her singular glove!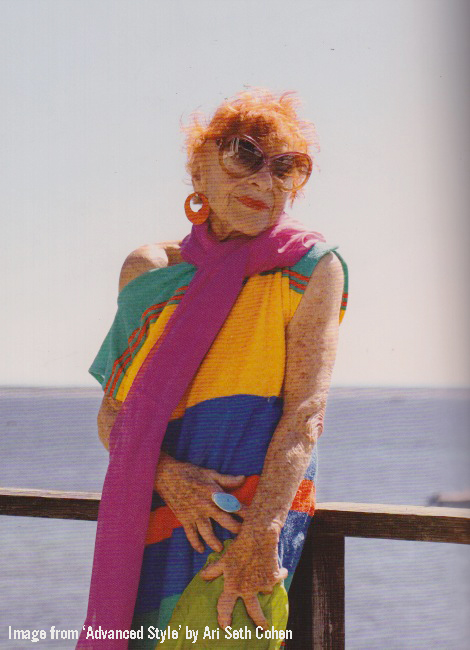 Most women panic when they have to dress for the beach. This woman teaches us ALL how to do it. Happy colourful kaftan, fun raspberry scarf, tangerine earring and of course that fabulous turquoise ring that brings an earthy element to the look.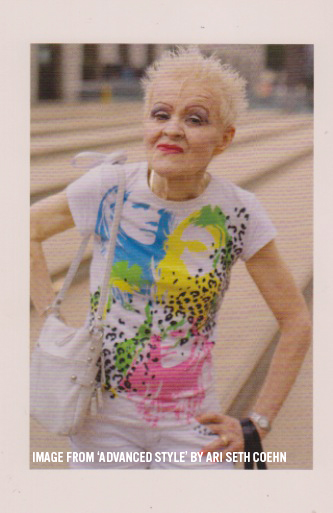 This is so wrong it's right. Everything separately would be too 'young' for her. But the way she's put it together by her attitude and 'Elf' gene makes it work. She looks fun, sassy and she's rocking the hell out of life. Rules are there to be broken!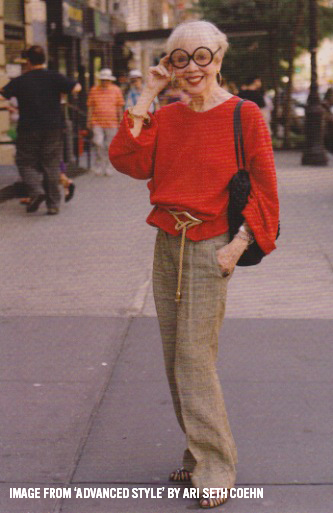 An effortless day look with so much style. I love her slouchy red top and her relaxed linen trousers, but the belt is what really pulls it together. It's so cool! She's also brought in a bit of strength and confidence with the black, tying in the bag, glasses and cage shoes. The shape of the glasses shows a quirky side. She just looks so happy; I'd love to meet her.