One to watch in 2013 singer-songwriter (and the newest anti-fashion hero) Lucy Rose talks music, oversized jumpers and her biggest fashion regret.

MyDaily caught up with the starlette before her performance at the Call It Spring footwear and accessories UK launch party, and here's what she had to say: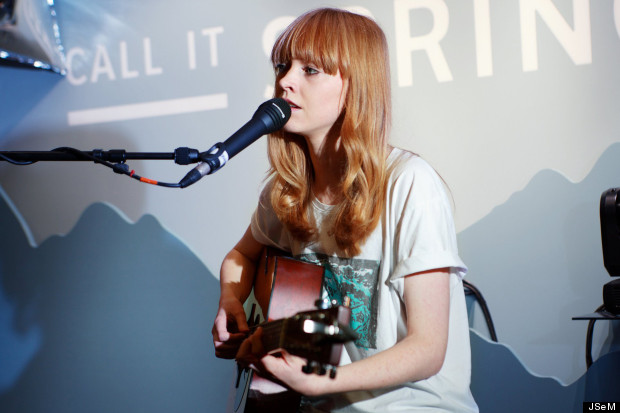 Who are you listening to? Who are you favourite artists/bands?
A new band I discovered the other day called Ajimal and Feist's album, the Maccabee's new album but overall the music I love and listen to the most is from Nico, and Neil Young, people like that.


What was it like playing at London Fashion Week?
Interesting. Always very interesting playing for a brand or in a shop – I'm thinking tonight (for the Call It Spring opening) will be more normal as it's in the evening, people are a bit more into gigs at night time. I was definitely the least fashionable person in the room, there's a lot of very fashionable people at Somerset House.


Who is your style icon and why?
Probably Cilla Black. I like what she wears, she always pulls it off.


What's your fashion sin?
Got to be the big comfy jumpers that I live in every day!


Who's your ultimate fashion saint?
It would probably be my Mum – she is way fashionable. She's really fashionable! She's wearing creepers at the moment, creeper trainers... that's pretty crazy. We went to an exhibition the other day that I was a part of and she was wearing the same shoes as Azealia Banks.


What look do you love but doubt you could pull off?
Those really short shorts where your cheeks are pretty much hanging out!


What do you wear when nobody's looking?
Erm, nothing?! Pyjamas probably...


What is your most treasured piece of clothing or jewellery?
I had a jumper I really liked – a white Royal National Lifeboat Association sweatshirt and I got glow stick all over it one night. I was completely glow in the dark.

No actually, it's my Levi's black jeans that I'm wearing now and got free at my Somerset House gig.


What is your most extravagant fashion purchase?
I actually can't remember the last time I bought anything. Other than a pair of socks at Gap. I hardly buy any clothes, ever! I just recycle the same things I've had for years and wear band t-shirts that my friends in the bands give me.


Describe your style in five words.
Non-existent, casual, scruffy, comfy and simple


What's the most stylish city in the world and why?
Berlin is pretty stylish. It's like going into Shoreditch in London but much less try-hard. It's a really relaxed city.


What's your fashion weakness/what item do you own multiple versions of?
RNLI sweatshirts! And multiple Gap socks. And Adidas trainers.


What do you want for Christmas?
I don't want anything for Christmas. I'd like a homemade mince pie and that's about it


Do you have a new year's resolution? If so, what is it? Do you think you'll keep it?
To write my second album. Hope I'll keep to that.


What has 2013 got in store? What will you be up to?
Touring mostly, I've got Hong Kong, Shanghai and Beijing next week. What else am I doing? Touring round Europe and UK, and hopefully America too.

Lucy Rose was in good company at London Fashion Week. Here's a reminder of who was FROW-ing it...