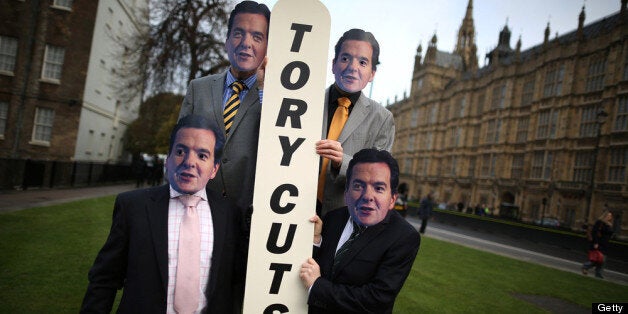 Chancellor George Osborne hinted at a possible Tory idea to radically ramp up the rate of spending cuts in order to cut the deficit.
However, under questioning today by members of the Treasury Select Committee, Osborne suggested that, after the next election, the Tories could reduce the deficit in government entirely through spending cuts.
"I think it could be achieved through spending consolidation," he said. However, Osborne admitted that such a path would be likely diluted by opposition from any potential coalition partner.
Osborne later told reporters at a Press Gallery lunch: "There is no need for tax rises to contribute to that fiscal consolidation".
When approached by the Huffington Post UK, Conservative Campaign Headquarters (CCHQ) refused to comment. Ben Southwood, from the freemarket thinktank the Adam Smith Institute, said: "A 100:0 strategy could have some appeal."
Meanwhile a Liberal Democrat spokeswoman initially said: "No, we wouldn't agree with that." However, a different spokesperson changed tack and said the party wouldn't engage in a "hypothetical and academic exercise".
Labour MP Teresa Pearce, who is member of the Treasury Select Committee, said the Chancellor was "heartless, as well as hopeless".
"He seemed to be saying that the Liberals are holding him back, but we had Danny Alexander in the other day and he was very gung-ho, saying I could do this and do that," she told the Huffington Post UK.
Osborne also told MPs that he believed spending cuts would still have to continue after the next election.
"There's no doubt that whoever is in government after the election, they will have to go on taking difficult decisions after the next election to get public spending under control."