It is a truth universally acknowledged that the best bit about visiting any museum or large art gallery is the trip to the gift shop.

The launch of the V&A's incredible new Ballgowns: British Glamour Since 1950 exhibition - which opens today (Saturday 19 May) - gave me the perfect opportunity to investigate what goodies would accompany this outstanding show, especially as you have to walk through the gift shop to get there.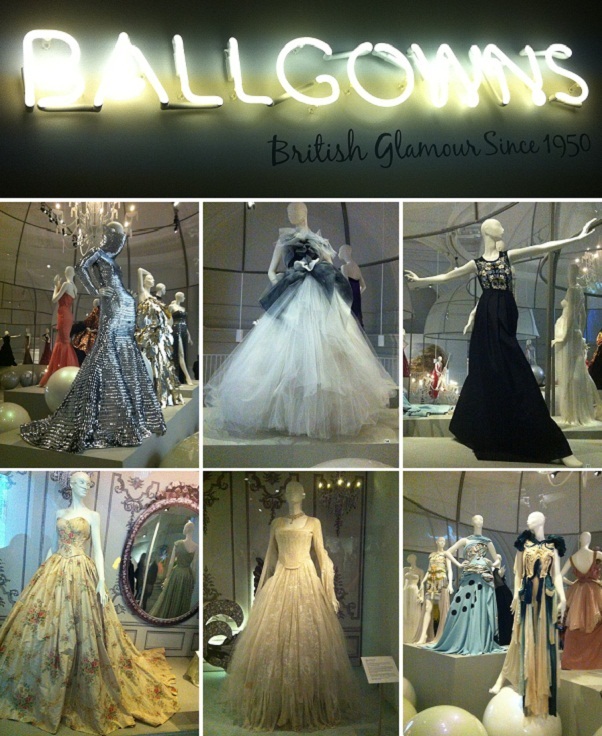 The Ballgowns exhibition showcases a host of the most exquisite gowns and formal accessories - shoes, bags and, of course, evening gloves. From 1950s designs for society balls to newer, present-day red carpet dresses. It is an absolutely breathtaking collection, staged in the most beautiful way over two floors with the more modern pieces presented tableau style, unfettered by glass, so you can really get up close. As you can imagine, my iPhone pics above don't really do it any kind of justice but this is just to give you an idea of the kind of WOW factor you're looking at. OH the cloud-like Marchesa tulle masterpiece, the futuristic, metallic genius of Gareth Pugh, the intricate lacework of Vivienne Westwood..

Even as one of the most informally attired people you could wish to meet and with relatively little interest in getting dressed up myself, I found Ballgowns: British Glamour Since 1950 an utter joy (you can read more about my favourite look here). Having zipped through the crowded main gift shop to get straight to the meat of the exhibition, the show stopping outfits set me right up for a raid on the event merchandise stalls...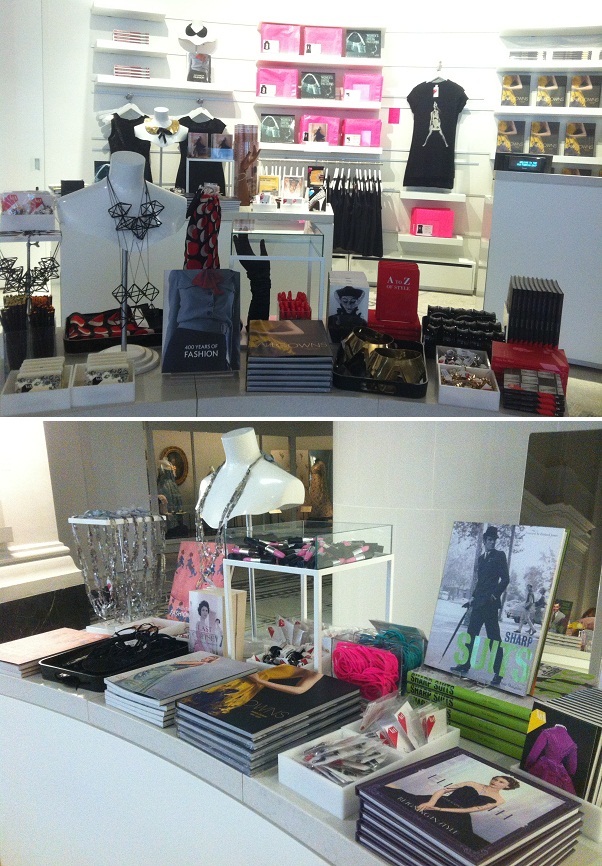 From dresses and jewellery to books and glittery lipstick pens, the V&A have put together a special selection comprising new items made to accompany the exhibition along with some mainstays of their retail range. The Coast for the V&A Little Black Dresses, pictured below, were a fun addition, as were dress patterns so, for the DIY-minded, you could make your own at home.

As with any good show, there was also a wonderful Ballgowns: British Glamour Since 1950 official exhibition book, a postcard set and branded diaries available to buy, all displayed alongside other relevant style publications from the V&A's extensive library.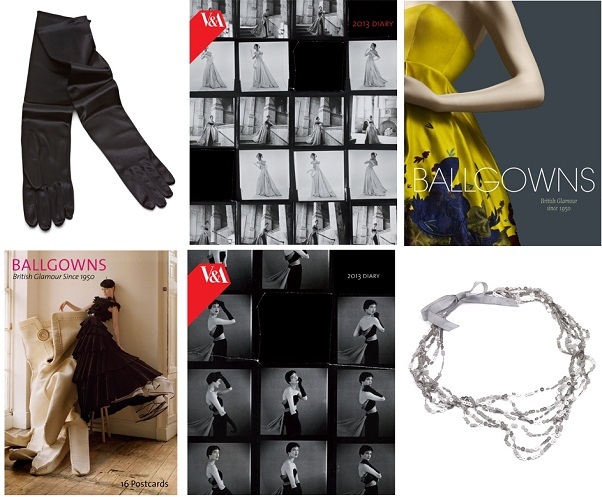 Clockwise from top left: Black evening gloves, £18; V&A Ballgowns 2013 pocket diary, £13.99; Ballgowns: British Glamour Since 1950 official exhibition book, £20; Silver sequin necklace, £8.50; V&A Ballgowns 2013 desk diary, £7.99; Ballgowns book of exhibition postcards, £7.50.

I absolutely loved the evening gloves which were perfectly pitched for the Ballgowns theme, oozing glamour and a whimsical, retro charm. Though admittedly more likely to get used for being Material Girl-era Madonna at fancy dress parties than at any grand social functions, the £18 price tag was reasonable enough to make this a worthwhile purchase.

Those elbow length gloves in copper or classic black, and the awesome neon pink and green hairbands (slightly incongruous inclusions but welcome nonetheless as I found after a good pinging that, fab colourways aside, they are the stretchiest, softest hairties I've tried in ages that still have a firm grip) are my top swag picks although the delicate silver sequin necklace, the button shaped stud earrings and one - I couldn't choose which - of the collar accessories (see below) nearly found their way into my basket too.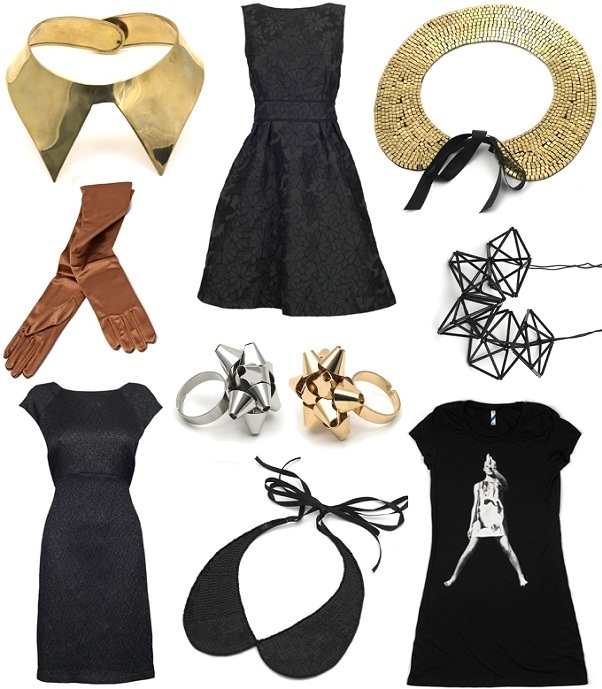 Clockwise from top left: Golden coloured brass sculpted collar, £20; Coast for the V&A fit and flare Amy dress, £150; Peter Pan beaded collar, £20; Polyhedron necklace, £45; 'Hand' t-shirt dress; Black sequin collar, £10; Coast for the V&A Mindy cocktail dress, £125; copper evening gloves, £18; present bow rings in gold or silver, £8.50 each.

If you can't get down to the exhibition then as a small consolation at least you can check out the gift shop online. Get over to www.vandashop.com for shopping or for more information and to book tickets to the exhibition which runs 19th May 2012 - 6th January 2013 at the Victoria & Albert Museum, visit their website at www.vam.ac.uk