It's Eurovision Song Contest weekend and across Europe people will be throwing themed parties with varying degrees of irony and invariably, a lot of hummus, but what to wear? Here's a quick Eurovision Fashion shopping edit of some of the hottest labels to snap up now whether you want to support your homeland or just whoever's song you like the most. If it wasn't for Henry Holland, I'd be feeling kind of Swedish right now...

The British Entries: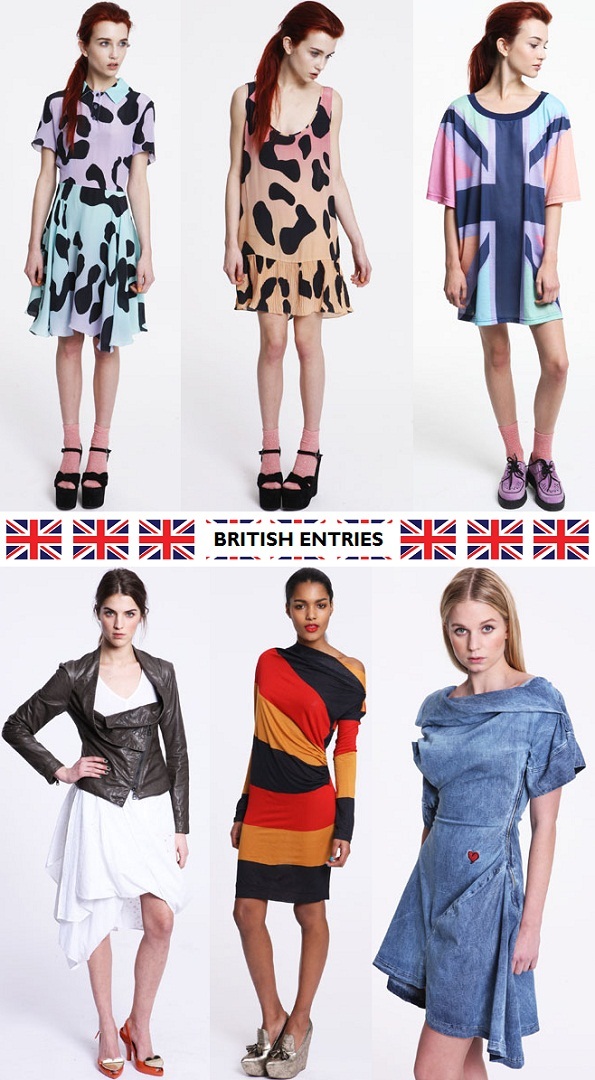 House of Holland (top, left-right): Leopard polo dress £210, Leopard Silk Drop Waisted Dress £195, Oversized Union Jack Tee £75 all from Urban Outfitters' Boutique.

Anglomania by Vivienne Westwood (bottom, left-right): Eight Drape embellished skirt (worn with leather jacket) £227, Drape Dress £250 and Anglomania + Lee denim Announcement Dress £170 also all available from www.urbanoutfitters.co.uk

The Swedish Entries: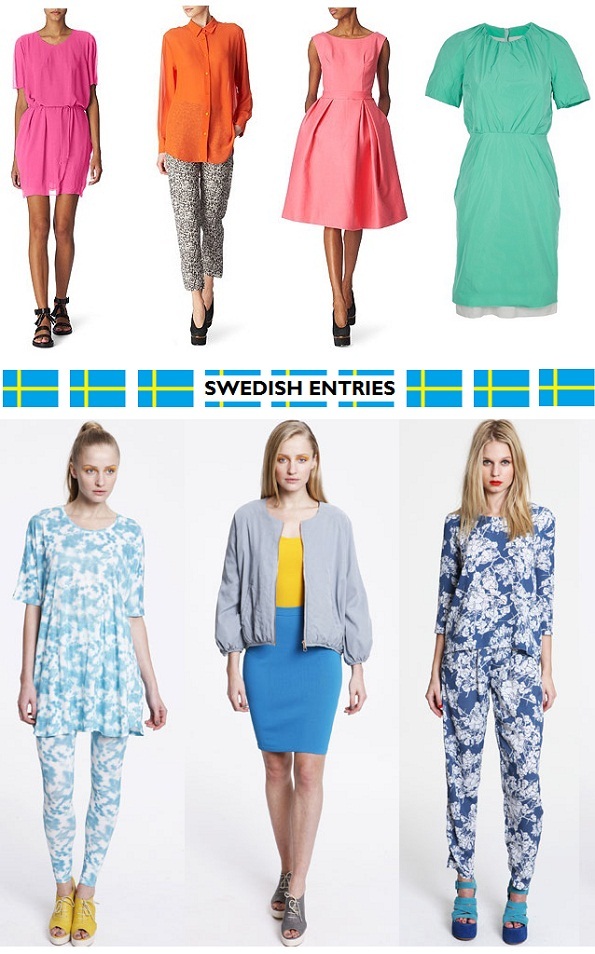 Acne (top, left-right): Hot pink Morceau dress £250, Patti orange shirt £185, and Baby dress, £1,175 all from www.selfridges.com; mint green Lucille pencil dress £322 from Diverse, London via FarFetch.com.

Carin Wester (bottom, left-right): CW By Carin Wester Blue Oversized Cloud Tee (worn with matching leggings) £42, CW By Carin Wester Quilted Bell Sleeve Jacket £90, Carin Wester Priscilla Blouse £130 (worn with matching trousers) all available from www.urbanoutfitters.com

The French Entries: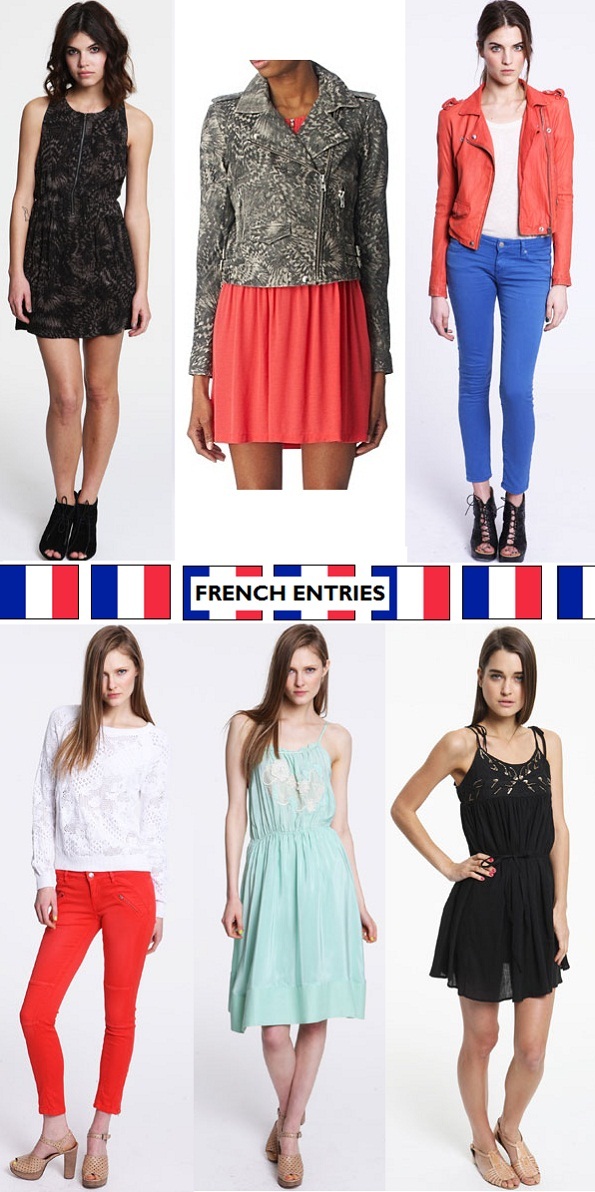 Iro (top): Carson Zip Print sleeveless dress £189, far left and Jayrod Color Jeans £175 (worn with biker jacket, far right) both from Urban Outfitters, centre - Salinas leather biker jacket, £705 from Selfridges.

Vanessa Bruno Athe (bottom, left-right): Cotton Biker Jeans in Coral £150, Embellished Silk Flower Dress £255 and Butterfly Front Sun Dress, £125 all from Urban Outfitters.

The Belgian Entry: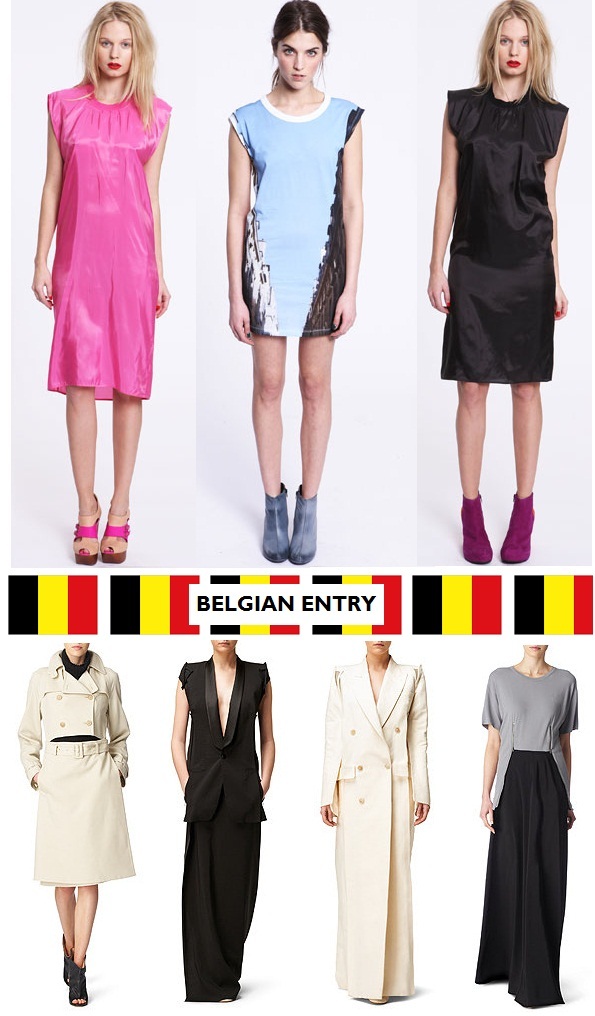 MM6 (top): left in pink and far right in black, Shoulder Box Dress £145; centre, Sleeveless Print Tee £95 all from www.urbanoutfitters.com.

Maison Martin Margiela (bottom, left-right): Drape front trench coat £1,265, wool gilet, £1,085, cotton canvas coat (exclusive) £1,595 and grey zip front t-shirt, £265 all from Selfridges.

The Best Of The Rest...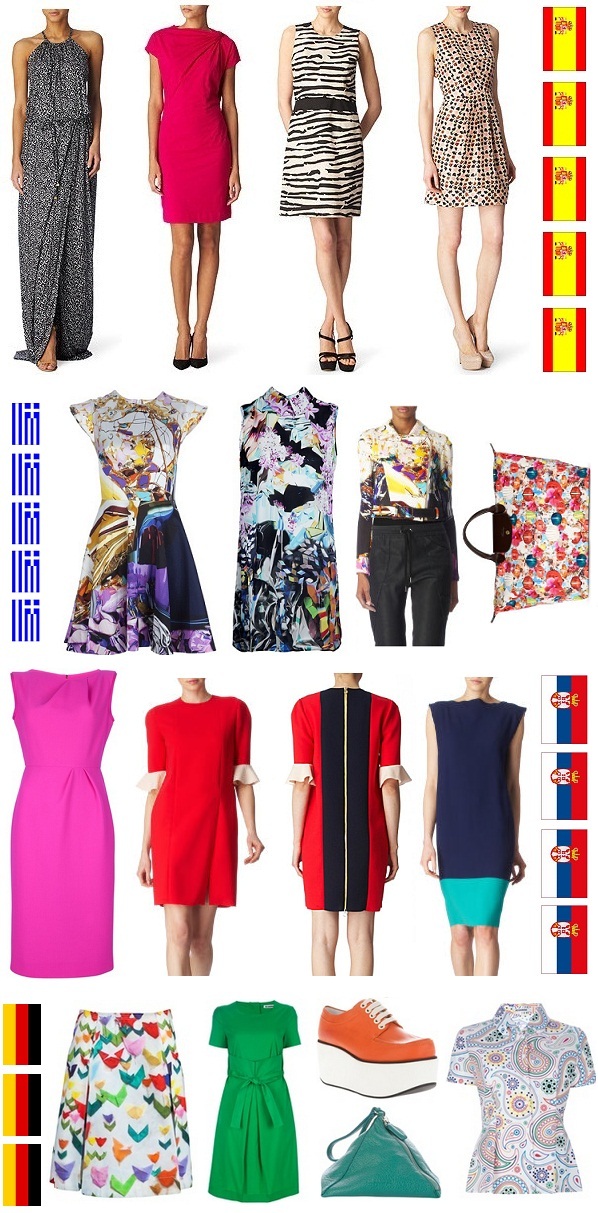 Spain: Hugo Boss: Dot-print maxi dress, £350, High neck jersey dress, £160, Dava zebra print dress £340 and Denira leaf-print dress, £350 all available at www.selfridges.com.

Greece: Mary Katranzou: Babelona dress £1,229 and Print Dress £699 both from Dante in Barcelona via FarFetch.com; Babel biker jacket £1,675 and Mary Katranzou x Longchamp digital print travel bag, £160 both from Selfridges.

Serbia: Roksanda Illinic: Delphine dress £745 from Feathers London via FarFetch.com, Aya dress (front and back) £940 and Remy dress, £920, both from Selfridges.

Germany: Jil Sander: Jil Sander Navy stitch down pleated skirt, £419 from Knit Wit, Philadelphia, Jil Sander belted tie dress, £929 and pyramid clutch, £364 both from the Dolci Trame boutiqye in Siena, Italy, Jil Sander Navy platform shoes, £249 from WOK-Store, Milan, Jil Sander Navy paisley fitted shirt, £545 from Feathers, London, all available via FarFetch.com.