I'm a sucker for a fashion show - Project Runway, the Rachel Zoe Project, Kell on Earth - the lot. My friends and I have 'movie nights' but with fashion documentaries instead of big screen blockbusters and, with another girls night approaching, I've been raiding Amazon for some classics.

Here's a little run through my favourite fashion flicks - all documentaries, rather than promo marketing videos or feature films - and a few that I've put on my Wish List. All DVDs are available from Amazon.co.uk and if you want to know more, just click the title to go through to the film's page.

One thing to bear in mind when shopping for these kinds of DVDs - which are often made abroad, usually in France - is to make sure the region is suitable for your DVD player. If it's not, my handy hint is to check if they'll play on your laptop or PS3 instead. Such a shame these don't come as HD versions - Blu Ray was made for this kind of detail.

Enjoy, and if you have any recommendations for other fashion films I'm missing out on, do drop me a comment below or over on Facebook.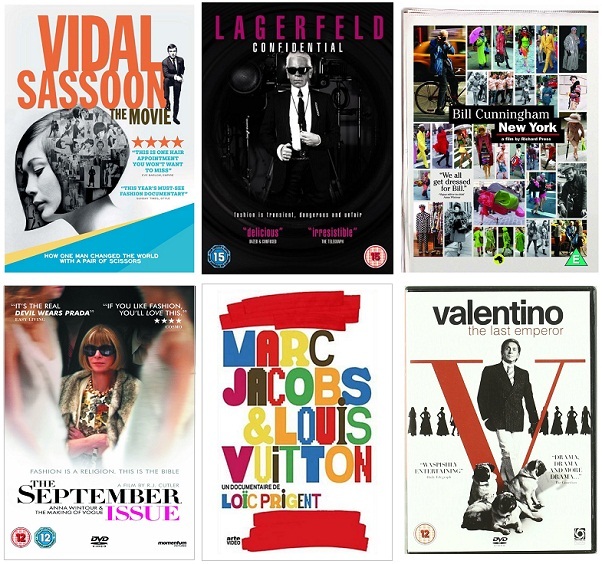 Clockwise from top left:

Vidal Sassoon: The Movie (£5.97) Made even more poignant by Vidal's sad passing earlier this week, this 'movie' explores his life and the rise of the London boy whose inspirational geometric haircuts, influenced by the Bauhaus art movement and made to 'wash and go', transformed the face of hairdressing forever. A key player in making the Sixties swing, Vidal Sasson was the first high profile hairdresser to have his own, widely available and highly successful range of shampoos and conditioners, paving the way for today's celebrity hairdressers in commercial terms as well as through his iconic hair designs. Footage old and new threads together stories and memories from the man himself, all told in his charmingly distinctive west London meets LA drawl. Well worth watching.

Lagerfeld Confidential (£3.97 - I can't imagine Karl being happy with that...) Possibly my favourite fashion film, 2007's Lagerfeld Confidential follows artistic powerhouse Karl Lagerfeld, giving a delicious glimpse into the life of what must be the hardest working man in fashion. Best known for his work as head designer and creative director for Chanel, the man with seemingly more diffusion lines and guest collections than any other - and not just in fashion, either - shows us around his various homes, his offices at Chanel where the toilet door bears the fantastic legend 'SI TU PISSES PARTOUT, T'ES PAS CHANEL DU TOUT' (roughly translated: 'If you piss everywhere, you are so not Chanel') and generally takes the viewer on a day-in-the-life style journey. From his childhood to his passion for photography and even helpful hairdressing hints, Karl is utterly captivating.

Bill Cunningham New York (£9.99) Having missed out on seeing this during its theatrical release, I'm planning a girls night in to gorge on this brand new fashion film, investigating the wonderful New York Times photographer, Bill Cunningham, whose trademark candid shots inspired a generation of street style photographers and bloggers.

Valentino: The Last Emperor (£4.19) I adore this 2007 documentary which tracks legendary fashion designer, and mega-tanned diva Valentino Garavani with his long suffering partner of over 50 years, Giancarlo Giammetti, as they prepare for the exhibition and events to celebrate the anniversary of Valentino's 45 years in fashion. An incredible love story in every sense - despite the ups and downs of their business dealings, perfectionist tantrums and worries about being 'too tan', the warm and touching relationship between the two men, with the added fashion delights (not to mention a fantastically bitchy exchange with his peer Karl Lagerfeld, and Valentino's pugs who totally need their own cartoon), I didn't want this feature-length film to end.

Marc Jacobs & Louis Vuitton (£17.99) This 2008 documentary films the unconventional ways in which Marc Jacobs - a designer who neither sketches nor sews - goes about creating his glamorous, tastemaking collections for the indomitable French fashion house of Louis Vuitton. Made by director Loïc Prigent, the man behind the beautiful Signé Chanel (see below), I cannot wait to watch this one.

The September Issue (£4.77) I can't believe any fashion fans won't have already seen this acclaimed documentary which follows the making of the 2007 September Issue (copies of which are now going on eBay for £135!) with its unprecedented fly-on-the-wall access to the hallowed corridors of US Vogue, ruled by the ultimate steely-eyed editor-in-chief, Anna Wintour. The star of the show for me is another Brit, Creative Director Grace Coddington,the auburn eccentric whose occasionally fractious relationship with Wintour and exquisite art direction add drama and intense beauty throughout.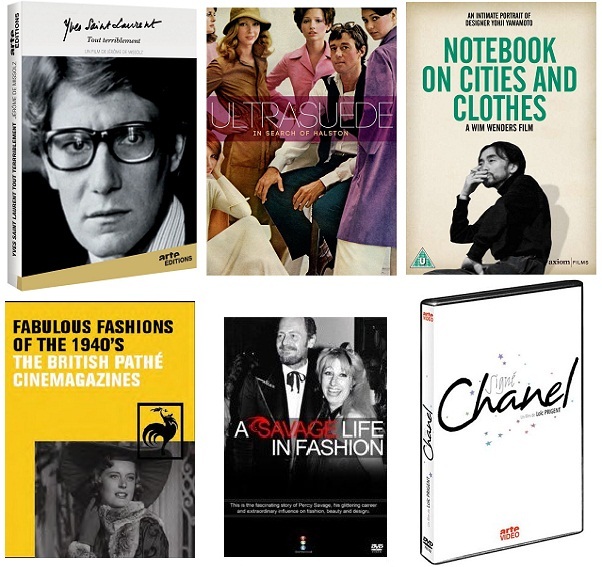 Clockwise from top left:

Yves Saint Laurent: Tout Terriblement (£13.99) Jérôme Missolz's documentary films the legendary French designer throughout the summer of 1994, as he is creating an haute couture collection and visiting his various residences in Paris, Marrakech and Deaville. Interspersed with exclusive footage and images from past collections, this is high up my Wish List and required viewing for anyone wanting to know more about the genius of YSL.

Ultrasuede: In Search of Halston (£5.97) This 2011 film first came to my attention when it caused a stir at New York's highly regarded Tribeca Film Festival. Whitney Sudler-Smith's documentary explores the style, life and times of major 1970s American fashion player, Roy Halston. Despite being best known for his Studio 54 scene glamorous disco chic, Halston actually started out as a hat maker, shooting to fame after creating the pillbox hat Jackie Kennedy wore to JFK's inauguration in 1961. With incites from some of Halston's famous clients, including Liza Minnelli and Anjelica Huston, this is a must-see not just for fans of the designer but for anyone who's into the whole 70s look and party scene.

Notebook on Cities and Clothes - An Intimate Portrait of Designer Yohji Yamamoto by Wim Wenders (£10.37) German film maker Wim Wenders, best known for his feature films like Paris, Texas and Pina, turns documentary-maker to paint a picture of the iconic Japanese fashion designer, Yohji Yamamoto whilst exploring the relationship between fashion and film. Originally commissioned by the Pompidou Centre in Paris to produce a film about fashion's place in modern society, Wenders instead decided to narrow this project, filmed in 1989 but released on DVD just last year, focussing specifically on this avant garde, master tailor and former law graduate.

Signé Chanel - Haute Couture Collection (£25.21) This is the film that first made me start exploring fashion documentaries. Originally shown as a five-part mini-series, Loic Prigent's incredible film follows the wonderful, feisty women of the Chanel atelier, as they craft Karl Lagerfeld's designs for the Chanel Autumn/Winter 2004 haute couture collection. These highly-skilled artisans bicker as quick as they stitch, resigned to the fact that their intricate, time consuming work may be ripped apart at any second as Monsieur Lagerfeld strives for total perfection. A stunning, behind-the-scenes insight into both what goes in to making clothes at this level, as well as the lives of the ordinary people who make the designer's vision come to life. (In French with English subtitles).

A Savage Life in PR (£14.99) "Percy Savage started fashion PR, introduced Saint-Laurent to Dior, created the Mary Quant explosion, invented fashion video and established London Fashion Week" I haven't watched this one yet but have got it on order on the basis of that one sentence alone. I mean, not only did this man invent Fashion PR but Dior named a fragrance - Eau Sauvage - after him - I need to know more. Major.

Pathé Collection -Fabulous Fashions Of The 1940s (£14.99) Original Pathe cinemagazines from the 1940s have been collected and released showing fashion reports from the time. Covering various topics from glamorous, high end Paris fashions to advice on how to make the most of your wartime clothing coupons - the one on how to make a swimsuit from facecloths sounds particularly intriguing - as well as showing the likes of movie star Lana Turner getting her hair done (worth watching - forties hair is big news right now), these films give a unique insight into the beauty and fashions of this much-drawn from era.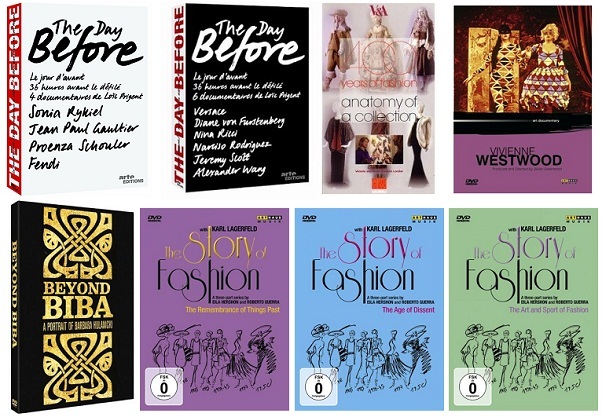 Clockwise from top left:

The Day Before - Volume One - 4-DVD Box Set (from £42.74) Featuring Sonia Rykiel, Jean-Paul Gaultier, Fendi and Proenza Schouler; and the second set, The Day Before - Volume Two - 4-DVD Box Set (£39.99) Featuring Versace, Diane von Furstenberg, Nina Ricci, Narciso Rodriguez, Jeremy Scott and Alexander Wang. I'm making room for these box sets STAT. Following each of these big name designers for 36 hours before their collections show, these TV mini-series have been compiled into Volume One which was released in 2009 and 2012's Volume Two which only dropped in February, and both providing plenty more magical footage and backstage drama, all beautifully captured in widescreen by film maker Loix Prigent - of Signé Chanel and Marc Jacobs & Louis Vuitton fame, as above.

The V&A: 400 Years of Fashion - Anatomy of a Collection (£18.99) London's pre-eminent Victoria and Albert museum - better known as The V&A - houses one of the most incredible fashion archives in its Dress Collection, showcasing the progression of design throughout the ages. This widescreen DVD gives insider access to the Collection through the eyes of its curators, as well as a range of fashion experts and designs including Paul Smith and Oswald Boateng. Another one just crying out to be released on BluRay!

Vivienne Westwood - Art Lives (£17.99) Released in early 2009, this educational film from Arthaus' Art Lives series concentrates on the truly unique fashion talents of national treasure Vivienne Westwood and her Great British punk aesthetic. With contributions from Malcolm McLaren and a host of fashion experts, this documentary looks at the innovative way Westwood uses fabrics and explores her love of historical shapes and inspirations.

The Story of Fashion - The Art and Sport of Fashion (£18.99)

The Story of Fashion - The Age of Dissent (£18.99); and

The Story of Fashion - The Remembrance of Things Past (£18.99)

This educational fashion history trilogy from ArtHaus (2009) narrated by omnipotent icon Karl Lagerfeld offers a great opportunity to learn about fashions past and how they influence modern design.

Beyond Biba - A Portrait of Barbara Hulanicki (£6.99) Released in 2010, this DVD gives explores the world of Biba founder, Barbara Hulanicki today, looking at the life and influences of the woman behind the ground breaking sixties brand which revolutionised the British High Street and started the trend for fast fashion.