England require four more wickets on the final day to win the opening Ashes Test match following a fruitful evening session against Australia at Trent Bridge.
Australia are 137 runs away from their target of 311, but good work from James Anderson, Stuart Broad and Graeme Swann has regained the initiative for England after the tourists made an auspicious start.
On the hottest day of the year, Ian Bell hit the additional six runs required for his 18th Test century to add gloss to what will be remembered as the greatest of his innings in the format.
Supported superbly by Stuart Broad, who hit 65, the duo's 138-run partnership took the Australians' target past 300 until Broad edged to Brad Haddin off James Pattinson.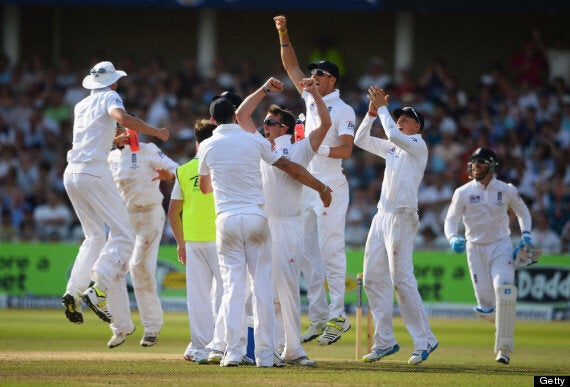 England celebrate their successful review to dismiss Phil Hughes
Australia began their second innings impressively as openers Chris Rogers and Shane Watson, whose partnership on Wednesday registered just 19 runs, frustrated England with a joint 84 stand.
Stuart Broad claimed the first Aussie scalp when he trapped Watson, four short of his half-century, lbw. Number three batsman Ed Cowan, dismissed for a golden duck three days ago, still looked fraught with nerves and gallingly fell to part-time spinner Joe Root on Nelson, who celebrated his first Test wicket with the final ball before tea.
James Anderson entered the fray to remove the tenacious Rogers for 52, which was gleefully celebrated by both bowler and bowling coach, David Saker, on the England balcony. Saker's flick of the wrist suggested an off-cutter, and replays showed the plan was coming together.
In a game littered with momentum swings, the manner in which Michael Clarke lost his wicket may prove to be the most decisive of them all.
The Australia captain feathered one through to Matt Prior off Broad but still decided to use up the Green and Gold's final review. Both snickometer and hot spot confirmed he had wasted it.
Swann, experiencing a frustrating afternoon, belatedly effected proceedings when he dismissed Steve Smith lbw with the next ball and removed Phil Hughes from the crease via the same method.
Related