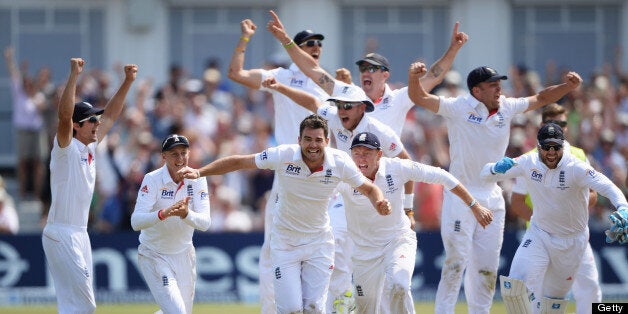 Trent Bridge hosted one of the greatest Test matches this week, as England defeated Australia by 14 runs in the opening Ashes Test. And there are four more to come.
The Test match format proved again, despite the naysayers' pithy remarks, it reigns supreme in cricket. The drama which unravelled at Trent Bridge rivalled Wimbledon or the final day of the Premier League in 2012, exactly seven years, 11 months and one week since Michael Kasprowicz gloved to Geraint Jones in Birmingham.
It remains the barometer of what makes a great cricketer. The quality by the Trent may not have matched that of 2005, but the gutsiness and gumption of those at the crease and in the field did.
Man of the match James Anderson emerged the hero for England, who are becoming overly reliant on the Lancashire lad, destined to overtake Bob Willis in his country's list of all-time wicket takers in Tests.
Anderson claimed three dismissals before lunch for a nine-wicket match haul, but the drama continued after lunch thanks to Brad Haddin and James Pattinson's resilient 11th wicket stand.
Needing 137 runs with four wickets in hand, batsmen Ashton Agar and Haddin began the day cautiously, perhaps mindful of the damage Graeme Swann had inflicted on Saturday evening, as the tourists struggled for fluency against their economical hosts.
The reticent batting was reflected by the tension in the stands. Swann was consistent but did not look threatening, so Cook turned to Anderson, who opened the bowling, only he was now armed with the new ball.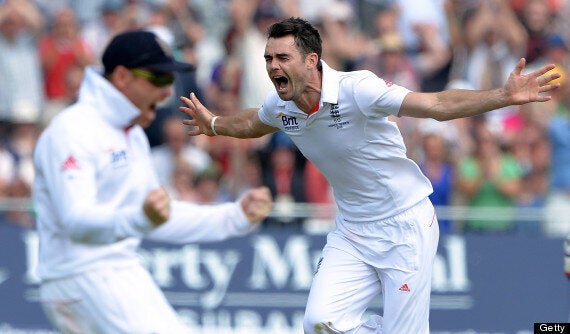 Anderson was in irresistible form at Trent Bridge
And the breakthrough quickly arrived. Left-handed Australians have invariably been vulnerable against seamers coming around the wicket in England, and teenage debutant Agar re-emphasised that weakness when he edged to Alastair Cook at first slip.
On one of his favourite stomping grounds, Anderson removed Mitchell Starc in his following over for one, this time from over the wicket, with Cook the catcher again.
But the captain could not hold on when right-hander Peter Siddle, in at number 10, edged off Anderson on 10 with Australia 225 for eight.
He made amends the next Anderson over, though. Siddle's reprieve proved to be worth just one run, as Cook, diving to his right, caught the tail-ender's edge one-handed as the tension subsided amongst England fans once more. Australia, with one wicket remaining, needed 80.
Eventually Anderson was rested as Steven Finn returned to the attack but was attacked by the combatant Haddin. The wicket keeper reached his 50 and hit three consecutive boundaries off Finn, who went for a humiliating 15 off six.
The parallels with Edgbaston 2005 became eerie. Finn returned for another damaging over as Pattinson and Haddin brought up a 50 partnership off just 46 as Australia required 30 runs for a remarkable victory.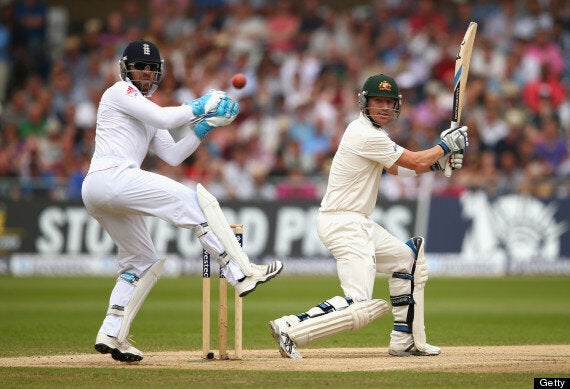 Haddin proved to be an elusive wicket for England
Stuart Broad brought some calm with a maiden but, disastrously for England, Anderson returned to the pavilion with cramp as the nerves intensified.
The tension almost proved to be Haddin's undoing when he went for a single which wasn't on and left himself stranded, but Jonny Bairstow's throw was wayward when the stumps were at his mercy.
Swann returned from a comfort break and tempted a sweep from Haddin but Finn was on the boundary, only he dropped the ball diving forward to concede four as his popularity plummeted further with England fans. Just like Simon Jones at Edgbaston eight years ago. Now Australia needed 22 runs.
England were so concerned by the Aussie momentum that Broad was tasked with delaying a final over prior to lunch. The Fanatics' bête noire removed his boot ahead of what he believed would be the final ball but the umpires allowed for another six balls. Swann probed, Haddin guarded.
Rested, Anderson returned and in the third over controversy struck again. Haddin played forward and the ball was gathered by Prior. There was a slight sound, but England seemed unconvinced. Haddin looked unflustered. Cook reviewed.
The review showed Haddin had feathered it. Hot spot showed contact. Snickometer later confirmed it. Haddin was out. England had won. Australia had lost. It was like 2005 all over again.