Flares and wide collars, a cartoon rivalry between two very different but equally passionate men, and a world title to be decided by the very last race of the season... no wonder Oscar winner Ron Howard has seized upon the 1976 Formula One competition between James Hunt and Niki Lauda as fodder for his next film- 'Rush', due in cinemas 13 September.
In the meantime, the BBC has sneaked in ahead, with Sunday evening's documentary telling the same story.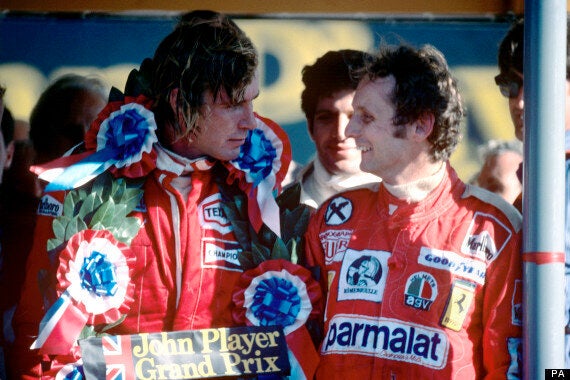 James Hunt and Niki Lauda were amicable but deadly rivals throughout the 1976 championship
In Car 1, driving for Ferrari, the disciplined, devoted husband, technically superior, perfectionist Austrian Niki Lauda - 1975 champion, and everyone's safest bet for the 1976 championship.
Over in Car 11, driving for McLaren, tousle-haired playboy British James Hunt. "He might have had a good line for the cameras, and a roving eye for the girls, but in the cockpit, he was very serious," was how his team manager remembered him.
The rest, as they say... the story is so strong and colourful that, frankly, all the production team had to do was dig out the footage, glue the best bits together, add some heady 1970s tunes, interview lots of key players who remembered the time well, and let James Hunt's blonde bobbing head and big grin do the rest.
Niki Lauda proved he could match him for passion, particularly when it looked like his career was over after his near-fatal crash at the Nurburgring seemed to put him out of contention, as well as leaving his face horrendously burnt and permanently scarred.
I'm sure there will be those who argue that there are a host of other names - Prost and Senna, perhaps? Or Hill and Schumacher? - Vettel and... okay, moving on... who could contend for the title of F1's greatest rivalry, but the combination in 1976 of nostalgia, glamour, and finally Lauda's return to the pit a mere six weeks after Nurburgring for a final duel with the blonde Brit is the stuff of which myths, and movies, are made. Over to you, Mr Howard.
Watch the trailer here for 'Rush' - the biopic film out in September...