Hope and Glorious Vintage is an events company based in London and the South East. The team organises vintage themed parties, hen dos and workshops, from cocktail making to cupcake decorating. In the Great Gatsby spirit, craft expert Sharron shares her tips on how to make the ultimate flapper girl accessory.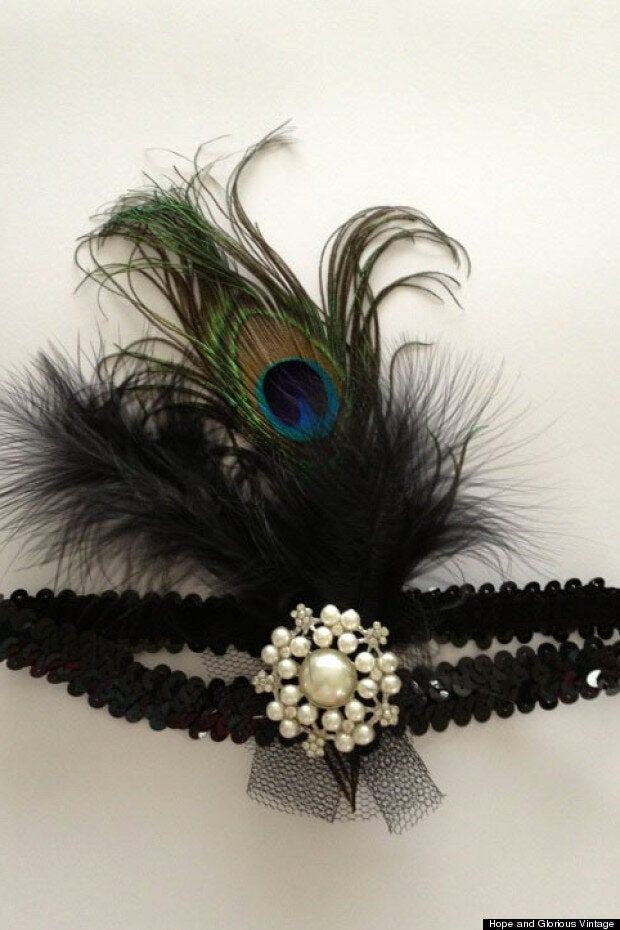 - Large feather eg. a Peacock feather
- Smaller feathers eg. Marabou feathers
- Sequinned elasticated ribbon
- Brooch of your choice (2" in diameter is perfect)
All the above materials can be purchased quite easily online or through haberdashery shops.
1. Measure the length of your head, directly around your forehead, double it and add two inches to the total.
2. Cut a length of the sequinned elasticated ribbon to the length determined in Step 1.
3. Sew the ends together using the two inch overlap to cross over. This should create a snug but comfortable fit on your head.
4. You will now have a perfect large circle of sequinned elasticated ribbon. Put the elasticated ribbon around your head to create a double headband. The headband will need to crossover at the sides. Mark these points and sew together.
5.Taking one of the crossover points, take the Peacock feather and using your scissors, pull along the quill of the feather (the same action as pulling the back of your scissors along ribbon). This will allow the feather to curl. Cut to length and sew onto the cross over point. You can either have the feather go straight up or have it on an angle - both look great.
6. Now add the Marabou feathers to either side of the peacock feather and sew into place. Dress the feathers into place ensuring that they have covered any quill that maybe exposed. Again, you can vary the style - either top and tail the feathers or have them both at angle alongside the Peacock feather.
7. Add the brooch to the feathers. These can either be sewn, clipped or glued into place.
8. Once you put your headband on you will have two ribbons at the front and back separate both. You have now your completed 1920s headband. Enjoy!
More style inspiration from the era below: