Athletics was today facing one of its darkest periods in recent history thanks to a devastating drug scandal.
Jamaican sprinters Asafa Powell and Sherone Simpson tested positive for the same banned stimulant, with three more of their compatriots also reportedly failing tests. Usain Bolt is not among them.
American Tyson Gay, the second-fastest man in history, was waiting for the results of his B sample from the US Anti-Doping Agency amid reports he too had tested positive.
Powell, the former 100 metres world record holder, and Gay, this year's fastest man, are two of the leading names in the sport, which has been plunged into a crisis of credibility the like of which it has not seen since the BALCO saga.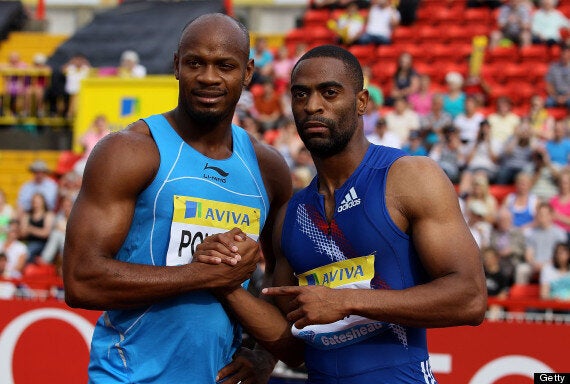 Powell and Gay at Gateshead International Stadium in 2010
Darren Campbell, who won Olympic relay gold in 2004, said: "When are we going to get the life ban? Who does it need to be before you go 'okay, enough's enough'? It's ridiculous."
Powell, who has run 9.88 seconds this year but failed to make the Jamaican team for next month's World Championships, said a sample he gave at the national trials in June returned "adverse findings" for oxilofrine (methylsynephrine), a stimulant used to boost the body's ability to burn fat.
Simpson, a three-time Olympic medallist, tested positive for the same substance, Paul Doyle, the agent of both athletes, confirmed.
Powell, who has won gold medals in the 4x100m relay at the Olympics and World Championships and held the world record before Bolt, insisted he had not knowingly doped.
The 30-year-old said: "I want to be clear in saying to my family, friends, and most of all my fans worldwide that I have never knowingly or wilfully taken any supplements or substances that break any rules.
"I am not now - nor have I ever been - a cheat."
He said the news had left him "completely devastated in many respects".
He added that the failed test was "genuinely surprising" and had left him "reeling".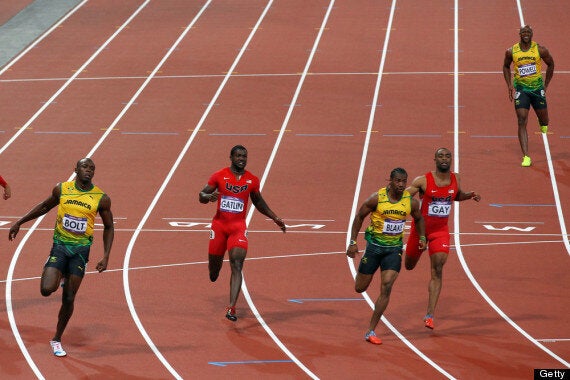 Gay (second from right) and Powell (far right) sprint in the London 2012 100m final
Powell, who ran his world record of 9.72sec in 2008 and has often failed to live up to expectations on the biggest stage, added: "I accept the consequences that come with this finding - after all there is only one Asafa Powell.
"My fault, however, is not cheating but instead not being more vigilant."
Bolt's agent Ricky Simms said the world's fastest man was not caught up in the scandal, saying: "I was just with him in Jamaica and we've had no information and we've not been contacted by anyone. It is not anyone that I'm connected with."
The news of Powell and Simpson's failed tests broke just hours after Gay was reported to have revealed he had been informed by USADA that an A sample from an out-of-competition test had come back positive.
A USADA statement read: "USADA appreciates his approach to handling this situation and his choice to voluntarily remove himself from competition while the full facts surrounding his test are evaluated.
"The B sample will be processed shortly, and as in all cases all athletes are innocent unless or until proven otherwise through the established legal process."
Gay has reportedly pulled out of the American team for next month's World Championships, where his showdown with Bolt was set to be one of the highlights.
Gay has been involved in the fight against doping, having participated in a US anti-doping programme called 'Project Believe', for which he submitted voluntarily to extra testing.
The 30-year-old, whose 9.69s clocked in 2009 is second only to Bolt in the all-time rankings, has run the three fastest times of the year and tops the 2013 list with 9.75.
Related