Can plastic statement jewellery really look good? Alexandra Jones is The Experimentalist and she found out how to wear the trend, road-tested it and reported back on whether it's genuinely do-able or just for celebs and models...

When I was little I made my parents buy me a red boy's bike. It was the 90s, I was an opinionated eight-year-old and in the name of Girl Power, I was flatly refusing anything pink, primped or sparkly.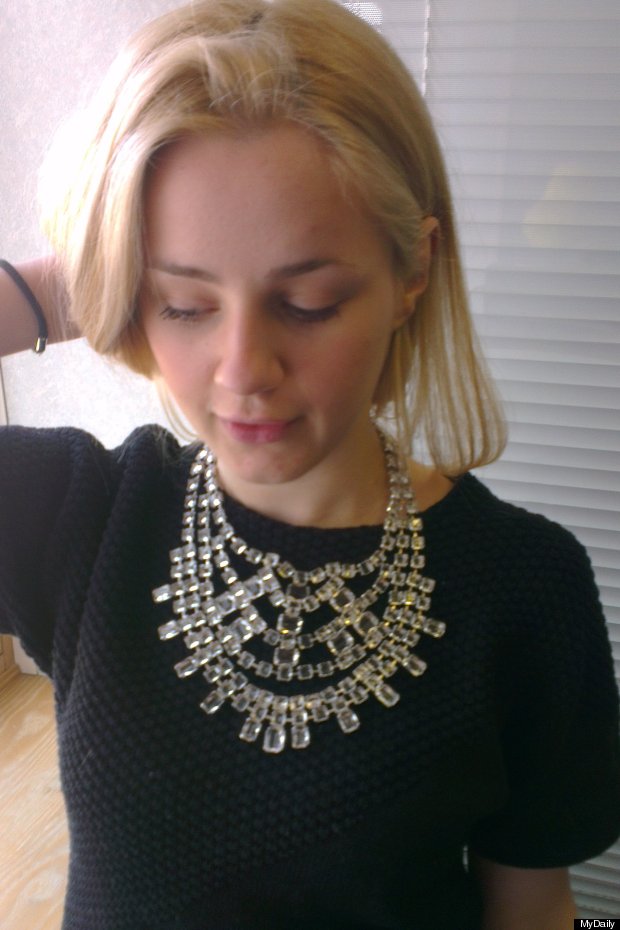 I wanted to look cool and tough and to challenge stereotypes (precocious isn't a strong enough word) and according to the laws of Girl Power this meant doing stuff better than boys, wearing platforms and rejecting anything that might, like the bike they'd originally wanted to buy me, be seen as "cutesy"*. I mean, in a world where Buffy was the height of cool girldom, cutesy didn't really cut the mustard.

Unbeknownst to my parents however (actually they probably did know because I was eight and my idea of espionage was hiding stuff in a shoe box in the back of my wardrobe) I was squirreling away a stash of "girly" stuff.

Glitter pens, pink notepads, sparkly stickers, I'd paw them when I thought no one was looking, vaguely uncomfortable with the knowledge that at heart, I really really loved shiny things.

As I've grown and realised that Girl Power has more to do with your attitude than with the colour of your stationary, I've found myself indulging my magpie tendencies more and more. Which actually works out quite well because for SS13, earrings, necklaces, cuffs, rings – they're supersized, super-bright and extra shiny. Jean Paul Gaultier, Gucci, Erdem, Lanvin all sent their models down the catwalk cowed under the weight of a bazillion perspex beads or wrapped from chin to collarbone in some precious metal or other.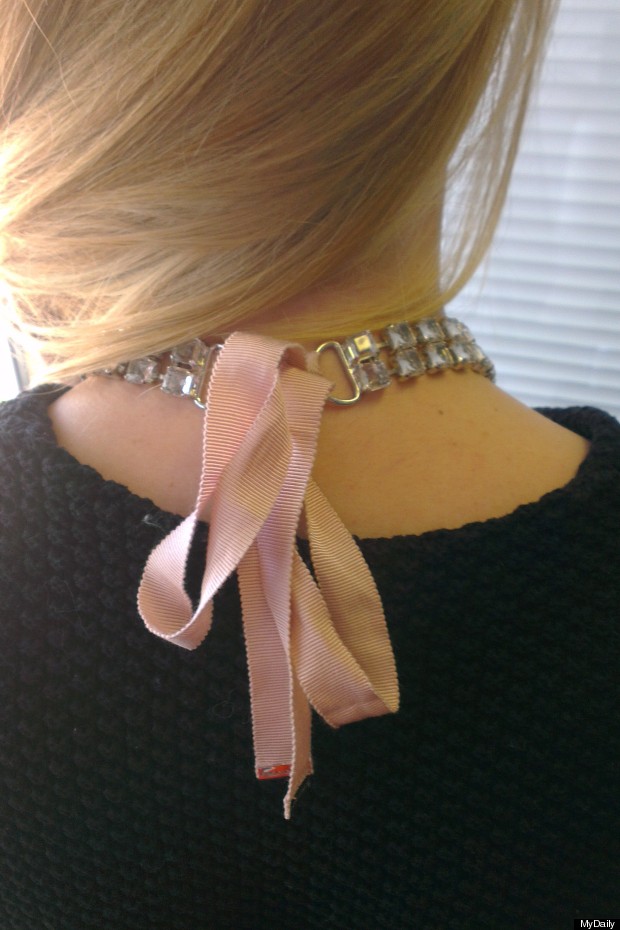 So, my delight at finally getting to wear a serious piece of costume jewellery (a striking By Malene Birger Lillys bib from mywardobe) wasn't just down to a Gollum-esque obsession with precious things, but you have to be careful with how you wear them.

'With such OTT statement pieces the best thing to do is to keep the rest ultra-simple. Wear with something you wouldn't normally associate it with, like a sweatshirt, or a basic white t-shirt,' explained stylist and general fashion Don, Amy Bannerman. Which I took to mean, indulge your inner slob! (Those of you who have followed my experiments will know my inner slob is always desperate to be indulged.)

So off I went to a friend's barbecue in an old t-shirt, ripped jeans and pumps without laces but blissfully I didn't feel at all like I was at all breaking my dressing-like-a-grown-up-rather-than-a-child-who's-been-left-home-alone rule.

"An even more modern way to style statement plastic jewellery would be to wear it to an evening event with a really full-on dress, cocktail style (Westwood does the best), and then keep your makeup and hair seriously low key. So again, it is all about balance, low with high" added Amy.

I don't think sitting on my friend's patio into the early hours counts as an evening event and I certainly wasn't wearing a cocktail dress, but my friends did think the mix of the casual outfit with the glitz of the necklace looked cool and quirky and surprising. Which I think is the reaction I had wanted way back in the day when I insisted on that red bike. Better late than never.

*Disclaimer: this is my eight-year-old understanding of Girl Power and thus likely to be a little inaccurate. Apart from the platforms.

LOVE PLASTICS? Shop the trend...

MORE
Read about the latest adventures of The Experimentalist and learn how to wear the trends with your wardrobe here.