They don't call her Kate The Great for nothing.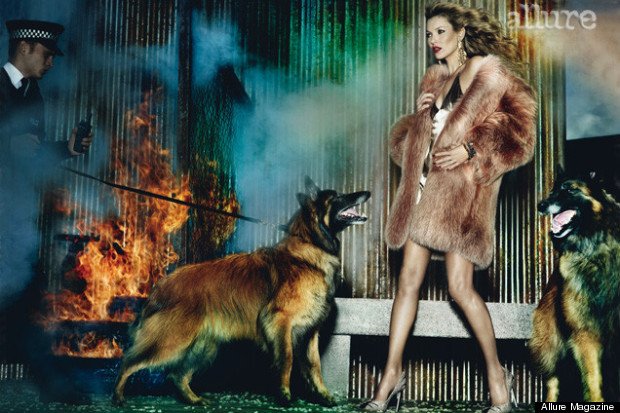 For her latest magazine cover shoot Kate Moss manages to inject some of her signature rock 'n' roll cool into clean-living US beauty title Allure.

With her old pal Mario Testino behind the lens, Kate poses in a skimpy gold bikini, fur coat and heels as flames and police Alsations close in around her.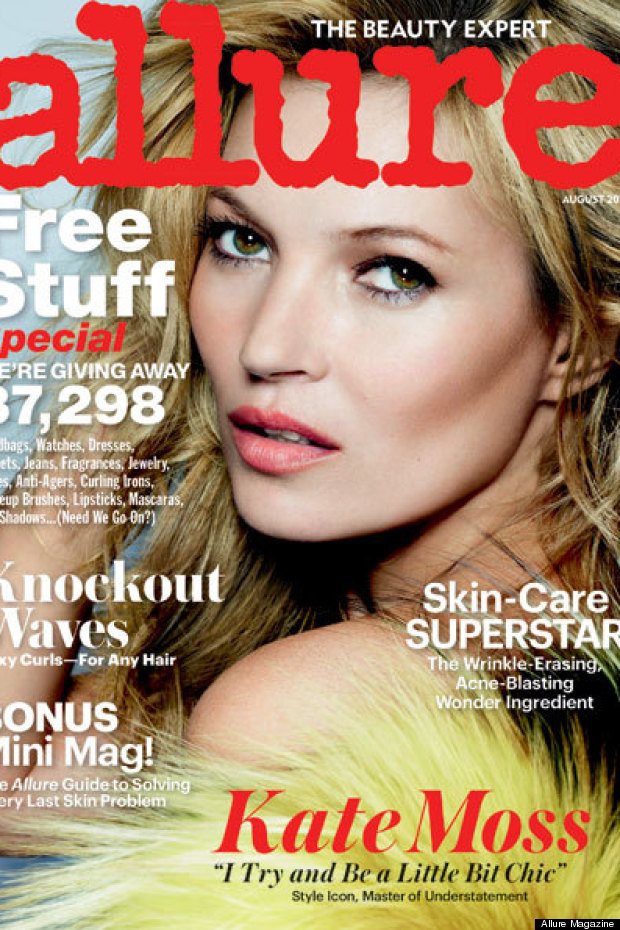 And it's not just the pictures we're gawping over, the tight-lipped beauty even offered a teeny tiny glimpse into her life in the accompanying interview - shock!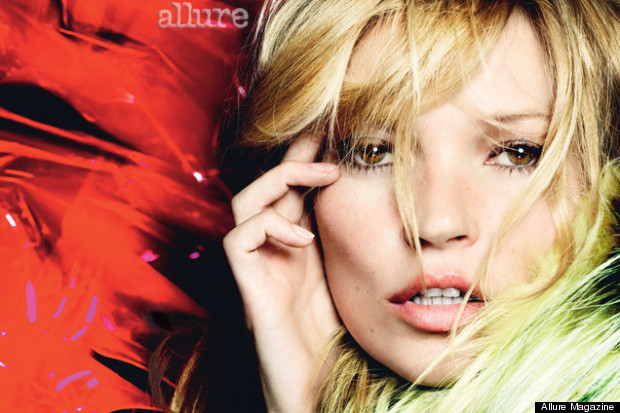 Here's some tid bits to keep you occupied until the magazine hits shelves on 23rd July.

On her approach to fashion and beauty
"I try to be a little bit chic/ I wouldn't wear sweatpants. I wouldn't wear a twinset."

On tan lines
"I don't mind a bikini bottom. My husband likes lines on the bum - men like white bums... I try not to have a white boob."

On her beauty rules
"Always clean hair. That's a must. If in doubt, wash it."

On the tabloid rumours
"It was horrible, especially the anorexic thing. The heroin, I was like, 'Oh, its just ridiculous I don't do heroin. Just because I wear a bit of black eyeliner that's smudged...' But the anorexic thing was a lot more upsetting, to be held responsible forsomebody's illness. I wasn't anorexic."

On her relationship with Johnny Depp
"Never complain, never explain."

On being a celebrity
"Everyone's a celebrity. But I'm kind of a celebrity now, so even though I'm not an actress, people know my name. I'm not just a face."

On her daughter Lila Grace
"She's watched The Devil Wears Prada ten times, and she's got a desk in her room with a phone. She puts a little outfit on and picks up the phone: 'Hello, Miranda Priestly's office.' I say, 'Lila, do you know who Miranda Priestly is in real life?' But she just doesn't care. She's like, 'Hello, Miranda Priestly's office. Can you hold? Patrick Demarchelier on the line!' I died when I heard her do it. So funny. She doesn't have a clue who she is, but it's word for word."

See more photos from Kate's shoot including behind the scenes shots at Allure.

Remind yourself of Kate's awesome style in our gallery.