Described by Assange as a "massive propaganda attack", the film is a fictionalised account of the Wikileaks saga in which the website's founder Assange leaked confidential information on the US military's operations in Afghanistan and Iraq to newspapers including the Guardian, the New York Times and Der Spiegel.
Benedict Cumberbatch as Julian Assange
Cumberbatch makes an extreme transformation for the film, with his face aged with make-up, his hair long and white, and he adopts an Australian accent in his bid to become Assange.
The trailer shows events leading up to Wikileaks' revelations which shook the world.
Cumberbatch appears giving a speech in which Assange declares himself as "one whistle-blower willing to expose secrets and topple the most powerful and most repressive of regimes".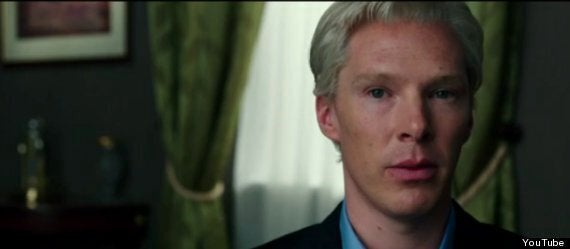 Laura Linney appears as a US government official warning of the dangers the site may pose. 'Goodbye Lenin's Daniel Bruhl stars as Assange's colleague Daniel Domscheit-Berg.
The film also stars Stanley Tucci, David Thewlis, Peter Capaldi as Guardian editor Alan Rusbridger, 'Downton Abbey's Dan Stevens and 'Anna Karenina's Alicia Vikander.
The film has been adapted by 'The West Wing's Josh Singer from Domscheit-Berg's book 'Inside WikiLeaks: My Time with Julian Assange at the World's Most Dangerous Website', as well as Guardian writers David Leigh and Luke Harding's 'WikiLeaks: Inside Julian Assange's War on Secrecy'.
'The Fifth Estate' is to be released in UK cinemas on 1 January 2014.
Popular in the Community