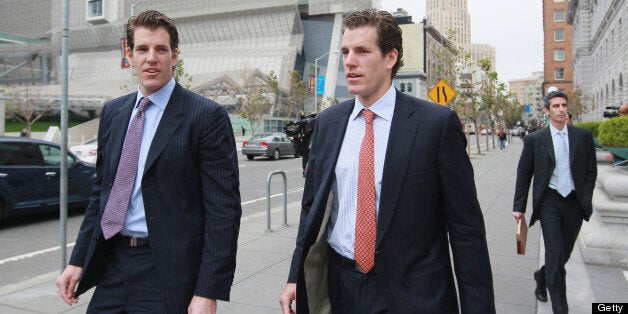 After suing Facebook founder Mark Zuckerberg for allegedly stealing their social networking idea, the Winklevoss twins' new $20m idea has got off to a shaky start.
Cameron and Tyler Winklevoss have planned to launch a Bitcoin ETF (exchange-traded fund), which is an investment fund traded on stock exchanges that would deal in the notoriously volatile digital currency Bitcoin.
However, the twins' project has been reportedly greeted with a lukewarm response amid fears that it would be too difficult for the banks and trading firms to make a profit from such a venture.
"Bitcoin itself is not even a developed market, let alone to build an ETF on top of it," Reginald Browne, managing director at KCG Holdings, told the Financial Times.
Investors have rushed to use around 3,400 ETFs over the last few years in order to invest their money into a diverse range of assets. However the twins, who claim to own 1% of all Bitcoin, would be behind the first ETF dealing in Bitcoin.
Bitcoin was developed back in 2009 as a way to transfer wealth electronically and anonymously, with the value of a single bitcoin soaring from pennies to $ as a "cryptocurrency". A single bitcoin has tended to fluctuate wildly in value, with changes from 60p to £60 in a single day.
The Winklevoss twins plan to sell 1m shares, giving the fund an overall value of $20 million. Investors would be set to get one fifth of a Bitcoin for each ETF share bought.
The Winklevoss came to fame after suing Facebook founder Mark Zuckerberg for $140 million in 2004, alleging that he stole their ConnectU idea as the model for Facebook. They reached a settlement in 2008 for a reported $65 million.
Although it emerged after Facebook floated on the stock market that the Winklevoss twins were understood to have been awarded 1.2m shares in Facebook, which were potentially worth over £300 million.