The former Swansea City coach showed off his gleaming new smile in Jakarta, Indonesia, where the Reds will begin their pre-season tour.
"It looks as though his upper ten teeth have been veneered, with the exception of the front tooth which is probably a crown."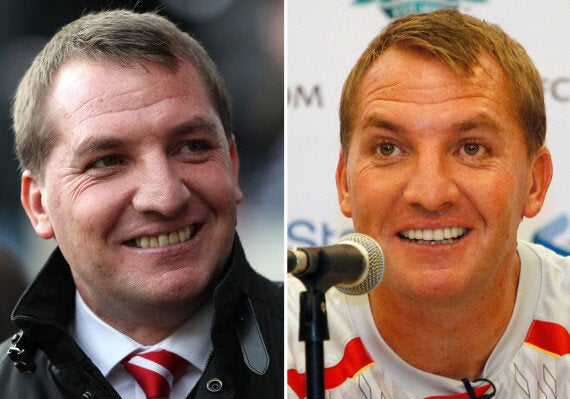 Brendan Rogers (left) pictured smiling in 2012 and (right) speaking to the media upon arrival in Jakarta today
Tottenham Hotspur forward Gareth Bale appeared to have his ears pinned back during the off-season last year.
Rodgers reiterated Luis Suárez was "not for sale" after the club rejected a £30 million bid from Arsenal two weeks ago.
Suárez confirmed in May he wanted to leave the Anfield club but Rodgers said it will take "something drastic" for the Uruguayan to be sold.
"There has been lots of speculation about Luis moving to another club but he is very much a Liverpool player," Rodgers said at a Thursday press conference.
"We had an offer that was nowhere near what we value him at. Of course he wants to work and play at the top level.
"But unless something drastic happens, he will be staying here. He has got three years left on his contract.
"He is a wonderful player, and still very much a Liverpool player. No matter who the player is, nobody is bigger than Liverpool Football Club."
Popular in the Community