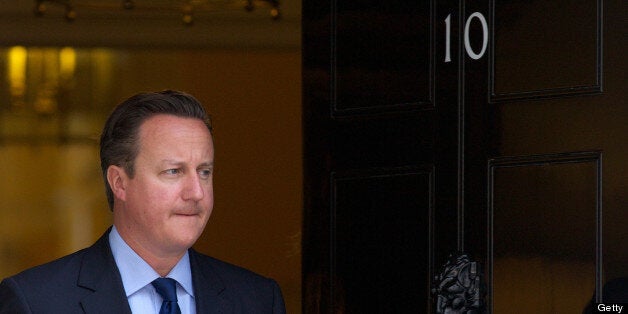 The five things you need to know on Friday 19 July 2013...
1) CAMERON 'CAREFUL' ON CROSBY QUESTIONS
Twelve times David Cameron has been asked whether he discussed the coalition's plans to drop plain cigarette packaging with his election strategist Lynton Crosby, whose firm Crosby Textor lobbies on behalf of tobacco firm Philip Morris. Twelve times Dave has declined to answer, only saying that he has never been 'lobbied' by Crosby on the issue. Er, that's not the question you're being asked, Prime Minister...
Last night, Gary Gibbon of Channel 4 News pointed this out to him - from the Guardian:
"Gibbon challenged Cameron, who was doing interviews in a west London police station to mark the fall in crime, to explain why he keeps "denying a question that isn't asked". In answer to whether he has ever discussed plain cigarette packaging with Crosby, Cameron says he has never been lobbied by his election adviser.
"The prime minister replied: 'I have been very careful about what I have said which is to say he hasn't lobbied me on any of these issues.'
Hmm. You can draw your own conclusions from that. The Guardian also reports how a flailing Cameron managed to annoy his hero and predecessor-but-one, Tony Blair:
"Cameron said the former PM was a 'good example' to compare to Crosby, saying 'he does lobby me from time to time'.
"A spokesperson for Blair then hit back, saying nobody could 'seriously compare' Blair's work as Middle East envoy with that of a business lobbyist. "Tony Blair does not 'lobby' David Cameron,' the spokesperson said. 'You cannot seriously compare Tony Blair's role as Quartet Representative, which requires him to talk to governments around the world about the Middle East peace process, to that of a lobbyist.'"
Meanwhile, the Telegraph reports that Crosby "is expected to stop advising other clients at the end of the year amid controversy over potential conflicts of interests.
"Mr Crosby is due to become a full-time adviser to David Cameron in January and is likely to stop acting for other private firms until after the 2015 general election.
"Senior Conservatives said this week that this was their 'working assumption' although it had not been formally agreed with Mr Crosby. It is understood that the strategist is "not averse" to working exclusively for Mr Cameron."
NOTE: This is the last Morning Memo you'll read till September. MPs are now on a break - and so, too, is this daily email. Don't all break into tears at once...
Remember when Cameron and co claimed to be leading the "greenest government ever"? From the Guardian:
"George Osborne has infuriated environmentalists by announcing big tax breaks for the fracking industry in a bid to kickstart a shale gas revolution that could enhance Britain's energy security but also increase its carbon emissions.
"The Treasury has set a 30% tax rate for onshore shale gas production. That compares with a top rate of 62% on new North Sea oil operations and up to 81% for older offshore fields.
"... But the generous allowances were condemned by environmental groups worried about the chemicals used in fracking and fearful that burning more gas will make it impossible to hit carbon reduction targets designed to mitigate climate change."
The Chancellor, meanwhile, will be breaking out the bubbly over the news that the UK economy has seen a £9.9bn boost in trade and investment from hosting the 2012 London Olympic and Paralympic Games, according to an official report. The figures are, however, as the BBC's Economics Editor Stephanie Flanders "deeply speculative".
3) BENEFIT CUTS FOR THE JEWS? REALLY?
Have government ministers/civil servants gone mad? From the Times:
"The Government is investigating complaints that unemployed Jewish people have been denied benefits because they cannot work on Saturdays.
"It follows reports that Jobcentres in the North West told Jews who observed the Sabbath that they might be classified as having 'availability doubts' during the claims process if they were not free to work on Saturdays.
"According to the Jewish Chronicle, staff in the Jobcentres concerned said that it was their policy to require people to be available for some Saturday work. One organisation that helps unemployed Jewish people said that it had been informed by about a dozen prospective claimants that they were having problems."
BECAUSE YOU'VE READ THIS FAR...
Watch this video of a cat trying to sneak past a sleeping Great Dane.
4) THE £11 MILLION GRAVY TRAIN
I've always thought that Labour should back rail renationalisation - not just because it'd be hugely popular with the public, polls show, but because it might also get the support of right-wing papers like the Daily Mail.
"Five rail bosses are set to receive £11million over three years in an extraordinary deal that critics condemned as rewarding failure.
"The top executives at Network Rail could share bonuses of £5million on top of their six-figure salaries, despite years of dismal performance and inflation-busting fare rises.
"The deal was nodded through yesterday. The taxpayer-funded firm is currently facing a £75million fine for missing its punctuality targets for long distance services."
Think about all those Tory/right-wing slogans that the rail industry regularly defies: 'Private good, public bad', 'We're all in this together', etc.
5) HELL HATH NO FURY LIKE...
"A furious political row erupted over the Open golf championship last night after Harriet Harman called for a ban on all single-sex clubs.
"Labour's deputy leader said hosting the tournament at Scotland's male-only Muirfield course was "an embarrassment".
Ms Harman said: 'It's time to ban men-only sports clubs.'"
But, the paper adds: "A No10 spokesman ruled out any changes to the law, but criticised the ban on women."
The Mirror reports that Cameron "was put on the spot after Culture Secretary Maria Miller vowed to boycott The British Open golf championship as it was being held at Muirfield club in Scotland, where only men can be members.
"Mr Cameron yesterday said he backed her stance on all-male clubs and would not attend the Open. But the PM faced awkward questions about his former membership of the all-male Bullingdon Club and gentlemen's club White's which he quit only in 2008."
From today's Sun/YouGov poll:
That would give Labour a majority of 58.
@David_Cameron Crime down more than 10% under this government. We are determined to make Britain's streets safer #CrimeIsFalling
@Ed_Miliband More evasion, more weasel words from David Cameron today on Crosby. We need action now
@CarolineLucas Brilliant point from @alanwhiteheadmp in #fracking debate - to meet 10% demand, would need 18.000 well pads = 164 per constituency = madness
Polly Toynbee, writing in the Guardian, says: "While dubious mortality rates grab headlines, NHS privatisation gallops on."
Fraser Nelson, writing in the Telegraph, says: "Britain must be weaned off immigration drug."
Philip Collins, writing in the TImes, says: "The world must learn from India's two nations."
Got something you want to share? Please send any stories/tips/quotes/pix/plugs/gossip to Mehdi Hasan (mehdi.hasan@huffingtonpost.com) or Ned Simons (ned.simons@huffingtonpost.com). You can also follow us on Twitter: @mehdirhasan, @nedsimons and @huffpostukpol