Rory McIlroy labelled himself "brain dead" and "unconscious" after slumping to a first round of 79 in the Open Championship at Muirfield.
McIlroy won five times in 2012, including a second major title by eight shots in the US PGA Championship, but has posted just one top-five finish in 2013 since his controversial multi-million pound switch to Nike in January.
The 24-year-old confessed to feeling "a little lost" as he missed the cut in the Irish Open last month and again cut a downcast figure after he completed the back nine in 42 today, including putting off the 15th green into a bunker.
"I don't know what you can do," the world number two said. "You've just got to try and play your way out of it. But it's nothing to do with technique. It's all mental out there. And then I just need to concentrate, obviously.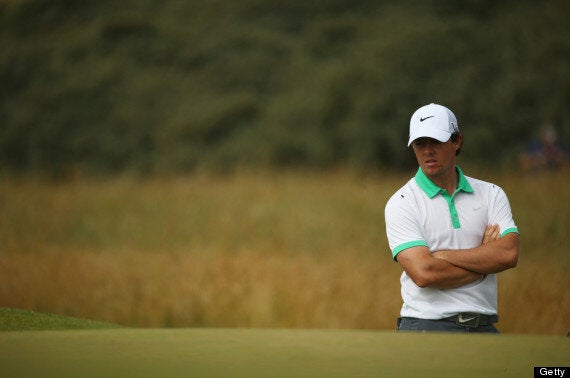 McIlroy had a nightmare at Muirfield on Thursday
"But sometimes I feel like I'm walking around out there and I'm unconscious. I just need to try to think more. I'm trying to focus and trying to concentrate. But I can't really fathom it at the minute and it's hard to stand up here and tell you guys what's really wrong."
After missing the cut in the Irish Open, McIlroy spent time in London testing more Nike drivers and insisted he had found the right one, but other parts of his game remain well below par.
"I felt like I had made a lot of progress but then you shoot a round like this and you go back to the drawing board. I'm definitely under-thinking on the golf course, maybe over-thinking it off of it.
"I feel like I got off to a decent start, made a couple of silly mental errors on the fourth and fifth, a good two on seven and had a chance to get back to even par on nine. The start of the back nine was not very good."
Bogeys at the 10th and 11th were followed by a double-bogey six at the 12th, McIlroy adding: "Going left of the pin on 12, when I had no right to be going anywhere near that pin, that's just thoughtless. It's just so brain dead.
"Seriously, I feel like I've been walking around out there like that for the last couple of months. I'm trying to get out of it. I just don't quite know why."
McIlroy admitted he was suffering from a lack of confidence and could go back to working with a sports psychologist.
"I've worked with Bob (Rotella) before a little bit. It could be beneficial to see someone like that again, we'll see," he added.
McIlroy's score was the same as three-time Open winner Nick Faldo, who had earlier downplayed suggestions of a row with McIlroy, insisting he is the Ryder Cup star's "big granddad".
Faldo had said McIlroy needed to "concentrate on golf, nothing else" to regain his form, to which McIlroy responded by saying that he was doing exactly that and Faldo should know how hard golf can be at times.
"I'm friends with Rory - don't write it any other way," Faldo said today. "I've known him since he's 12. He was a big part of my Faldo Series. I'm like big granddad, here, saying exactly those things. Just give it your full attention when you want to play golf.
"I'm trying to give him a little caring, loving help here."