MyDaily's Ellen Stewart has never tried online dating, but when she heard about new AND free dating app Tinder she had to give it a go. Cue brief addiction to rejecting strangers based on their appearance, delight in finding a match and then a load of boring boy chat...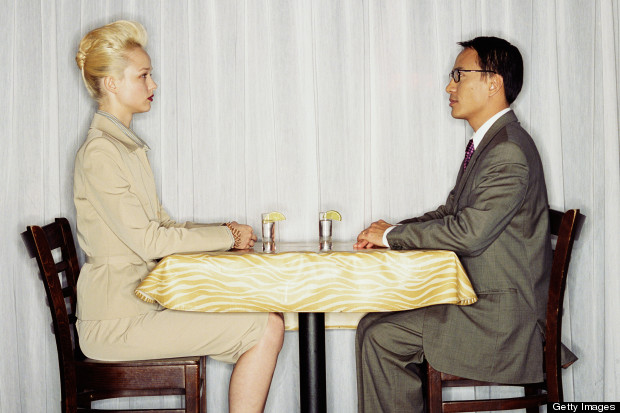 "Are you on Tinder?" a friend of a friend of a friend barked at me over a pint of cider one sunny Saturday. He'd had a few and almost fell off his chair with excitement as he produced his phone from his pocket and thrust it under my nose. "Look at all my matches! You need to get on Tinder. It's free and it's the best thing EVER!"

Now, it's not often I see so much aggressive enthusiasm from someone I've just met. It was shameless. He looked at his phone lovingly and then back at me smugly. Maybe it's time I give this Tinder thingy a go.

Intrigued by the concept, the fact it links to Facebook and its free-ness, I went ahead and downloaded it. You start off by associating your dating profile to your FB account and then it drags in your first name, age and four of your most recent photos. And that's it. No annoying WLTM or GSOH. Just the bare, superficial, bones. Who cares if he likes Radiohead? Not Tinder.

Next, you refine your search by gender, age and location. Now I've done long-distance before - and I'm SO over that - so I refined my search to within three miles of my current location and set the age range at 24-35 (would never date anyone younger - duh!). Then the fun started.

Suddenly my screen is a mosaic of random but nearby faces and I've got the option to hit like or ditch. Select the ditch button and a huge stamp reading "nope" brandishes their pic before they dramatically fly off the screen. Brutal.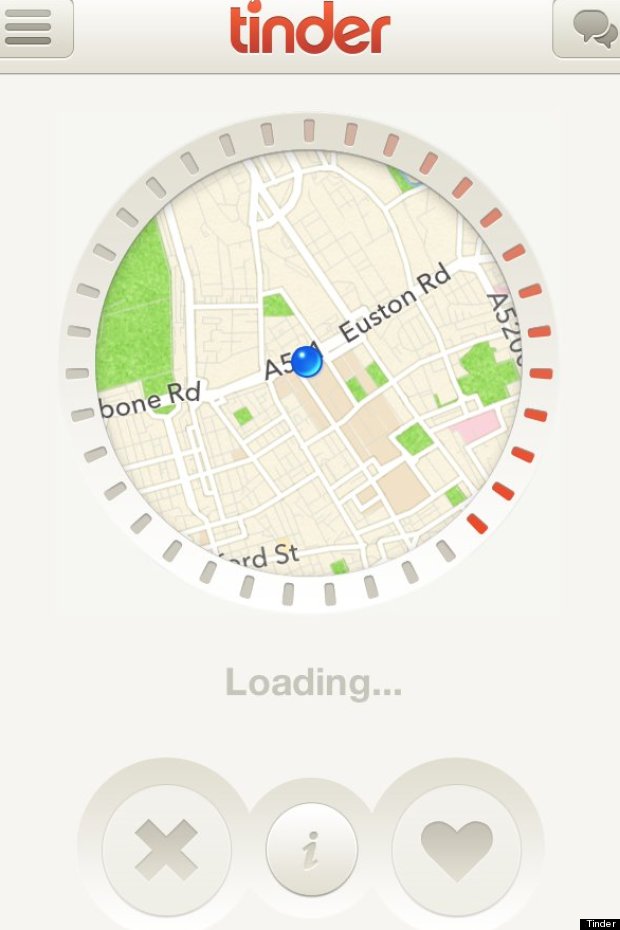 Within seconds I was "noping" boys left and right. It's a terrible thing to admit but rejecting people is addictive. After discounting around 30 lads, I thought I should probably give someone a like.

I picked a guy wearing a suit complete with pocket square (he probably thought he was Justin Timberlake). He was 25, we shared a mutual Facebook like in Asos (amaze!) and - praise the gods of convenience! - he was just one mile away. After hitting the little heart-shaped button a notification flashed across the screen, "Congratulations you have a match". Let's-call-him-George had liked me too. Ermahgerd. I was so flattered and thought to myself, "Wow, maybe I am desirable."

On the back of this newfound confidence I "liked" another boy. He was Mediterranean, had facial hair and was a little older than me. "Congratulations you have a match." This time I actually squealed. So I hit like again. But alas - nothing. My bubble totally burst.

Feeling a bit sorry for myself I put down my phone, only for it to vibrate. George had sent me a message. "Hey! How are you?" he wrote. What kind of opening line was that? I left it 10 minutes - treat 'em mean, etc - before responding in a similar vein. He wrote back immediately (keeno), "What did you get up to at the weekend?". Really?

After a mind-numbing back and forth - which only reminded me how terrible boys in their twenties are at talking to girls - littered with piss poor punctuation, winky faces and a premature "x" on his part, I was bored. If I boy can't even hold an instant message chat, what chance was there for sparkling conversation over a candlelit dinner?

I flicked through a few more faces and another boy took my fancy. Then I saw we had a Facebook friend in common. Awks. So he got "noped" and just like that, I was done with Tinder.

In sum, this dating app managed to keep me amused for two hours. Don't get me wrong, it's a great ego boost but I don't think I'll be meeting my future husband on Tinder.