This might be the most disastrous package tracking email of all time.
James De Vile from London was eagerly awaiting the arrival of some rare Japanese motorbike parts on Tuesday, when an tracking email arrived which dampened his enthusiasm.
"We have received some news from the Post Office regarding [your order].

"Unfortunately, it would seem there was an accident at sea during the delivery of these items, and unfortunately, your shipments have been lost."

"The reason for this is that while sailing near India the ship was reported to get into trouble, and the ship has actually sunk."
That's when it dawned on James that the news last month of a container ship dramatically splitting in two and sinking in the Indian ocean might have affected him more personally than he realised.
The ship in question appears to have been Mitsui O.S.K. Lines's MOL Comfort, which set off from Japan laden with cargo but ran into trouble on 17 June with a load of 4,500 containers. Mitsui OSK said at the time of the incident: "during inclement weather [the ship] suffered a crack amidships and ingressing water in the hold. This made it impossible for the vessel to continue on under its own power."
The plight of the ship took weeks to play out to its inevitable conclusion. The stern section of the ship took on water and sank on 27 June, with about 1,700 containers and 1,500 metric tons of fuel oil. Later, on 2 July the bow section broke free from the towing wire, and four days later a fire broke out on the ship.
No one was injured in the accident, as all of the 26 crew left the ship on lifeboats well before it sank and were safely rescued. Richard Elwes, who also had goods on board the ship, has collected a dramatic set of photos of the incident on his blog.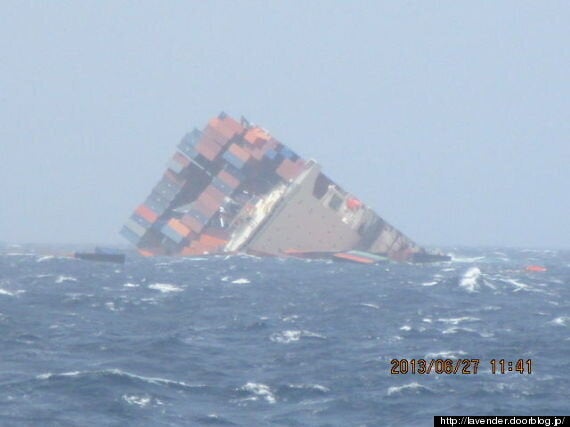 Above: the stricken MOL Comfort
And as for James? Well it looks like he's going to get his money back eventually - but he's in no doubt that he'd order from the same company again: