A train derailment in north-western Spain has left at least 80 people dead and more than 100 injured.
The crash happened near Santiago de Compostela as an express train travelling from Madrid to the coastal town of Ferrol left the track near the town's station, according to local media reports.
Regional government officials in Galicia have confirmed the death toll as rescue efforts continued throughout the night to free trapped survivors from the wreckage.
Spanish reports suggested the train may have been travelling at twice the speed limit when it crashed going around a corner, and a major investigation has been launched.
It's now known that all eight carriages left the tracks in what is thought to be one of Spain's worst-ever rail accidents.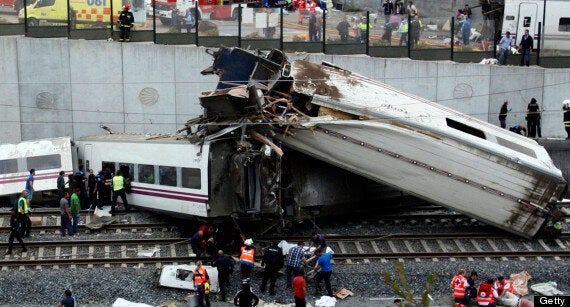 Rescue workers treat survivors at the scene
Photographs published via a local newspaper's website appeared to show bodies near ruined carriages and rescue workers climbing over the wreckage.
Rail firm Renfe, last night said that the train was carrying around 218 passengers. Alberto Nunez Feijoo, Leader of the regional government, described it as "a Dante-esque scene", in comments to a radio station, BBC News reported.
AFP news agency reports that hospitals were forced to make urgent appeals for blood donations as casualties were rushed from the scene. While many are thought to have died at the scene, up to four people reportedly died from their injuries in hospital.
The cause of the crash is still not known but eyewitnesses reports claim that the train was travelling very fast before it derailed.
El Pais newspaper cited investigation sources as saying the train was travelling over twice the speed limit on a sharp curve.
Santiago de Compostela is a well known as a tourist destination for its ancient Catholic pilgrimage route. The disaster comes ahead of Santiago de Compostela's festival honouring St James. Some of the injured and dead may have been travelling north for the festivities.
The festival which was due to take place on Thursday has now been cancelled.
"The train travelled very fast and derailed and turned over on the bend in the track," passenger Sergio Prego told Cadena Ser. "It's a disaster. I've been very lucky because I'm one of the few be able to walk out."
Another passenger, Ricardo Montero, told the radio station that "when the train reached that bend it began to flip over, many times, with some carriages ending up on top of others, leaving many people trapped below. We had to get under the carriages to get out".
British Foreign Secretary William Hague said: "I was very saddened to hear of the terrible train accident near Santiago de Compostela in Spain last night. My thoughts are with all those affected and their friends and family.
"The British Embassy team in Spain are working closely with the Spanish authorities as they respond to this tragedy.
"We know that one British citizen was injured in this accident and the Embassy has been providing consular support".
The crash is one of the worst in Spain's history.
The Torre del Bierzo rail disaster in 1944 is thought to have killed anywhere between 78 and 500 people.
WARNING: Graphic images follow