More than 100,000 London-bound rail commuters - a fifth of the overall total - have to stand at the busiest times of the morning rush-hour, according to government figures.
Passengers on some morning and evening peak services are travelling on trains which are 60% over capacity on certain routes, the Department for Transport (DfT) figures showed.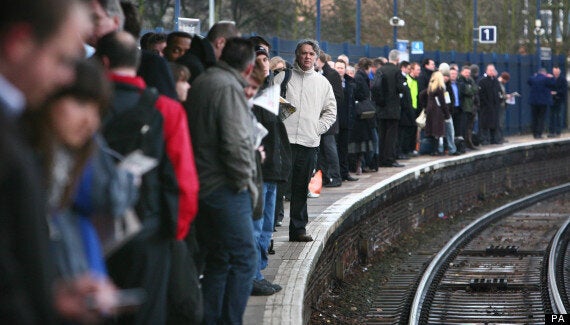 Many travellers from the Midlands and North West endure uncomfortable journeys
Transport minister Norman Baker said: "Climbing on to a very crowded train is an unpleasant experience and I sympathise with passengers using these services.
"I urge train operators to do what they can on these particular trains. The Department is working closely with the industry to ensure this issue is tackled.
The statistics showed that, on a typical weekday in autumn 2012, a total of 535,000 passengers arrived in central London by rail during the morning peak (7am to 9.59am) and 977,000 across the whole day.
The DfT said: " In London, overall crowding across both peaks in 2012 was lower than in 2011. However, over 100,000 passengers had to stand at trains' busiest points in the morning peak, a fifth of the overall total."
The First Great Western train company had the highest level of passengers in excess of capacity (PiXC) of any London and south east England operator in 2012 at 7.1% across both peaks - although this was lower than in 2011.
The highest PiXC levels outside London in the 2012 statistics were at Leeds, Manchester and Sheffield, which all had just over 2% PiXC in the morning peak and between 1% and 2% in the afternoon peak.
The worst service for overcrowding in autumn 2012 was the 8.27am Heathrow Express service from Heathrow to Paddington station in London which travelled with 786 standard-class passengers - 65% over the capacity figure of 476.
The 10 worst-crowded services in autumn 2010 travelled between 49% and 65% over capacity.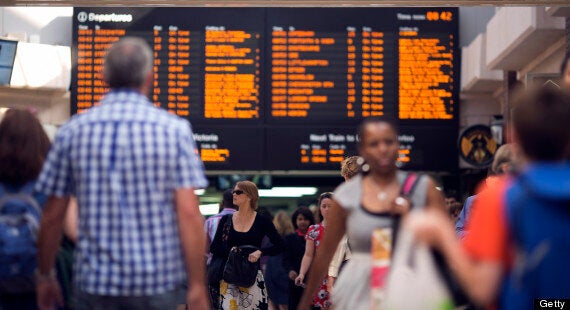 Richard Hebditch, campaigns director for the Campaign for Better Transport, said: "These statistics show rail is vital to the economy, getting millions of people to work every day.
"But it also shows many commuters are faced with an unacceptable combination of overcrowded trains and spiralling ticket prices.
"Government needs to give rail passengers a fair deal by ending above-inflation ticket price hikes and making sure franchise holders tackle overcrowding."
These were the most-crowded routes in autumn 2012. The capacity figure refers to the standard class passenger capacity for that train and the load figure refers to how many people actually travelled.
Time and route of the worst over capacity trains:

8:27am Heathrow-London Paddington 476,786 65%
6.13pm London Euston-Birmingham New Street 698,1049 65%
6:23am Manchester Airport-Middlesbrough 166,269 62%
6;00pm London Waterloo-Portsmouth Harbour 738,186 61%
7:17am Banbury-London Marylebone 476,752 58%
6:19am Birmingham Moor St-London Marylebone 288,445 55%
7:32am Tattenham Corner-London Bridge 860,1324 54%
6:15am Portsmouth Harbour-London Waterloo 598,897 50%
7:09am Henley-on-Thames-London Paddington 440,657 49%
7:10am Haslemere-London Waterloo 738,100 49%
A spokesman for the Association of Train Operating Companies said: "By increasing services, running longer trains and making our fleet more reliable, train companies are carrying record numbers of passengers.
"Year on year, the official measure of overcrowding during peak times has fallen slightly overall.
"We recognise that some services remain crowded and passengers get frustrated when they can't get a seat, which is why the rail industry is planning to increase peak time seats into and out of major cities by almost a third by 2019."
RMT rail union leader Bob Crow said: "While passengers are forced to pay through the nose to stand, crammed in on sweltering, overcrowded trains, the private companies running these services are making huge profits in the safe knowledge that the whole racket of rail privatisation is a one-way ticket to the bank.
"Until our railways are run as a public service, under public ownership and control, this scandal of the British paying the highest fares in Europe to travel on some of the worst services will continue unchecked."
Popular in the Community