Miley Cyrus disarmed a bunch of hardened journalists last week in London, when she played a selection of songs from her next album, and asked sweetly, "What's your favourite?... Really?... I'm all confused now."
While the 20-year-old pop diva had spent most of her UK flying visit dodging questions about her love life, lesbianism and/or engagement to actor Liam Hemsworth, her timekeeping, during this session in a hotel basement with fans camped outside, it was all about the music.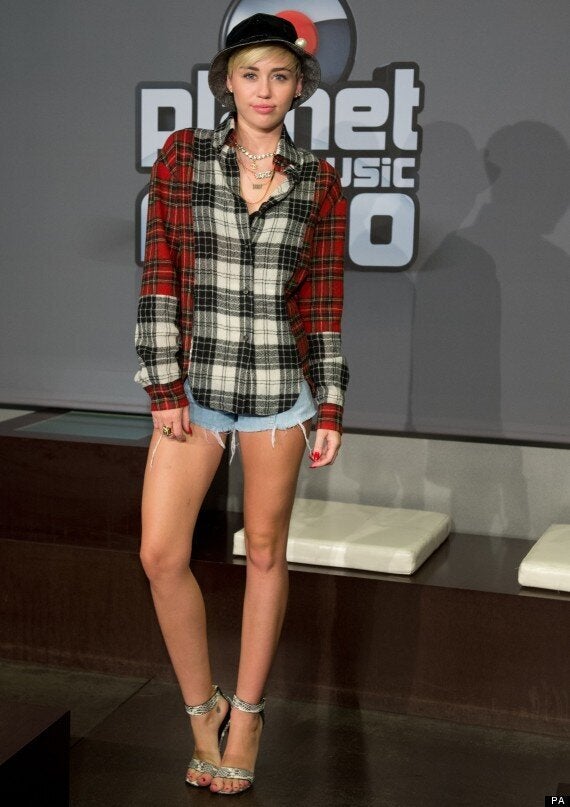 Miley Cyrus is debuting a new, more grown-up sound with her new album
Miley took complete control of proceedings. Dressed in a pair of checked trousers, thin blouse cropped to reveal a yoga-toned set of abs, a clonking big watch AND engagement ring firmly in place, the chirpy singer introduced and explained four songs from her forthcoming album.
The first was the current single 'We Can't Stop', whose raunchy video Miley explained was actually a toned-down version of the original. The mind boggles!
The second off the block was '4x4' which Miley explained had its roots in a traditional southern hoedown, but given a big pop noise by producer Pharrell Williams. "Anyone fancy a hoedown?" she asked the room. "Feel free. How drunk are we?"
'Drive' came next, another stonking pop song, and the one Miley confided was her personal favourite, and another exhibit of a harder, more mature sound than she has created previously. Less syrup, more production, and the result of lots and lots of hours in the studio.
Finally, we got 'Wrecking Ball' - a ballad, written originally on a piano, when Miley was living in Philadelphia, and then given what Miley called "a big pop sound" by producer Dr Luke.
Whether this song is about Miley's much-examined relationship with Hemsworth, Miley wasn't saying, only "It's a ballad for every girl to cry to," she told the crowd. "We've all been there."
And, faced with a pack of new ears, Miley couldn't resist asking what was the general favourite. Reactions were mixed, some opting for 'Drive' with many shouting for '4x4'. "I'm really confused now," revealed the singer. "My management were sure 'Wrecking Ball' would be big in the UK. I didn't know you liked a hoedown."
Miley's album is on its way. Here's a taster below, with the single 'We Can't Stop'... 96 million views on YouTube already. Something tells me the album's going to sell...
Popular in the Community