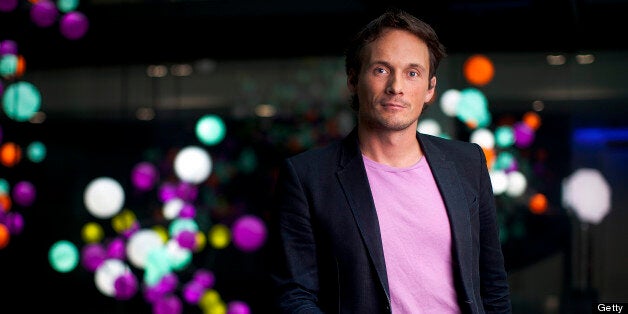 Richard Reed co-founded Innocent Smoothies in 1999 with fellow Cambridge University graduates Adam Balon and John Wright, which quickly took off after an initial £250,000 investment from wealthy American businessman Maurice Pinto.
The smoothie drink company built up its ethical credentials by setting up a foundation, allowing it to donate 10% of its profits to charity. Later becoming Innocent Drinks, the company expanded to include juices alongside smoothies. However, the firm drew controversy after Coca Cola started to buy increasingly larger stakes in the company, until in 2013 it moved to take a majority stake of more than 90%.
Speaking to HuffPost UK after an "Innocent Inspires" entrepreneur evening at the firm's "Fruit Towers" HQ, Reed spoke about his mission to inspire young entrepreneurs, his post-Innocent plans and the dark comedy he hopes to take to Hollywood.
How can people be best helped to start their own business?
I think it's partly about awareness. When I was at school, it wasn't even on anyone's radar that starting a business was an option. Jobs were things that you got in other people's businesses; there was no sense that you could set up your own business.
Whether you've organised a group holiday, a wedding, a party or an away day for your football team, you've got what it takes to organise a business.
The second thing is about giving people access to funds. But I'm quite positive about that because I think it's easier now than it has ever been. I'm not saying it's easy though, I think raising funds is a sort of filtering process to stop the shit ideas getting to market.
But all the crowd-funding websites have opened up a new way of fund raising and there's more money sloshing around and people wanting to do it.
In the 80s, there was this social revolution in the UK where people became shareholders due to privatisation. People only had £150 of British Gas shares in their portfolio but they were shareholders for the first time. I'm hoping what will happen is we'll all become like business angels, it'll just be another bit of our portfolio and people will put £1000, or £2000 into start-ups. Millions of people doing that would make it a lot of money!
My theory is we've been through the agrarian revolution, the industrial revolution, the medical revolution and the information technology revolution and we're now going through an emotional intelligence evolution where people are realising that we don't have to feel shame, guilt and feel hopeless that things don't do us any good. We're all equal and we can all have a go and it doesn't matter if you fail.
If you start having that background in society where it's okay to have a go and if you fail it'll make you stronger, but if you succeed that's great too, then there's more people feeling that if they can, why can't I? Even the simple dumb stuff like being on the telly more often, it's positive and it makes people think I could do that too.
I wish the media didn't position things to say 'to be a success in business, you have to be an aggressive man in a suit being rude to people in a position of power', because that's not entrepreneurship. Entrepreneurship is a collaboration between people on equal footing.
What about business shows like the Apprentice and their aggressive boardroom tussles?
The Apprentice is a brilliant television programme, it's crafted incredibly well. It may be a great television programme but then I don't think it's a great vehicle for educating about business. Then again, educating about business isn't the business of television, that's just to keep you entertained.
What are you planning over the next few years?
In September, we're launching a fund called Jam Jar, and that is about funding the new wave of entrepreneurs coming through. We want to pass on the business karma. Fifteen years ago, an older guy put in money to our business and without that money, there'd be no Innocent, and so we want to pass on that to the next generation.
We've also got an office called the JamPot - which we'll use as a base to work out what we want to do next as we all feel like we've got another big business within us, but we don't know what that is yet, we want to give it a bit of distance.
We've got a project called Art Everywhere which is a large scale public art exhibition taking over public billboards and sites in August for two weeks to show off great works of British art.
Were you ever invited to be a Dragon on Dragons Den?
I was approached to be a Dragon on the first series, before it launched, and I turned it down.
I said two things. I didn't have the £50,000 which is true, secondly I said it's a dumb idea, it'd never work, it's just a load of people presenting business plans, which would be really boring television. So what do I know?
Is it true you've been writing a film script?
Yes, it's finished. We've been taking it around and I've just had Thandie Newton read it.
Hollywood is this weird world where if you haven't got an agent, you can't submit material. And you can't get an agent until you've got a film deal, so we're trying to crack into that. We've got a Hollywood director, he's not big time but he's successful. He has done three features that have all made money, very eclectic things. He used to be a massive MTV video maker who made Billy Jean for Michael Jackson and Brothers in Arms for Dire Straits, so he was massive in the 80s for seminal things and he has done three features since then.
The film is called the President's Dog. It's a black political comedy with a warm heart. It's about a President of America, desperate for re-election, secretly commissioning a hit on his dog to create a wave of public sympathy and the pet assassins that he commissions are absolutely hapless assassins who could never bring themselves to kill animals.
I'd say tonally it's in the area of a Fish Called Wanda. It's got its dark edges but ultimately it's warm, it's not nasty.
Put it this way, the dog never dies!