'The West Wing' fans have been gazing at an empty space on their TV screen, ever since Josiah Bartlett (Martin Sheen) vacated the Oval Office in 2006, taking his bunch of clumsy, clutzy but oh-so-clever political prodigies with him.
The fact that fabled series creator Aaron Sorkin did not disappear in the same puff of smoke, in fact when on to big screen triumph with 'Moneyball' and 'The Social Network', winning an Oscar for the latter, has come as but small solace for those wanting the regular nitty-gritty of a TV series. We've been waiting for more people to pepper Sorkin's unique, aspirational world - and the good news is, they've come.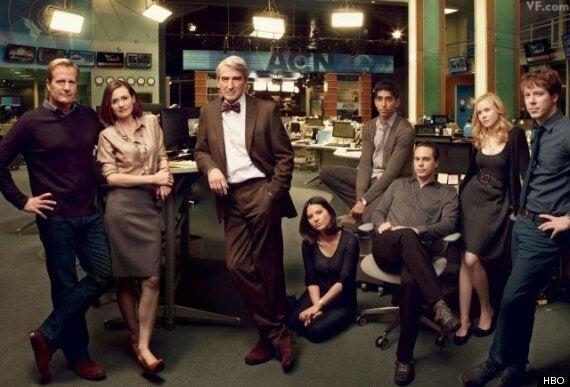 Jeff Daniels, Emily Mortimer, Sam Waterston lead the cast in 'The Newsroom'
'The Newsroom', whose first season comes to Blu-Ray and DVD release this week, just as the second season starts on HBO in the US, presents pretty much a parallel world to that found in Sorkin's corridors of power.
Instead of President Bartlett, we have the erudite Will McAvoy, the famous, rich anchor man of Newsnight, troubled only by the ways of the world, the triumph of tabloid culture over 'real news' and the presence of his former love, producer MacKenzie McHale (Emily Mortimer) in the gallery and in his ear.
Here are just some of the things that longtime devotees of the West Wing will spot as coming straight from a familiar pen...
Flawed but inspirational characters, bringing their eccentricities to a high-powered, professional world of status and influence, in this case a cable news channel.
Bright, attractive, qualified, witty women, who for some reason, can't get from one side of the office to theother in a straight line and with their coffee still vertical. And, OF COURSE, don't enjoy functional personal lives to balance all their career glory.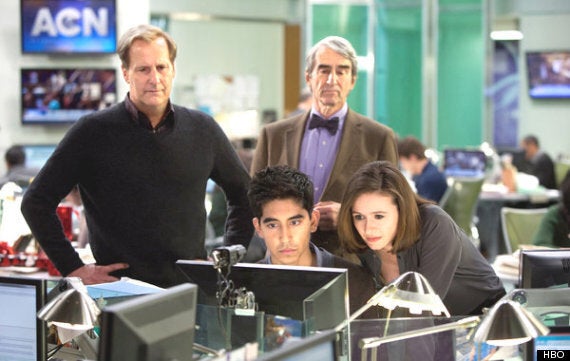 Another day, another crisis in The Newsroom
Appealing male and female characters, whom WE know are destined for each other, but they insist, not only on denying this outright, they even go to the effort of trying to fix up the object of their affections with other people. Where in 'The West Wing', we saw Donna trying to matchmake between Josh and Joey Lucas, here it's the sweet Maggie (Alison Pill, one of the appealing clutzes) propelling doe-eyed Jim Harper (John Gallagher Jr) into the arms of her flatmate.
There's a conveniently naïve but curious female (again 'West Wing's Donna, 'Newsroom's Maggie) through which Aaron Sorkin, through the mouths of Josh/John, gets to expound on the challenges, wider perspectives and any necessary back story to the topic of the day. This is a crucial Basil Exposition device for narrative that would otherwise be unintelligible to the average viewer.
Yep, there he is. In Episode 5 of 'The Newsroom' we meet... the benevolent, omniscient therapist, he who knows more than the guy in the chair opposite him, whose demons we learn through the gradual rewinding of a flashback trauma. 'West Wing' fans had two bites at this particular narrative pie, with Josh post-shooting, and Bartlett post-daughter-kidnap.
It's an ideal world, with goals pursued by this select few. There's always a realist in the midst, causing problems with their pursuit of votes (Bruno Gianelli in WW). In this case, it's viewers they're after, and the situation is further complicated by the fact it's the owner's son holding the keys to the calculator. In both cases, he, like some sort of modern Mephistopheles, presents our hero with a choice - with all sorts of temptations or threats - before, after much brow-furrowing, he invariably chooses the braver, higher moral ground. And yet still survives.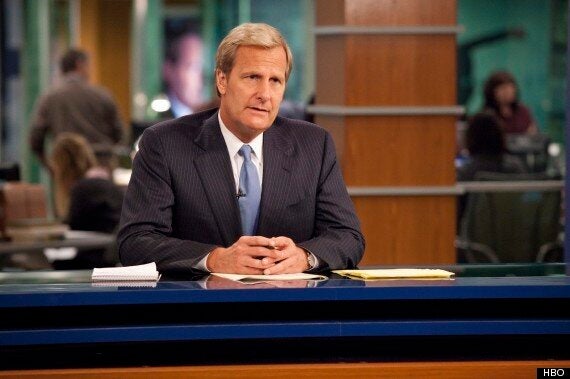 Will McAvoy (Jeff Daniels) - a man intent on making 'real news'
It's an embarrassment of elitism, which, we're always being told, won't go down well. Bartlett was always being told he was dangerously well-educated for the electorate to stomach. Here, Will McAvoy has to fight the dumbing down of the viewers AND his own inclination to save/educate. But, somehow, they shrug off the tall-poppy cloak, get there and somehow remain beloved by those that matter.
These characters are never just successful, they're phenomenal over-achievers. Bartlett couldn't just be bright, he was a Nobel prize winner. Here Mckenzie can't just be a good producer, she has to be a Peabody-winning war correspondent extraordinaire. Aaron Sorkin still resides in an elevated, perhaps cloistered world.
It's a narrative, through which we get to learn about how everyday events should really affect us, here the events like the oil spill off the Gulf coast, through to the killing of Osama Bin Laden. And Season 2 promises us the US Election.
Sorkin purists will find a few things to dismay them in 'The Newsroom'. There is less humour and more smugness than in 'The West Wing' - particular as they depict news events with the benefit of hindsight, but as though they were the only ones who called it properly at the time.
And there is no sign yet of a character as deep or challenging as Toby, or an episode as stilling as the one where his coat is returned to him from a dead Korean War veteran. In 'The Newsroom' generally, with Jim Harper, Don Keefer (Thomas Sadoski) and Neal Sampat (Dev Patel, yes really) all lining up with enthusiasm, there are a whole load of Joshes, and not enough Tobys.
There's nothing like as much knowing cynicism on display as in eg 'The Thick Of It', instead lots of 'this is how the world should be, if we select few could run it without interference from those less aware types'. But the characters are fun enough, and Aaron Sorkin on a small day is still Aaron Sorkin, and a big telly treat.
'The Newsroom: The Complete First Season' is available now on DVD and Blu-Ray. Watch the trailer below...