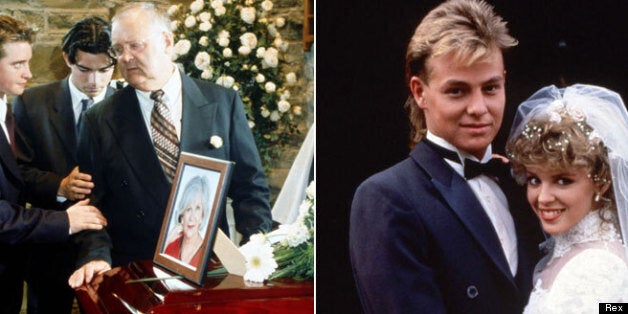 If you were a child, student or housewife of the 90s or early 00s, the clock hitting 5.35 of a weekday evening meant only one thing - settling down to catch up with the residents of Ramsay Street on 'Neighbours'.
The Aussie soap not only entertained viewers of up to 18m with its 'perfect blend' of neighbourhood scandals, humorous characters and feel-good escapism, but it helped launch the international careers of Natalie Imbruglia, Holly Valance and of course, Kylie Minogue.
While viewers have now fled since 'Neighbours' was shunted from the BBC over to Channel 5 in 2008, the news that the actress who played Libby Kennedy is suing the show, has got us feeling a bit nostalgic. So let's reminisce about the good old days with a countdown of the top 10 classic moments from the Aussie soap.
*sings "Neighbours, everybody needs good neighbours..."*