Beyonce's devoted fan who was so overcome by the pop diva giving him a hug that he fainted at one of her concerts has revealed the whole thing felt like "an out-of-body experience".
Speaking exclusively to HuffPostUK, Antoine Rouse, 22 years old from Columbia, Kentucky, revealed why he hit the deck after getting the once-in-a-lifetime chance to sing along with his beloved pop princess - with the resulting video being broadcast on US networks and getting 250,000 YouTube hits.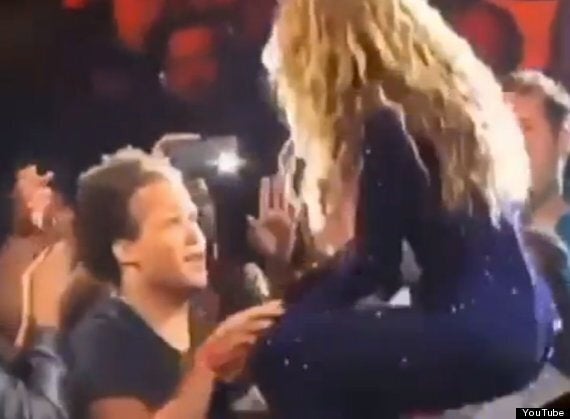 Antoine can't believe what's happening to him at the Beyonce concert in Nashville
"I was already freaking out because Beyonce had flown over us, and then she went over to the audience, and different people were singing into the microphone, including my sister.
"Then Beyonce came over and asked me, 'You want to sing?' She held up the microphone. I was already hoarse from the night, but I screamed as loud as I possibly could, 'To the left, to the left…' (Fans may recognise this bit)…
"And then she asked me twice more to sing, and then I just carried on singing, even though it was a bit of the song without any vocals.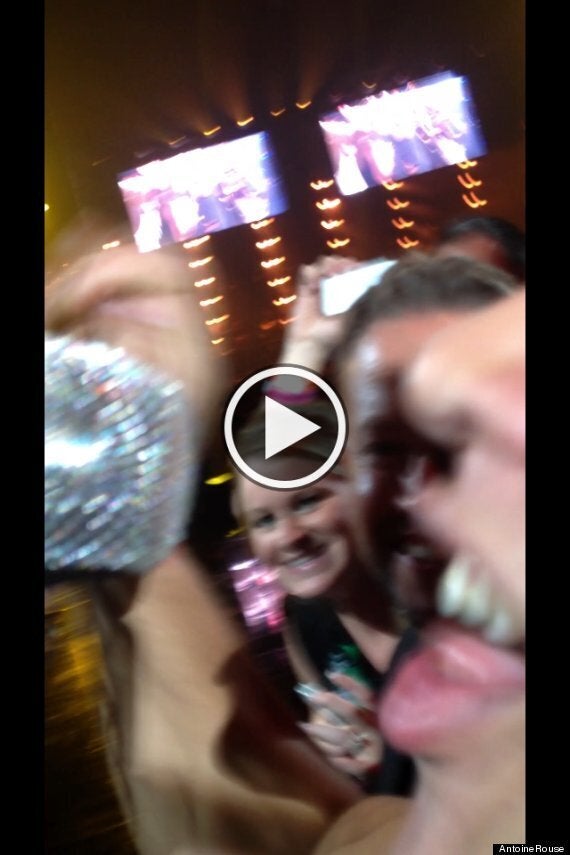 Beyonce made Antoine sing three times in total...
"She grabbed my hand, and that's when I properly freaked out. It was like an out-of-body experience. She let go of my hand, and I thought she was done with me, but then she tapped me on the shoulder and beckoned me to hug her.
"I told her, 'You're my inspiration' and she said 'I love you too' and… that's when I passed out."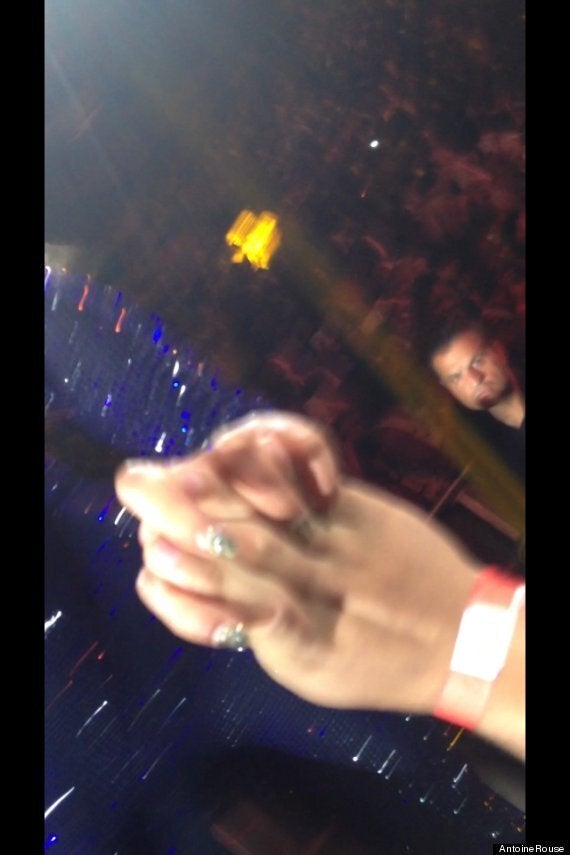 Before holding his hand...
It's unclear whether Beyonce realised what was going on, as she continued her concert, but Antoine eventually found his legs, particularly with his sister in his ear…
"She was screaming, 'Get up. They're going to kick us out.' That's my sister, ever the realist."
Antoine's night wasn't over.
"It must have taken us two hours to walk to the car, because people kept stopping us. They wanted to hug me, because I'd hugged Beyonce."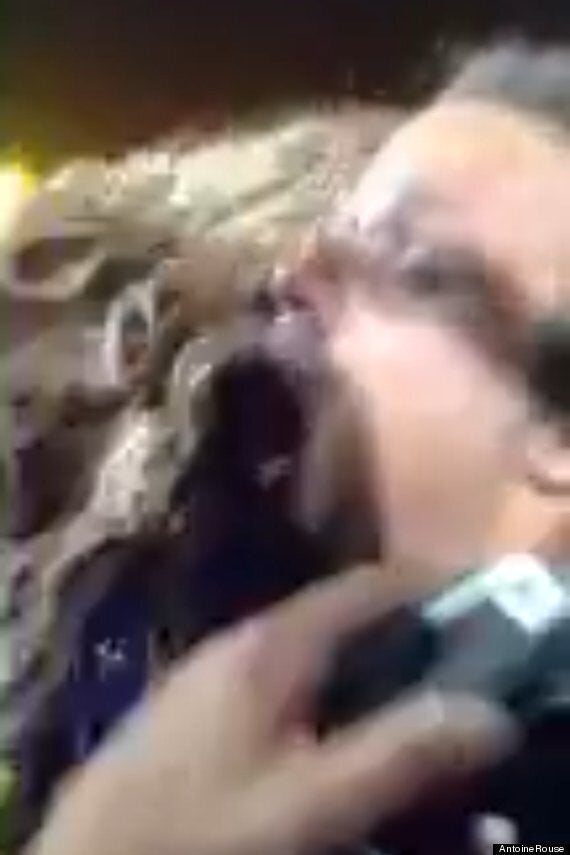 The evening had already started unusually for Antoine, his sister and his best friend after they'd made the two-hour journey to Nashville for the gig.
"We weren't even supposed to be in the VIP area," he reports.
"A lady came round offering wristbands earlier in the night, and my sister, who is normally very timid, asked for some.
"She only had two and there were three of us. My friend Greg offered to stay behind, but we felt horrible, so we asked for one more, and so we were able to stay together in the VIP bit."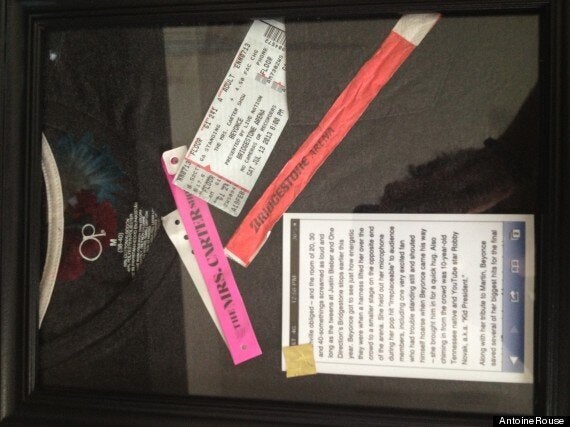 Now, Antoine's shirt is proudly framed, along with his ticket and VIP wristband
It turns out the gig in Nashville, Tennessee on 13 July was the first ever gig for Antoine, despite being a fan of Beyonce since BEFORE her days in Destiny's Child, which makes him a fan from about the age of eight, we quickly calculate.
"I just think she's an amazing singer, dancer, beautiful, an inspiration for women, equal rights, you don't see her out drunk, the way she keeps her private life private, she and Jay-Z could have sold their wedding pictures for millions but they didn't… "
Now, Antoine, with his shirt from the night proudly framed – "that's never getting a wash' – a full-time student, a MacDonalds department manager, number one Beyonce fan AND the president of an Autism Awareness foundation (speakingthroughsilencecharity.com), is preparing for another big night – as Beyonce has added a Kentucky date to her tour for December.
Will Antoine be going? "Of course."
Just with kneepads this time? "That's probably a good idea."
Related