You'd think a normal day in the life of the London Fire Brigade would include putting out fires, assisting with road traffic accidents and... at a push... helping the odd cat out of a tree.
But recent figures have revealed that the average firefighter has a much more varied 9 to 5.
The past three years have seen a rise in the number of call outs to people stuck or trapped in objects such as toilet seats, handcuffs and shredders.
In the last three years the capital's fire crews have been called out to:
18 incidents involving children with their heads stuck in potties or toilet seats
Five incidents involving people's hands being stuck in shredders
79 incidents involving people being trapped in handcuffs
Nine instances of men with rings stuck on their penises
Four incidents where people had their hands stuck in blenders
17 incidents involving children with their fingers stuck in toys, including one with lego stuck on his finger
In the past the Brigade have also been called to assist a man with his penis stuck in a toaster and another with his hand trapped in a portaloo.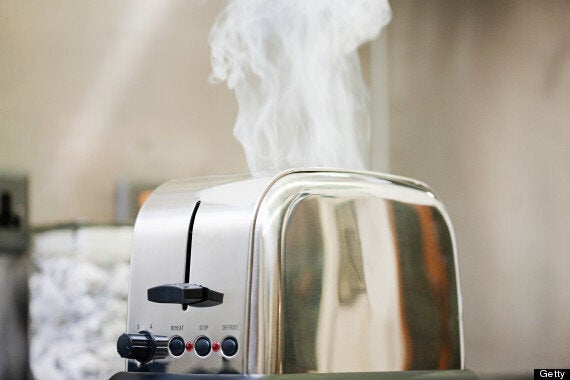 The new figures have prompted calls from fire chiefs for people to think carefully before dialling 999.
The Brigade has attended over 1,300 incidents involving people being trapped or stuck, often in everyday household items, since 2010. The Brigade said that each incident costs taxpayers at least £290, meaning the incidents have cost at least £377,000.
In 2010/11 crews attended 416 incidents; in 2011/12 this rose to 441 incidents; and in 2012/13 this shot up to 453. A total of 307 people were injured as a result of these incidents.
Despite the unusual nature of some of the incidents, the Brigade was keen to stress that people should always call 999 in the case of a genuine emergency.
Third Officer, Dave Brown, said:
"Some of the incidents our firefighters are called out could be prevented with a little common sense. I don't know whether it's the Fifty Shades effect, but the number of incidents involving items like handcuffs seems to have gone up. I'm sure most people will be Fifty Shades of red by the time our crews arrive to free them.
"I'd like to remind everyone that 999 is an emergency number and should only be used as such. When firefighters are out attending to some of these avoidable incidents, someone else could be in real need of emergency assistance.
"If there's a genuine emergency, fire crews will of course attend and will be on the scene to help within minutes."
The Brigade said its crews are called to more than one incident every day involving someone trapped or stuck. People getting into a jam with rings, bracelets and watches are a common occurrence, while firefighters are also regularly called to assist people and children with their fingers trapped in electrical items like washing machines, sewing machines and heaters.
The most common type of call out for this type of incident is to people with rings stuck on their fingers, which accounted for almost 500 call outs over the last three years.
"Our advice is simple," said a Brigade spokesperson, "If the ring doesn't fit, don't force it on. As well as being painful, you could end up wasting emergency service time if you have to call us out."
The Brigade issued three top tips to help people avoid getting into tricky situations:
Common sense is needed – if it doesn't look safe, it probably isn't, so don't do it!
If you use handcuffs, always keep the keys handy
Fingers and electrical appliances don't mix, especially those with blades