Liverpool have launched an initiative against discriminatory language, threatening to ban supporters who goad players who "play like a girl".
A picture of a letter circulated on Twitter on Tuesday morning, which included offensive language the club "wishes to eradicate" from Anfield.
Derogative racial, religious, sexual, gender and disability terms are listed as "usually offensive", as the club promotes its approach to equality and diversity.
Clean insults, such as "don't be a woman" and "that's gay", also accompany the unsavoury language.
The club revealed to HuffPost UK Sport the outline was part of an extensive handbook "designed to provide information on what terminology is deemed acceptable and unacceptable".
Rishi Jain, Social Inclusion Officer for Liverpool FC said:
"As part of the Club's continued commitment to tackle all forms of discrimination, as well as promoting it's approach to equality and diversity, Liverpool FC has been actively engaged in a full Club-wide education and awareness programme. This programme includes interactive workshops and a handbook which is designed to provide information on the latest equality legislation including information relating to what terminology is deemed as both acceptable and unacceptable. This programme of awareness enables our employees to recognise inappropriate language and take the necessary steps to ensure Anfield is free from all forms of discrimination.

He added: "Liverpool has been actively working with Kick it Out, Show Racism the Red card and the Anthony Walker Foundation for many years and has been recognised externally for its contribution to helping tackle discrimination and promote Anfield as an inclusive and welcoming environment. The Club has already attained Kick it Out's equality standard preliminary level and has recently submitted its application for the equality standard intermediate level demonstrating its continued commitment."
WARNING: OFFENSIVE LANGUAGE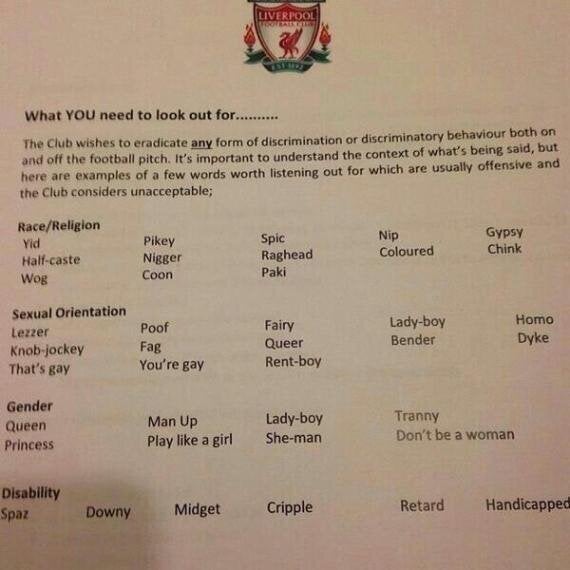 The sheet which was posted on Twitter
The club declined to comment on some of the phrases which could be attributed as "too PC".
Liverpool have undergone a PR shift since their disastrous handling of the Luis Suárez race row in 2011.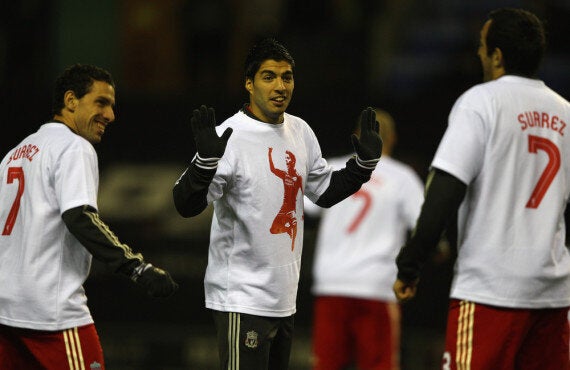 Suárez and teammates donned a shirt in support of the striker in December 2011
Suárez was fined £40,000 and suspended for eight games after he was found guilty of racially abusing Patrice Evra by the Football Association.
However Liverpool players and staff members wore T-shirts in support of the Uruguayan prior to an away game at Wigan Athletic.
Popular in the Community