The boss of energy company Cuadrilla has said it has "no intention of ruining the countryside and won't ruin the countryside" as anti-fracking protesters started a seventh day of action.
Francis Egan insisted hydraulic fracturing, or fracking, was safe and would not pose a threat to the public or people's drinking water.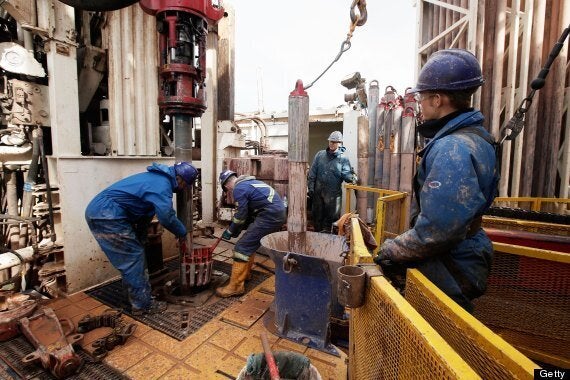 Fracking involves using high pressures to fracture shale to release trapped gas and oil
He said "significant" amounts of oil and gas could be made available through fracking in the UK, but acknowledged his firm's activities had been delayed as a result of protests against its exploratory drilling activities in West Sussex.
The company's plan for Balcombe, which is at the centre of high-profile anti-fracking protests, was for exploratory oil drilling and not fracking, he said.
Reacting to those comments, Mr Egan, chief executive of Cuadrilla, told BBC Radio 5 Live: "I live in the north east of the country, and certainly from where I look it's not desolate.
"Our decisions are made on environmental assessments and going through a fairly rigorous process with the Environment Agency and the planning authority, and that really dictates where we can and can't operate." The controversial method of fracking involves high pressure liquid being pumped deep underground to split shale rock and release gas supplies.
Although Cuadrilla has said it only plans exploratory oil drilling near Balcombe, campaigners fear the company will go on to frack in the area, leading to potential water contamination and environmental damage.
But Mr Egan tried to soothe public fears. He said: "We've no intention of ruining the countryside and we won't ruin the countryside." He added that fracking would pose no harm.
"Yes, it is certainly safe," he said. "What you hear and what you read about is not always what we are actually doing. For example, people say we inject all kinds of chemicals.
"I can assure you that anything that is put into the ground has to go through the Environment Agency and it has to be approved by them."
He said anything used will be "non-hazardous and will not pose a threat to the public or people's drinking water".
The plans around Balcombe have thrust the village into the national spotlight over the issue of fracking.
For the past week, large numbers of police have been deployed to ensure lorries carrying equipment into the testing site are unhindered by protesters.
Campaigners who have turned up include Mick Jagger's ex-wife Bianca Jagger, former Page 3 model and ex-mayor Marina Pepper, and Natalie Hynde, daughter of the Kinks' Ray Davies and the Pretenders' Chrissie Hynde. Some others are veterans of past eco battles, including Simon "Sitting Bull" Medhurst, who hit the headlines earlier this year when he burrowed himself into the ground at the site of the Hastings to Bexhill link road in East Sussex.
The process was "not a major engineering activity", Mr Egan said. It will take around a couple of months and involve a six-inch hole in the ground.
He added: "It's not going to pose a threat to Balcombe."
He told Radio 4's Today programme that he accepted the right to protest, but said it raised a wider issue about the willingness to exploit the UK's natural resources.
He said: "We have certainly been delayed. There are a lot of protesters, we have no issue with peaceful protest in Balcombe, we respect people's rights to do that.
"I think the wider argument is, frankly, is the UK capable of developing its own natural resources or not?"
He said there was still a "lot of education" to be done and added: "Once a well is actually drilled and people see what actually happens, as opposed to what they may fear or may have read is alleged to have happened somewhere else, it will be quite different."
Asked if it would be possible to extract significant amounts of fossil fuels in areas well away from people's homes, Mr Egan sidestepped the question, saying: "We could get significant oil and gas out of the ground doing fracking in this country full stop, if we choose to do so. It's perfectly possible to do it in a regulated environment, in a safe fashion."
Pressed on whether that would have to be close to people's homes, Mr Egan replied simply: "We would have to do it in a regulated fashion." Police tackle fracking protesters
This morning, Mr Medhurst and Ms Hynde superglued their hands together in a "human lock" by the gate to the proposed drilling entrance.
A row of police officers acted as a human shield to hold back protesters and journalists as attempts were made to free the pair.
One activist, Nikki Sanger, said: "They feel that we are running out of time to stop this. They just don't want this to happen. It's ridiculous."
After he was freed, Mr Medhurst said: "Hopefully we have stopped Cuadrilla by some point." Asked how he was feeling, he said: "Very good."
Ms Hynde said she was "OK" before the pair were led into separate police vans to cheers and claps from surrounding activists.
Elsewhere at the camp, people stood around playing music, meditating and saying prayers around a camp fire as some passing motorists beeped their horns in support of the activists.
The protests in Balcombe have acted as a focal point for communities across the UK.
Anne Watt, from Frack Free Somerset, said: "We know exactly how the village of Balcombe feels.
"We are sitting on coal and shale in Somerset and the area is riddled with exploration licenses for unconventional-gas development."
Several lorries passed into the site as police officers formed a ring around the front of the vehicles to keep protesters away.
As some trucks slowly drove towards the site, campaigners lined the road and turned their backs to symbolise their opposition to fracking. On other occasions, officers had to move protesters forward in a line to prevent them coming into contact with the HGVs.
Many held placards saying "Frack off", "Kill the Drill" and "Frack for Sussex".
After one lorry entered the site, campaigners fell to the ground in the middle of the road in unison.
Katy Dunne said: "My main concern is hearing the science from Colorado University, Cornell University and numerous other institutions, showing that fracking poses a serious health risk to humans and animals.
"It's completely unacceptable to be doing this to people for money. At the end of the day we cannot survive without clean water and air. That's the bottom line."
She said villagers have been fully behind their protest.
"It's been amazing. We've had people bring down cream teas from their wedding reception, clean water, tents, and home-cooked meals.
"There has been a constant presence of villagers down here."
Sussex's police and crime commissioner, Katy Bourne, visited the site and said the policing levels were being "reviewed daily" as it emerged that some activity has been postponed.
She said she would hope to see a scaling back of policing numbers as happened during the Hastings to Bexhill link road protests in East Sussex earlier this year.
Ms Bourne added: "People have a right to freedom of speech and we will uphold that right but we need they need to protest safely and businesses have the right to go about their lawful business."
She also addressed criticism of some of the tactics used by officers, saying that the use of certain techniques had to be used to maintain people's safety.
"They have been using nationally recognised techniques which cause minimum discomfort, and that's absolutely right," she said.
Nick Clegg told a Westminster press conference that he "strongly disagreed" with Lord Howell's comments.
The Deputy Prime Minister said: "Far from the North East being desolate, it's one of the most beautiful parts of the country, with huge potential.
"The North East is already, and in my view could become, the absolute hub for national, European and worldwide excellence in new green economy. You've got a fantastic marriage of the natural offshore resources in the North East with the traditional manufacturing heritage.
"The North East has some profound economic and social challenges, but it's got huge promise as well, which has been recognised by some major international investors."
Popular in the Community